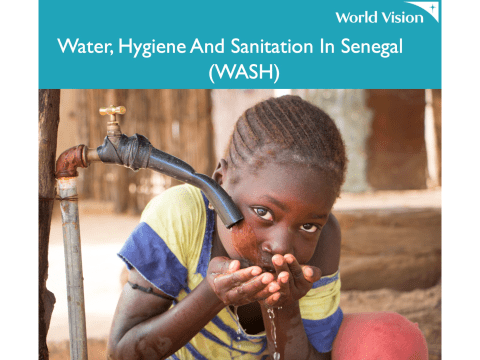 Water, Hygiene and Sanitation (WASH) in Senegal
Thursday, March 17, 2022
World Vision is a Christian relief, development, and advocacy organisation dedicated to working with children, families, and communities to overcome poverty and injustice. World Vision serves everyone, regardless of religion, race, ethnicity, or gender. Our vision for every child, life in all its fullness. Our prayer for every heart, the will to make it so.
Since 1984, World Vision has worked with the poorest communities in Senegal to address the root causes of poverty and injustice. We bring lasting change to the most vulnerable communities through integrated programmes that last at least 15 years and special three- to five-year projects in 10 of the 14 regions of the country, namely in Dakar, Kaolack, Fatick, Kaffrine, Tambacounda, Kolda, Kédougou, Sédhiou, and Ziguinchor thanks to the daily work of our 220 employees.

Across its sectors of intervention, World Vision works in partnership with national and local government, faith-based organisations, other like-minded NGOs, and multilateral and bilateral agencies such as USAID, GAC, EU, the WFP, Enabel, the Global Fund, and the World Bank.
Our Objective for WASH
Improve access to water, sanitation facilities, and good hygiene (WASH) practices. The well-being of children and families is impossible without sustainable and equitable access to drinking water, dignified sanitation, and appropriate hygiene behaviours.
We believe that every child deserves and has the right to safe drinking water. And, we are determined to guarantee it!
Our approach
In Senegal, the WASH programme uses a range of approaches to achieve its general objectives in development and emergency contexts. Our programme focuses on WASH in communities, health facilities, schools, and emergencies.
Increase access to a clean and sustainable water supply for poor and vulnerable communities and children.

Increase access to improved sanitation for poor and vulnerable communities and children.

Improve knowledge on hygiene promotion and behaviour change practices for poor and vulnerable communities and children.