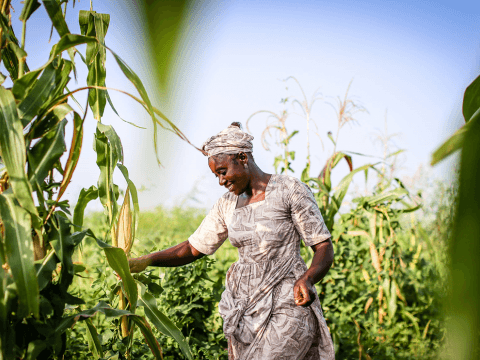 Livelihoods and Resilience
What we want to do:
We believe that all children are gifts from God and should be cared for, protected and empowered to participate in the direction of their lives. Although many families desire to provide these things for their children, they lack the ability and/or the resources to do so. We are working towards this by:
Increasing families' incomes and, as a result, their abilities to provide for their children's needs
Empowering communities to plan for, cope with and recover from disasters
Helping families adopt best practices for the sustainable management of natural resources 
What is the problem?
Many families are dependent on subsistence farming techniques and lack the necessary agricultural implements to produce a living income from their farms. This, together with damaging cultural practices and consistent pressure on natural resources have led to a reduction in the ability of their environment to produce the way it once did.
How is World Vision addressing the issues?
To contribute to increasing the well-being of 8 million children by 2021 in Senegal, World Vision has taken advantage of its Livelihoods & Resilience technical program to implement a range of approaches such as the model project 'Local Value Chain Development' (LVCD) that launched in 2018. Initiatives regarding local value chain development fall within the overall sectoral approach of 'Livelihoods' and are incorporated into the foundational model project 'Building Secure Livelihoods'. This is one of several projects counting as part of our offering towards the global strategy 'Our Promise'. 
What is LVCD?
The World Vision Local Value Chain Development project model helps producers increase their income by working together in groups to better understand markets and connect to them, thereby increasing the producers' profitability. 
In our intervention areas, agriculture is the main source of employment and income but producers may live in poverty because they have little to sell, or else there is no call for their wares on the market, resulting in a low price and little profit. This approach is based on four key elements:
Facilitating the Market Study on which World Vision works with the community to expand the local economy and identify high-potential products through a detailed analysis of the value chain;
Bringing producers to work collectively: World Vision mobilizes and strengthens producer groups in order to work collectively on their production, processing and marketing activities;
Strengthening producers' knowledge and skills: World Vision provides producer groups with access to technical training and gives them technical and professional support to ensure lasting knowledge and skills;
Facilitating networking: World Vision supports producer groups in accessing savings and finance, to extension and business services and to new and existing markets by connecting them to market players and service providers, in order to ensure long-term self-sufficiency.
The implementation of this approach will last four to five years and is facilitated by an agent called a market facilitator. The following results are expected upon completion after five years: 
Producers acquiring knowledge, skills and attitudes that enhance productivity, product quality, gender equality and land management; 
Producers increasing their annual profit by at least 30%.
Is what World Vision doing working?*
After running the LVCD model project for two years in the three offices of Vélingara, Kolda and Kaffrine responsible respectively for four, two and three development programs, these were the outcomes: 
168 Producer Groups are supported through the LVCD project; 
3,208 producers belong to Producer Groups, of which 54% are women-led groups; 
31 groups sold their products collectively, ie 18%; 
8,651 tonnes of value chain products were sold collectively; 
228 producers participated in technical training on good agricultural practices (123 people, of which 33% women) in administrative and financial management (85 people of which 52% women), and orientation on the functioning of Microfinance Institutions (MFIs) (20 people of which 20% women). 
*Numbers from 2019