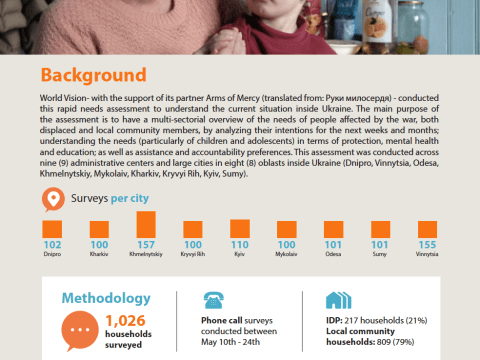 Rapid Needs Assessment of families in Ukraine
Monday, June 27, 2022
World Vision, with the support of its partner Arms of Mercy, conducted this rapid needs assessment in May 2022 to understand the current situation inside Ukraine.
The main purpose of the assessment is to have an overview of the needs of people affected by the war, both displaced and host community, by analysing their intentions for the next weeks and months; understanding the needs (particularly of children and adolescents) in terms of protection, mental health and education; and priority needs for the entire household; as well as assistance and accountability preferences.
This assessment was conducted across nine administrative centres and large cities in eight oblasts inside Ukraine (Dnipro, Vinnytsia, Odesa, Khmelnytskyi, Mykolaiv, Kharkiv, Kryvyi Rih, Kyiv, Sumy). Vinnytsia has one of the highest numbers of displaced families in the country, and accordingly, in the assessment, 39% of displaced participants are in this oblast.