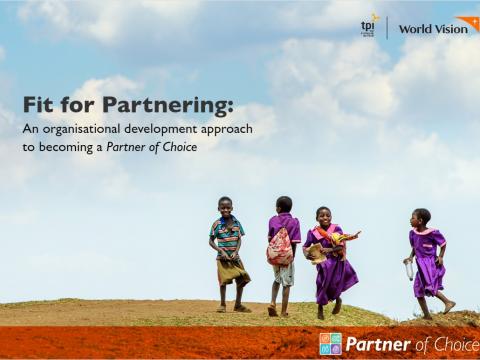 Partner of Choice
Monday, September 21, 2020
An organisational development approach to better partnering
The COVID-19 global pandemic, the climate crisis, the gaps in achieving the Sustainable Development Goals and increasing state fragility all pose massive challenges for society. Impactful partnerships, involving organisations from all sectors of society, are one necessary way of rising to these challenges.
But partnerships often under-deliver because organisations are not institutionally 'Fit for Partnering'. Therefore, it is time for organisations to invest in partnering capabilities so that they can collaborate effectively with others to address these challenges.
This document looks at how our Partner of Choice programme has resulted in stronger partnering capabilities in World Vision's country offices, enabling more effective partnerships to be developed, including: 
an overview of the Partner of Choice programme and six key success factors we've gathered from our experience implementing it in 12 countries.
the critical internal capabilities that country offices are investing in across the four building blocks of Strategy & Leadership, Systems & Processes, Staff & Skills and Culture.
stories of new or revitalised partnerships that have emerged as a result of Partner of Choice, including partnerships that are responding to COVID-19.
three country profiles that give insight into the partnering capabilities developed in our country offices of Indonesia, Sierra Leone, and Lebanon.
Through Partner of Choice we have seen that strengthening partnering capabilities is leading to more effective partnerships contributing to COVID-19 responses and the SDGs.