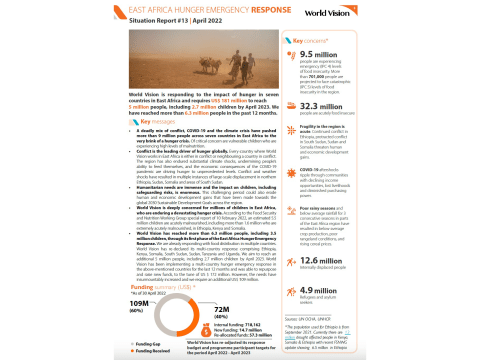 East Africa Hunger Response Situation Report - April 2022
Tuesday, June 14, 2022
A deadly mix of conflict, COVID-19 and the climate crisis has pushed more than 9 million people across seven countries in East Africa to the very brink of a hunger crisis. Of critical concern are vulnerable children who are experiencing high levels of malnutrition.
Over the past 12 months, World Vision has reached more than 6.3 million people, including 3.5 million children through the first phase of its East Africa Hunger Emergency Response. As we continue to respond with food distribution in multiple countries, World Vision has re-declared its multi-country response comprising Ethiopia, Kenya, Somalia, South Sudan, Sudan, Tanzania and Uganda. We aim to reach an additional 5 million people, including 2.7 million children by April 2023. 
Learn more about and support World Vision's global response to a growing hunger crisis.