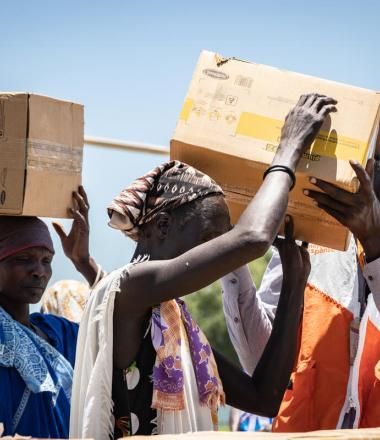 Our Response
World Vision is responding to hunger in every country we work in. We identified 28 countries in need of urgent, life-saving support, due to high numbers of people currently living in or on the verge of famine-like conditions.  
The hunger crisis threatens the lives of tens of millions. 
Conflicts and the growing effects of climate change were worsened by the economic impacts of two years of COVID deaths, sickness, lockdowns and travel restrictions. Then came the war in Ukraine at the start of 2022 which made everything worse and led to fuel, fertiliser and wheat price rises. 
This is why World Vision has now mobilised a Global Hunger Response.  It will need to raise at least five times as much as we did in responding to COVID to keep tens of millions of people alive, healthy and protected. 
This response focuses World Vision staff – and partners – who are already working in the most at-risk nations on meeting urgent food, water, health, hygiene and child protection needs. In some places it will mean running food assistance operations in refugee or displacement camps. In other places, staff will be working in remote locations with partners like WFP who air drop in supplies that our staff then distribute. In many places World Vision monitors the health of children for malnutrition, putting those who are underweight on special diets or sending the most severely malnourished to clinics for emergency help.  In parched areas we will be trucking in water or finding other ways to get it to people. 
We will be agile to meet changing needs and the situation morphs.  Hungry people abandon home to look for food.  Price rises may impact the urban poor more than those who are farmers. Civil unrest in the face of price spikes may impact humanitarian operations.  Children made vulnerable by hunger and price shocks may be pulled out of school and forced to work, to beg or into harmful early marriages putting them into harm's way. World Vision will be doing all it can to stop this from happening. 
And we'll be advocating – urging leaders at all levels to do and give more to those facing the hunger crisis.  All this work will be wrapped in prayer, with staff and faith partners invited to call out for this hunger crisis to be reversed and for generous people to give.