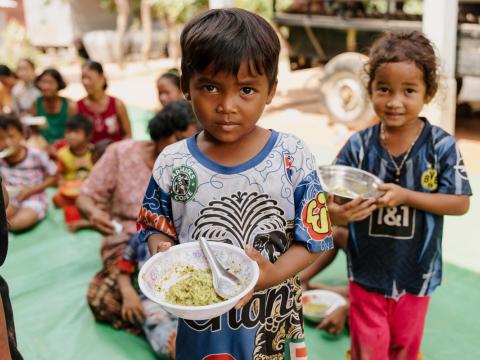 Not Enough: Global Perceptions on Child Hunger and Malnutrition
Thursday, October 12, 2023
Our world has enough of everything to provide a life of plenty for every child, yet every day more children go hungry.
Between August and September 2023, Ipsos interviewed over 14,000 adults about their experiences and perceptions of hunger and nutrition in Australia, Brazil, Canada, Chad, DRC, Germany, Iraq, Japan, Malawi, Mexico, Peru, Philippines, South Korea, U.K, U.S, and Bangladesh. The findings of this survey highlight the stark reality for families around the world.
Almost all people (91%) believe that having enough food to eat is a basic human right, but 21% of children are going to bed hungry and 30% of parents do not know where their next meal will come from. This is a tragedy. Food prices are spiralling higher and after decades of progress, children are bearing the brunt of an unequal food system disrupted by conflict and climate change. Globally, almost half of people say inflation is the cause of their children going hungry; 19% say conflict is to blame.
It doesn't have to be like this. As you read through the sobering findings of this report, it is heartening that 59% of those from low income countries, who may be experiencing hunger themselves, reach out and give food to someone in need. Others have signed petitions, written to governments, and donated over the past 12 months.
This report from Ipsos shares a wealth of data about the severity of the hunger crisis in the world today, and also shows some hope of paths to solutions.