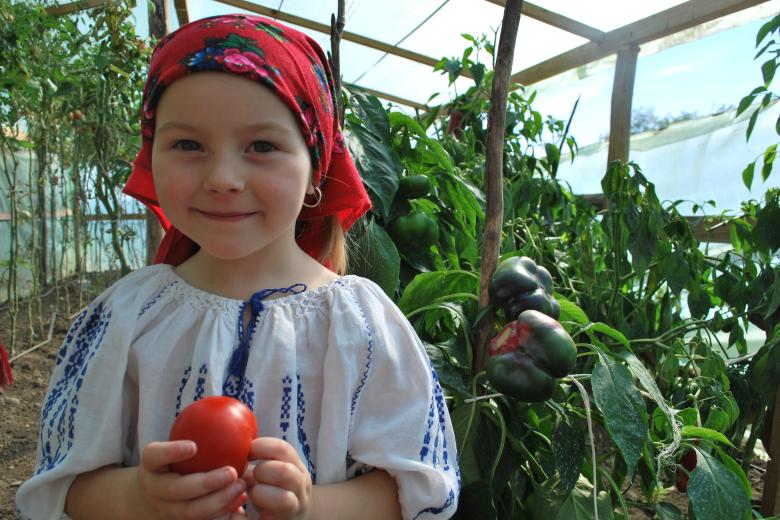 Growing vegetables also grows hopes for a brighter future
Wednesday, April 22, 2015
Rural communities in Vaslui County often hide the misfortune of poor families who have come to accept their fate of living in poverty. These families rely on the poverty allowance for their family's survival. To make ends meet, they buy cheap and unhealthy food for their children. 
World Vision Romania has started working in three rural communities from Vaslui County through the "A Better Future for our Children Programme" which is designed to help families provide nutritious food for their children through agriculture. The small land they have around them, the knowledge and support that World Vision is sharing with them and their ambition to change their community is all they need to change their situations and improve the living conditions for their children. After two years of working closely with families living in poverty in rural Vaslui, many families have started to experience the fruits of their hard work. 
Oana, a mother of four: Marius, 15; Cosmin,13; Valentin, 9, and Bianca, 5, is one of those World Vision has been working with. She is quiet and shy and has a serious look that never allows her to smile. A life lived in poverty taught her to live with hardships and accept the fact that her life would likely never change. Her husband, Lilian, 47, works as a welder but earns only the minimum wage in Romania—about $250 (USD) per month. Today, however, she has the courage to face her situation and the determination to change her family's circumstances.  
Oana, who stays home to care for her children, knows that in order to have more, she needs to work more. So she has been actively engaged in World Vision's Economic Development Project. With the little money they had, the family bought a greenhouse to cultivate vegetables. They have invested $515 (USD). For their dream to come true, they made huge sacrifices and even borrowed $300 (USD) from close friends. It was after she visited other families that have benefited from the World Vision's economic development project she made the decision to take her chances in agriculture. 
Her family's sacrifices were not in vain. They have already collected the vegetables and now they have 250 kilos of tomatoes, out of which even managed to sell 150 kilos at a price of $0.86 (USD) a kilo – generating $129 (USD) of income. They have also produced 120 kilos of peppers, which they sold 50 kilos of at $1.15 (USD) per kilo, generating another $57.50 (USD) of income. 
The rest of the vegetables were used for the family's consumption, primarily for making zacusca – a traditional Romanian food made out of boiled and chopped vegetables. For each jar of zacuscă, Oana uses around 2.3 kilos of vegetables. She has also prepared tomato paste, pickled bell peppers and beanstalks. Her children love eating Zacusca with bread at any time of the day. Additionally, Oana is using the vegetables to cook different meals for her children, providing them with more nutritious meals. The Healthy Nutrition Sessions organized by World Vision, in which she has participated, have increased her understand with regard to the importance of proper nutrition for her children's health. 
"At first I thought that what World Vision was suggesting was not going to be possible, because I have never seen people from my village doing agriculture anymore. I was scared that my vegetables would not grow or the money would bring no return on investment, " remembers Oana. "But, then [World Vision] took us to a family in Golăeşti and showed us how successful their project in Iasi has been. That is what motivated me to be more involved and work closely with them, starting the Fruits and Vegetables Association [of Vasliu]. Today, we have 12 members in the Association. Unfortunately, it is still very hard to bring people together and work. People from Vaslui have gotten used to receiving the minimum guaranteed income and have little motivation for getting involved in the project. The mentalities of the people are hard to change and they still do not understand the benefits of working together, as a group. They would rather focus on the short-term effects of agriculture on their families rather than think a long-term strategy for the community," explains Oana. 
Today, Oana is vice-president for the Fruits and Vegetables Association in Negreşti. With the help of World Vision, they have made labels for their jars of processed with a distinctive logo. But, their journey does not stop here. Oana has big ambitions for her future. She wants to establish a new greenhouse so that she can increase her production. She hopes to get people from her community engaged in agricultural work.
Oana is an example to others in her community. She has proven that one can not gain without any risks. But, her involvement in the community is not just about agriculture. She is constantly participating in all of  World Vision's meetings in the community and is one of the most active advocates for the education of children. 
"Unfortunately, I was not much of an experienced mother with Marius. I admit that I wasn't so keen on monitoring his homework or keeping track of his progress at school," she says. "Now, I realize that I should have given more notice to it. This is why I became even more supportive with my other children and I envision a bright future for them. I really do hope that World Vision will help me develop my farming abilities [and enable me] generate more income for my children."
As most people from rural communities, Oana too needed a small push to get her job going. Before the economic development project, she might have been planting a few vegetables in her garden for internal use but it was only when she learned about World Vision's project that she realized she could use farming to generate income and have extra money to support her children at school.