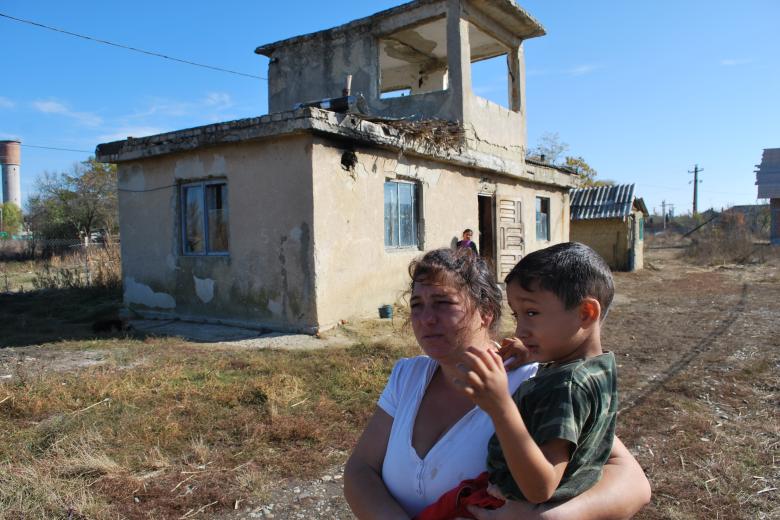 Teens come together and creatively raise funds for a family in need
Tuesday, June 30, 2015
Loredana, a single mother with three children between the ages of 4 and 13 lives in a former military unit, in unbearable conditions. Although it has no electricity or running water, this abandoned building became their small home. The building is two rooms: one is home for her and her three children (Rares Ovidiu, 4, Sorin Costel, 11, and Amalia Ana Maria, 13); the other space serves as shelter for five other relatives of the family. 
Their "home" is located in an isolated area near Negreşti, a great distance from the community, forcing the family to have little connection with other people. Their only income is the state's child allowance, $10 (USD) per child per month.  
Despite their living conditions, the children have clean uniforms and continue to go to school. Two of them have been enrolled in the Daily Centre for children from Negreşti and have very good results at school. At the Daily Centre, they have a hot meal, a space to do their homework and participate in educative activities for their free time. Despite the poverty, Loredana does her best to keep her children in optimistic spirits. 
World Vision has supported the family with donations of clothes and shoes and school supplies as well as encouraged and helped them to participate in civic and educational activities, ever since the community development program has started in Negreşti, in 2007. 
All of the children are direct beneficiaries of World Vision Romania's community development project, A Better Future for Our Children!  The programme is designed to address several community problems that have contributed poverty becoming never-ending cycle, like: access to education, access to medical service, food and clothes and economical development.  One of the most important factors for the project was the decision to work with local partners to empower and activate the Community Consultative Committee of Negreşti, a local group that existed inside the community only as a formality, with little or no involvement in community life. 
After empowering and increasing the engagement of the committee, World Vision encouraged the establishment of the Local Group of Action – a group that joined the main partners of Negreşti together with children and youth. 
It was the Community Consultative Committee of Negreşti that discovered the case of this mother and her three children who are forced to live in a former military unit, along with five people, in 2014.  Local authorities have responded giving them a small piece of land to build a proper shelter on, but they still need materials for its construction. 
The person who connected the dots and got people together to advocate for the situation is Mrs. Gabriela Pitaru, Chief of Day Care Center Negreşti, Social Worker within Public Social Service and Member of the Community Consultative Committee. She was the one to signalize the case and encourage the youngsters to take action about it. "The family lives in a former military unit with no electricity, the utilities are ensured with the help of their neighbors, their income is very limited, so I can only hope the community will react and help this family in need". 
Moved by the situation, the Community Consultative Commission discussed the family's situation with the newly established Youth Network of Negreşti, which already has more than 150 members. 
The Youth Network has established after the amazing work that has been done through the ART Group. Be Aware, Raise your voice, Take action - A.R.T. This is the motto of the ART Group, founded and supported by World Vision ever since 2012 by World Vision Romania in Vaslui County. Thirty youngsters have become the voice of children from their community. The youth have been part of several non-formal trainings, gaining the necessary abilities to identify the problems of the children from their community and also advocate for the possible solutions that might resolve them. The youths gained insight on children's rights, volunteering, human trafficking, advocacy, public speaking and photography and made their first steps in shaping their first initiatives. 
By establishing the A.R.T. Group, World Vision aims at reducing the vulnerability of children from their community regarding human trafficking as well as situations that affect children's rights: abandoned children, neglected children, should drop out, discrimination or lack of involvement on behalf of the children. But other children wanted to be part of the ART Group, so youths from 6 groups in Negreşti got together, with the support of World Vision: Children's Council of "Mihai David" Secondary School, Children's Council of "Nicolae Iorga High School", World Vision beneficiaries of the project "I want to be in the ninth grade", volunteers of the Youth Center in Negreşti, volunteers of World Vision office. They even branded their network and called it TiN (Tineri in Negresti), initiales for Youth in Negreşti in Romanian. 
After hearing about the family's plight, the youth decided to take action. They had already proved their creative abilities through several advocacy campaigns. But, this time, they decided to help the family through a fundraising initiative: the purse challenge! They started on to make purses out of square folded paper and duct tape. The costs for making the bags are minimum; the Youth Centre in Negreşti supports them with office supplies, like coloured printed paper, glue and tape as well as a meeting room where they can get together to makes the purses.
"We were very impressed with the case of this family. We know that two of them have very good results at school, and their living conditions are not so good. All of us who got involved in helping them, we have a house, we have parents, we have what we need to grow up. We thought that this is the most natural thing we could do to help this family. We wanted to help them but, as we are just children, we had no money to donate. So we used our hobby for making purses as a fundraising initiative for their cause.", says Georgiana from the ART Group. 
They spread the word through a social media campaign inspired by the now internally famous "ice bucket challenge" from 2014. Each person who purchased a purse then challenged three people they knew to do the same by sharing a picture and a brief description about the purpose of the purses. 
"It's easy for us to make the purses. We already got used to it. We come here on a daily basis and we just fold the colored paper and cover it in duct tape. It's hard to find people from our community to donate money. This is why we extended our intervention by taking it online". says Dragoş, a new member of the network.
"Some may think that we haven't managed to collect the money but little by little we think that we will be able to have the final amount needed", says Elena, 16 years old, new TiN member. 
Within a few weeks, the entire community was talking about the project and more and more people decided to contribute by buying a purse. Then, to attract even more funds, the youth partnered with the Local Group of Initiative to take their campaign to local churches. 
In less than three weeks, they collected $415 (USD) just from selling purses. But, their ambition does not stop here! The social media campaign has already drawn the attention of some journalists who want to promote their initiative on local TV stations. To date, the children have already raised $1,000 (USD). But, they need about $6,000 (USD) more to complete the construction of the house. 
The youth have agreed not to stop their intervention here. They say they will continue to make purses for the family and hope that someday their efforts will be repaid by seeing the house. 
"I never thought that they would have such an initiative. Is a great gesture from their behalf and I can't even thank them, only God can reward their effort. It's hard for me to even talk about it because people are used to judging, instead of helping you out. I am glad that these children found a way to help us," says Loredana.
The purse challenge campaign is proof that adults and youth from Negreşti are working together to help the children in need in their community.