Country's youth excited for Olympic football
Friday, July 27, 2012
By Alegnesy Bies, World Vision Senegal's communication manager
For the first time ever, Senegal will send a football team to the Olympic Games. The entire nation is excited.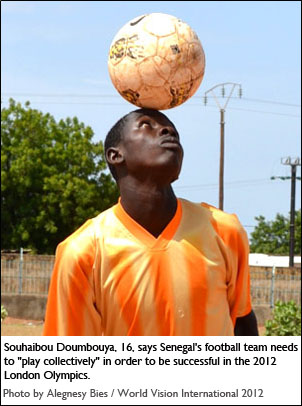 "At the Olympics, Senegal can have good results because it has good players. They have talent. A victory is possible," says 16-year-old Souhaibou Doumbouya.
Souhaibio loves football and is a defensive mid-fielder on a team that works with World Vision Senegal. His favourite memory on the team was playing at a national phase tournament in Dakar, the capital city.


He says he'll be following the football matches at the Olympic Games closely.
"To qualify for the Olympics is not something every country can get. We find in this level of competition only the elite of the sport," Souhaibio says.

Football is one of the most popular sports in Senegal, especially among youth.  Sixteen-year-old Mor Ndiaye says he lives for the sport.   

"I cannot go a day without tapping on a ball," says Mor, who is the team's goalkeeper.

He, too, is looking forward to watching Senegal's national team compete.

"The Senegal team is made up of good players and they play collectively. They can go far. They rely on their potential," Mor says. 


Adama Ndiaye, another 16-year-old who plays on the same squad as Mor and Souhaibio says that the Senegalese team can shine at the Olympics tournament.

"The players can win because they are talented enough," Adama says.

Pierre Rock Mendy is the boys' coach. He mentors more than 20 young players in the city of Kaffrine. He explains that the team helps hatch talent and enables young people, who don't have the financial
resources, to play in competitions across the country.

"Young people, who are mostly students, are training six days in the week. The sessions are held every afternoon at 5pm. Sundays are devoted to official competitions," Pierre Rock says.


World Vision works with Pierre Rock's team. The three football players are also involved in a World Vision supported club that helps sensitise children to the importance of population issues, reproductive health, human rights and the environment. They have participated in various role-plays and awareness sessions, conducted in conjunction with World Vision.