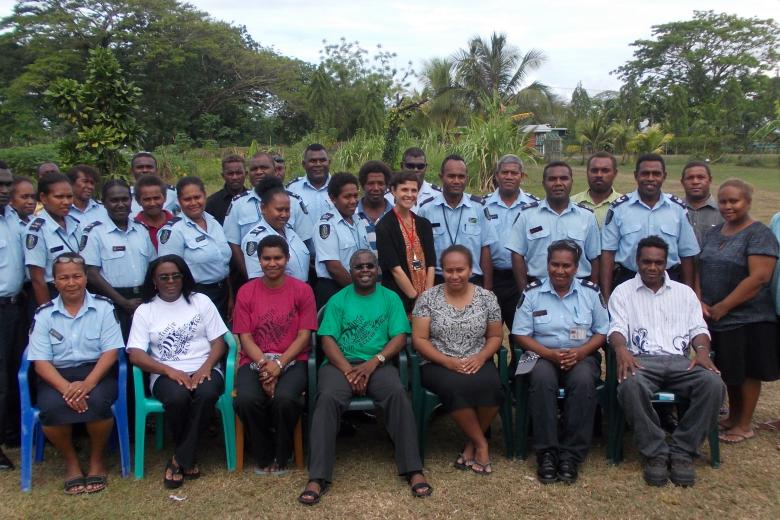 Channels of Hope training for Solomon Islands police officers to address gender-based violence
Sunday, October 13, 2013
A recent study found that two out of three women in the Solomon Islands have experienced physical and/or sexual violence from an intimate partner and that 36% of women knew of instances of family violence in the last week.
World Vision is using an innovative biblical approach to address gender-based violence in communities in Solomon Islands and has for the first time adapted its Community Channels of Hope for Gender training for use by the Royal Solomon Islands Police Force.
Seventeen police officers from the Royal Solomon Islands Police Force in Honiara, the capital of Solomon Islands, attended a workshop to learn how to be facilitators for their officers on gender-based violence using the Channels of Hope approach, a teaching tool that used a biblical perspective to address gender-based violence.
Anne Kasaketi, Technical Specialist for Channels of Hope for the Zambia Church Partnerships on Gender and Development, said Channels of Hope has been tested in other programs in different countries and has had a huge impact on people's transformation.
"The police officer's work with victims of gender-based violence and perpetrators in the communities, so giving them an opportunity to have a better understanding of the issues through biblical perspective can enable them to address the issues holistically through that means," said Ms Kasaketi.
Lily Daggie, Royal Solomon Islands Police Force Training Officer for Honiara city said the training has equipped the officers to carry out their work effectively when dealing with gender-based violence issues.
"We deal with gender-based violence issues almost on a daily basis and we always do as we want but the Channels of Hope approach has given us new insights," said Ms Daggie.
"As a way forward we agreed to use this approach to our existing training programs so that all our officers can be properly equipped to work well with our communities," she added.
Through the process of becoming a facilitator for Channels of Hope, police officers have brainstormed ways they should respond to gender-based violence and how they can become personal channels of hope for victims of violence. As community leaders and the police force work together, World Vision hopes that gender-based violence will be reduced and members of the community will become more able to report gender-based violence to the police.