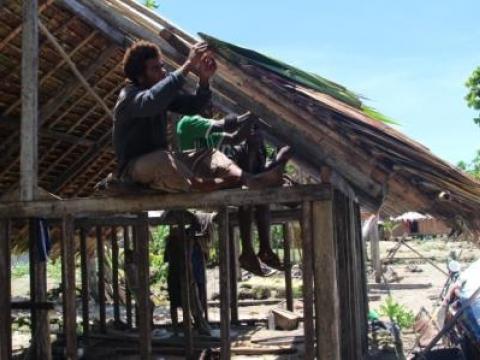 Communities mark one year anniversary of tsunami in Solomon Islands
Wednesday, February 5, 2014
One year after a devastating earthquake and tsunami struck the eastern most province of the Solomon Islands on 6 February 2013, the community of Nea, on the southern coast of Santa Cruz island, will pause to remember that fateful day that shook and washed away their lives.
A moment of silence will be held to commemorate the one-year anniversary of the 8.0-magnitude earthquake and subsequent tsunami that destroyed their food gardens, damaged water sources and systems and swept away several houses. The disaster impacted more than 6500 people in Temotu Province in remote Solomon Islands, severely damaged 23 communities and cost11 people their lives.
Michael Palu, community leader of Nea Nemboi who is putting together a commemoration program, says an observance will be held as a thanksgiving for the survivors and to honor those whose lives have been taken by the disaster.
"It will also be a time to reflect on the importance of hazard preparedness for the future," says Palu.
He says although they plan to organise something small, the purpose for which it is organised will have a deep and profound meaning that will foster a sense of unity and oneness in the community.
"It will be a low key program where we will reflect, and then look forward to helping and encouraging our community to 'build back stronger' in order to fully recover from the disaster. As you can see there are a small number of people who are still living in temporary shelters therefore we as a community will assist them wherever we can to help them get back on their feet," Palu added.
Linda Ilatu, an 18-year-old student at Monene school in Nea, says her family has recovered from the disaster and now live their life just like before the tsunami and she is looking forward to returning to school.
"I now put behind me any thoughts of the earthquake and tsunami and just want to concentrate on my studies. I just want to remember it as history and not to allow its negative impacts in my life," she said.
Gordon Palu, 35, who lost most of his household items and kitchen utensils, says the community is united in working with the provincial government and aid agencies to put all their efforts towards working on the recovery and rehabilitation.
"The disaster is not of our making so we just have to accept it and move forward. We are very grateful to a lot of assistance given to us by World Vision and other aid agencies during the initial phase of the response," he said.
Nea is one of the communities around Santa Cruz that benefited from the establishment of Child Friendly Spaces and water, sanitation and hygiene projects implemented by World Vision as part of the recovery phase following the earthquake and tsunami.
World Vision's water supply and sanitation project will be the organisation's last tsunami response project, finishing in October 2014. The organisation remains committed to helping the people of Temotu, through its 15 year commitments to the province which involves longer term projects with a focus on Maternal Child Health and Nutrition, Early Childhood Care and Development, Adult Literacy reducing Gender Based Violence and disaster preparedness and livelihood support.