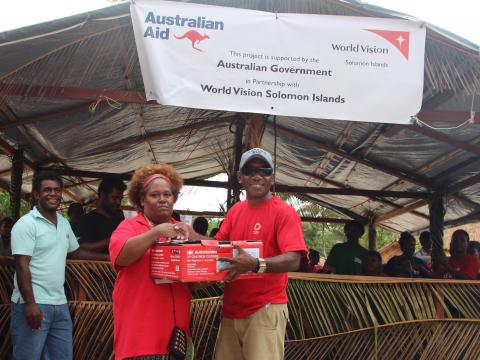 The healthiest meal in South Malaita
Wednesday, August 10, 2016
Meet Rose Mary Hou, the winner of World Vision's cooking competition at the 2016 South Malaita Yam Festival.
Rose walked away with a single-burner stove after she bested 12 other competitors. The challenge was to cook a balanced meal, using locally found ingredients, without the use of any processed items.
World Vision's Maternal Child Health and Nutrition project organized the competition to raise awareness around healthy meals for children and families.


Rose's dish, a vegetable mix of beans, eggplants, pumpkin, yam, banana, pawpaw, fish with added virgin coconut oil, ginger, and onion was selected the winner.

Having a healthy balanced meal at home, says Rose, is an essential part of her family life.
Rose says in the villages, local food can be collected from around the house.

"Local food is abundant here. The only thing we need is good knowledge on what to get and prepare," says Rose.
She encouraged mothers to stop relying on unhealthy foods like noodles and rice.
The National Coordinator of the Non-communicable Diseases Department within the Ministry of Health and Medical Services, Nevalyn Level, and Nutrition Officer for Malaita Province based at Kilu'ufi Hospital, Arimer Hasi, were the competition's judges.
Nevalyn says selection of a winner has been difficult as all the participating mothers prepared really good balance meals.

The Maternal Child Health Nutrition project is implemented in 15 communities in South Malaita. The project is supported by the Australian Government.