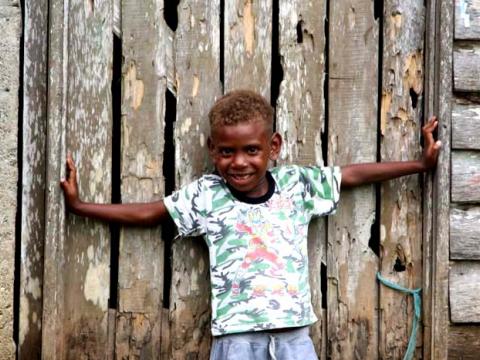 Back to school: Things Bebys is looking forward to
Thursday, February 7, 2019
Its this time of the year that most students are excited and looking forward to going back to school. Among thousands of children across the country, Benstine, 6 and his siblings are also looking forward to going back to school.
 Community members and Benstine's family usually refer to Benstine with the name "Bebys" 
 Bebys and his siblings live in Central Bouro in Makira Province. Living next to Ngorangora airstrip listening and seeing the plane flying in and out each time have made Benstine dream big.
Bebys is the youngest in the family of three children. He has an elder brother, Benjamine, 12 and a sister Jessica, 10.
 Bebys is looking forward to going back to school and he wanted to be a pilot when he grows up.
World Vision collaborated with the communities around Makira including Ngorangora community in Central Makira to implement programs supported by the Australian Government with the goals of contributing towards improving livelihoods and the quality of life for children, families and the community as a whole.