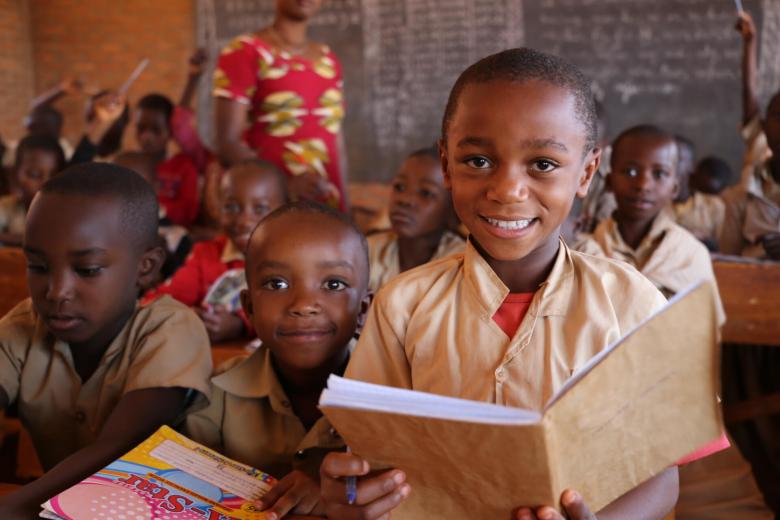 US$12million catalytic grant to benefit 300,000 children and adolescents in Burundi
Tuesday, January 4, 2022
Delivered in partnership with World Vision and UNICEF, the programme seeks to catalyse an additional US$18 million to reach 300,000 vulnerable children and adolescents.
In response to interconnected crises that have left 1.9 million children and adolescents out of school in Burundi, Education Cannot Wait (ECW), the UN's global fund for education in emergencies and protracted crises, announced US$12 million in catalytic seed funding to roll out the first Multi-Year Resilience Programme in the country.
Delivered in coordination with the Government of Burundi by consortia led by World Vision and UNICEF, the three-year programme seeks to mobilise an additional US$18 million from public and private donors.
The ECW seed funding grant will reach more than 130,000 girls and boys, over half of whom are girls. Fully funded, the programme will reach more than 300,000 children and adolescents impacted by the interconnected crises of COVID-19, climate change and conflict. The programme will reach returnee, internally displaced and other vulnerable children with access to pre-primary (10%), primary (70%) and secondary (20%) education.
The National Director for World Vision in Burundi, Marthe Mbengue, said at the announcement on 31 December 2021: "With the significant return of Burundian refugees and increased internal displacement due to natural disasters, schools and relocation sites hosting displaced children are experiencing excessive numbers, negatively impacting learning environment conditions. Some locations are also affected by disasters exacerbated by the socio-economic impact of COVID-19 and recurrent endemic diseases such as cholera and malaria."
"In a recent visit to World Vision field operation areas in the country, I was able to speak with primary school children who shared their dreams of becoming doctors, military officers, presidents, teachers, businesswomen and more. This programme is timely in Burundi and will assist the most vulnerable children affected by displacement and in host communities to fulfil these dreams – strengthening the education system and environment at all levels and enhancing the resilience of families", she added. 
To read the full announcement, including other quotes from represented organisations on the ECW website, please click here.