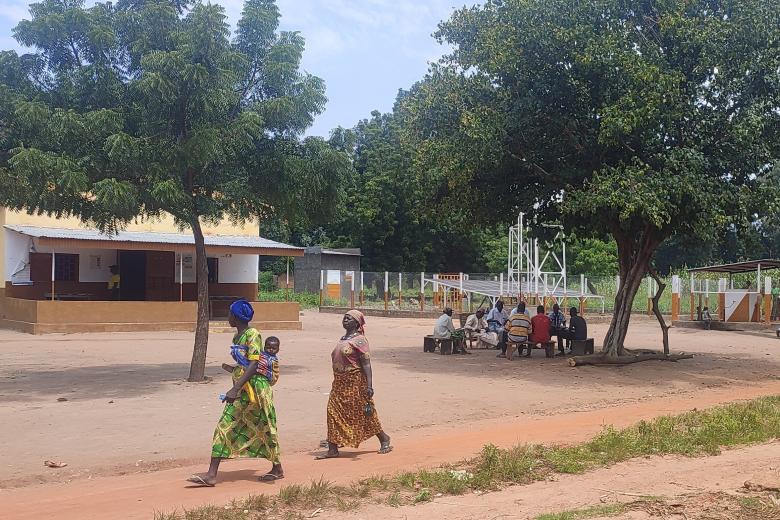 Mini drinking water supply has increased maternity services in Dobara
Wednesday, February 8, 2023
The mini drinking water supply, built by World Vision a few months ago in Dobara in the province of Logone Occidental, has completely positively improved the health indicators in this locality.
The life of the inhabitants of Dobara, in Mballa in Logone Occidental has changed overnight since the construction of the mini-drinking water supply. In particular, the increase in attendance at the maternity section and the drop in diarrheal diseases, almost half in six months, informs us the head of the health center Bonodji Rodrigue. According to him, "pregnant women are increasingly coming to give birth at the health centre. For many of them, thanks to drinking water, they are very clean before returning home", appreciates Mr. Bonodji. As Mrs. Nenodji Berthe testifies, for her, the mini-drinking water supply saved her life: "Every time I come to fill my basin with water at the standpipe, I give thanks to God! ". "If this mini drinking water supply didn't exist, maybe I would already be dead". "The water from this castle contributed in part to my recovery, the day I gave birth here. It served me not only to be clean but also to make the doctors clean for my surgery. I had complications during my delivery, where I was soaked in blood. It is thanks to this drinking water that I first cleaned myself before receiving treatment. Because it was the requirement of the doctor. ". She adds.
Indeed, located in the center of the village and next to the health center of Dobara, the mini drinking water supply of 10 cubic meters, autonomous in solar energy built by World Vison Chad with the financial support of the German support office is a godsend for the 6,288 souls in the village. With two water fountains serving the village, the mini water supply is also the refreshment point for schoolchildren, at recess and back to school, testifies Nathalie Denembaye, who to these children and grandsons in local schools. "Honestly I don't know what to say to World Mink, this drinking water is a blessing. May God give you back a hundredfold. My children and grandsons no longer come home to quench their thirst at home during recess, as the school is a bit far from home" she smiles.