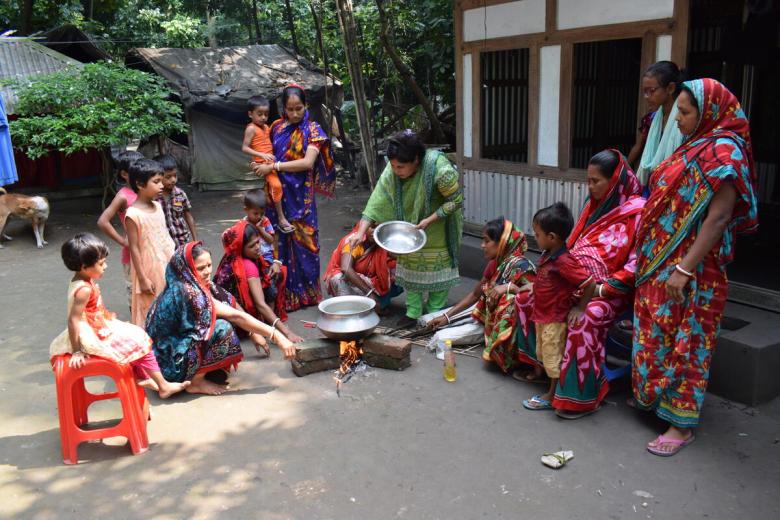 Child Sponsorship stopped a silent tragedy in Bangladesh
Tuesday, March 29, 2022
Eleven-year-old Riju is a whirlwind of energy. He and his friends—Surjo, Deb, Anup, and Jack—spend their days flying kites, jumping in the river and playing cricket. But while it might sound like the usual antics you'd expect from kids, these healthy, happy boys are living proof of the massive transformation that has taken place in the Suagram community.
Suagram is one of 34 villages in the Kotalipara sub-district of southern Bangladesh where World Vision child sponsorship has been working since 2001. Life for the 8,000 people who call the village home has always been quiet, built around shady fishing ponds, rice fields, rural tea stalls, and the occasional local festival.      
But, for a long time, that quiet life masked a silent tragedy. Generations of children were born into    poverty, living an endless cycle of hunger, malnutrition, and sickness, forcing them to miss out on education and work opportunities and pushing them deeper into poverty.
Like countless women before her, Riju's mother Moharani always fed her family before she would eat. They simply didn't have enough food to go around, and the food they did have — mostly rice — didn't make for a balanced and nutritious meal. Because Moharani had never heard about proper nutrition, she didn't know that her family could be under-nourished even when they had food to eat, and she didn't know that malnutrition could even harm an unborn baby. So when she was pregnant with Riju, Moharani continued to eat last or not at all.       
"When I conceived Riju, I did not eat extra handfuls of … different food types in each meal," Moharani says. "Riju was born underweight [at] 2,200 grams (4.8 pounds)."
Behind from the start, Riju battled severe malnutrition in his early years. And he was not alone. Many children in Suagram experienced stunting and wasting as a result of malnourishment in their first 1,000 days of life. Riju's neighbour, 12-year-old Sunila, became legally blind as a result of the malnourishment she suffered as a child. Another child, 13-year-old Riya, developed cataracts in her eyes.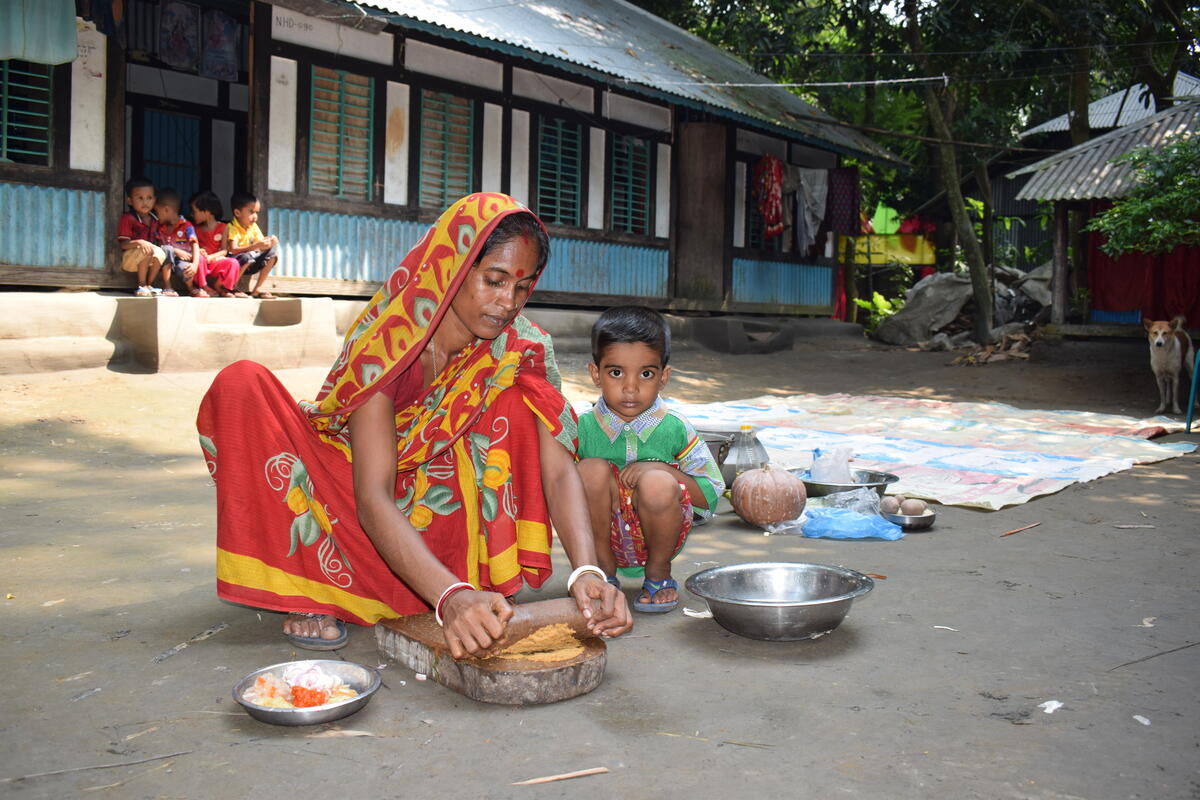 Child sponsorship has changed everything in Suagram by empowering mothers — including Moharani — with the knowledge they need to raise healthy, well-nourished children. Mothers were invited to be part of a new program where each day for two weeks, a group of six women could come together to learn about nutrition education, watch cooking demonstrations, and feed their babies.
"Mothers learned infant care methods, feeding practices, balanced meal preparation, … and simple early detection procedures [to recognise when their babies are sick]," explains Lipi who was one of 120 community health facilitators World Vision trained to lead the sessions. Mothers also learned about the benefits of breastfeeding until children are two years old, how to add in solid foods at six months, and why healthy behaviours like hand-washing are so important.
But perhaps the biggest game-changer was breaking down myths about vegetables for these groups of mums.                     
"Previously, mothers believed that nutritious food was expensive," Lipi says. "[The programme] … has changed their thoughts. They now understand that high-priced foods are not nutritious." But, Lipi says, the women have learned that the great variety of inexpensive vegetables and fruits in their area are packed full of nutrients!
The women received rice, lentils, potatoes, spinach, plantains, carrots, pumpkin, green papaya, soybean oil, eggs, spices, and salt and were taught a simple recipe for a balanced meal. When they finished cooking, their children got the chance to eat the meal, hot off the stove.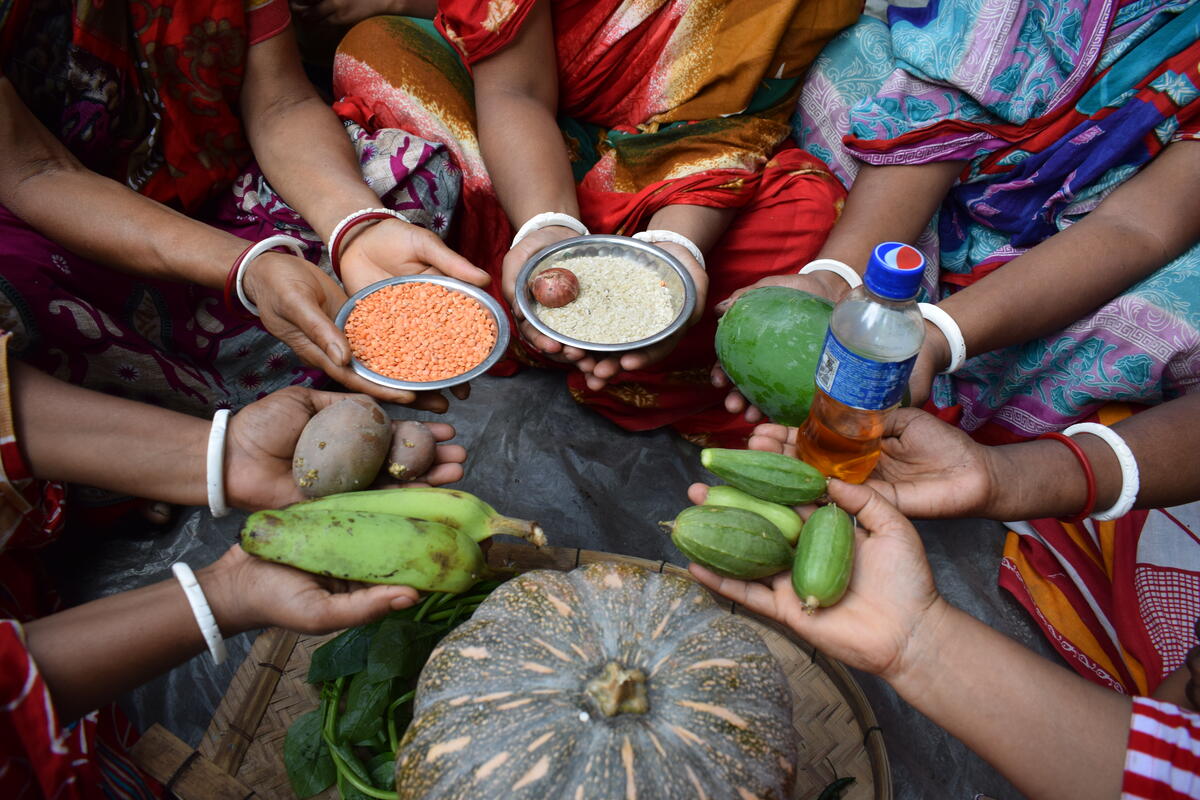 The next six weeks were eye-opening for the whole community. The mothers and community facilitators tracked the children's weight and height for six weeks, watching as children's weights went up and diarrhoea and pneumonia cases went down. When the women saw their children getting healthier, they shared what they had learned with others, and word spread throughout the community.
As Moharani put everything she had learned into practice, Riju's health got better and better. Inspired by the change she saw, Moharani and her husband also joined in training to learn new      farming techniques. They received seeds to help them grow nutritious food in their own gardens, and learned about diversifying their crops. Riju's father began growing rice and vegetables, and now the family has enough food, their income has increased four-fold, and their children are healthier.
Today, child sponsorship means that the quiet life in Suagram looks very different for families like Riju's.
"Thanks to World Vision's training, each village family cultivates vegetables [at] their own houses and [are growing their] nutritional needs," Lipi says.
Riju's family is now seen as a role model in their neighbourhood, and other parents visit Moharani to ask advice on their children's well-being. Thanks to community trailblazers like Moharani and child sponsors like Riju's, children in Suagram now have the chance to grow up healthy and dream big.   
One child, one reason at a time
You can be a catalyst for lasting change. Right now, global catastrophes are putting children at risk - but you can help protect their lives and their futures. For countless, urgent reasons