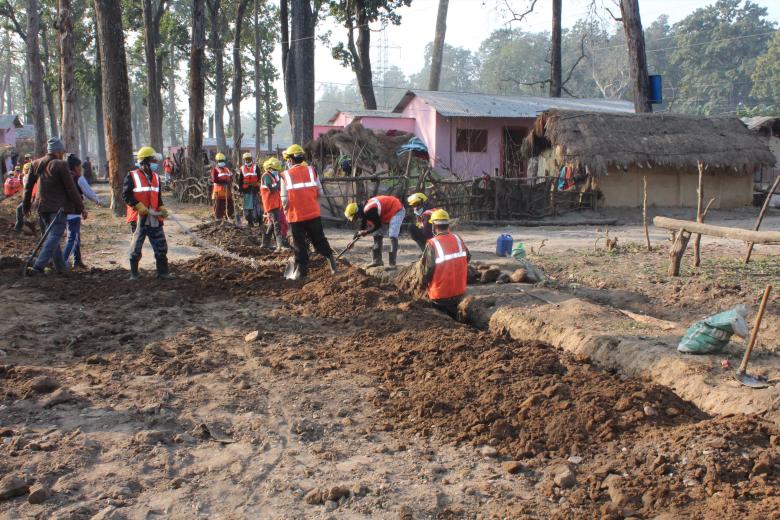 Cash for Work made access to clean water possible in Kailali
Tuesday, March 23, 2021
People of Ward 10 and 11 of Godawari Municipality in Kailali district had no choice but to walk for hours to fetch water from the river. Even with all struggles, it was very difficult to get clean drinking water. Locals suffered various water-borne diseases as they had to resort to impure water. The District Water and Hygiene Office and Rotary Club of Kailai had jointly built a pipeline to connect the community with the reservoir available considering the problem; however, the pipeline constructed was not complete enough leaving the locals' problem as usual.
Realizing the pressing issue, World Vision with financial support from the USAID's Tayar Nepal sought to address the issue the community had been undergoing through Cash for Work. Godawari Municipality worked closely with the project team as well as the community to identify and recommend the right scheme, which proved to be an integral part of the project.
The collaborative efforts resulted in the accomplishment of more than the anticipated  - a total of 14,831 meters pipeline was constructed against projected 1,100 meters. Motivated by the project intervention, the local governments (ward offices) also contributed equipment worth NPR 400,000 (USD 4,000) approximately to the scheme.
The pipeline that connects the community with the reservoir of 225,000 liters capacity, now supplies safe drinking water to more than 600 vulnerable households with children. The impact of this Cash for Work will directly benefit almost 3,000 people including children in the two wards of Godawari Municipality.
Having a proper pipeline for drinking water was a major priority for the locals. They worked really hard for this and now have taken ownership of its sustainability.
This is one of the several interventions of the USAID's Tayar Nepal across 12 municipalities of 10 districts (Kailali, Bardiya, Surkhet, Dailekh, Dang, Nawalparasi West, Dhading, Rautahat, Sarlahi and Dolakha) through Cash Transfer Programme Technical Assistance that aimed at providing implementation support to prepare, support, and strengthen Nepal's disaster response and recovery system to assess and respond to the second-order impacts of COVID-19.