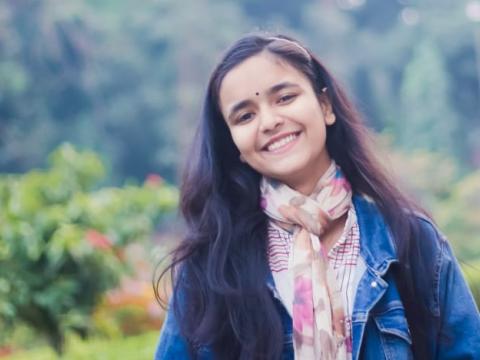 Child marriage is a war. We children are warriors.  
Thursday, May 20, 2021
Dola, 16, shares how children and young people in Bangladesh are fighting to stop and end child marriage
COVID-19 is impacting all our lives, but in Bangladesh during the pandemic the rate of child marriage has increased. People don't have food in their home and they are struggling financially. Financial problems are a big cause of child marriage. Families think that girls are a burden on them and they don't want to bear the cost of their children. Parents think that if they give one of their daughters to child marriage, then the burden of taking care of their children will be reduced.
Another reason for child marriage is that they think that their children are not safe in society and that marriage is a solution to keep their children safe. But parents are not educated on what child marriage costs their daughters: their health, their hopes, their futures.
I'm proud to be Secretary of the National Child forum: 88,000 children working to make our communities child-marriage free. Every child forum leader is a fighter. Child marriage is a war for us and we are warriors. One day we believe will win it.
Between 2018 and 2019 we were able to stop 600 child marriages in Bangladesh. We can ;proudly say that we saved 600 futures of our countrywomen.
Every child can understand other children's pain. To stop child marriages, we are talking to families and children and trying to raise people's awareness through street dramas. We are doing research to find sustainable solutions to child marriage. And in every school we have run a campaign against it.
A few days ago my team and I stopped a child marriage remotely. One of my friends who lives in a remote area had heard that a child marriage was going to happen. ;She called me and asked me how she can prevent it, but it was a bit hard, because it's outside of my city. So I managed to connect her with the nearest police station. She went to the station and asked for help, and then went with the policeman to the venue. So we stopped that child marriage, even though most of us had to stay at home because of COVID-19.
There are many things that need to be done to stop child marriage. We have to increase awareness in the family. We need to raise awareness of SDG 5*, gender equality. We need to empower girls because, one day, empowered girls will change the world. And we have to think of some ideas of how to work digitally too. We can create training for girls that will help them to be more empowered and self-dependent.
We can campaign in remote areas and tell people about the bad effects of child marriage. We can make some videos and live shows with celebrities who will help us to increase awareness.
The government should play a more supportive role for those of us who are working to stop child marriage and global organisations should increase the platform they give us to raise our voices. Our voice is for the voiceless.
Dola and other young people feature in World Vision's latest report Breaking the chain empowering girls and communities to end child marriages during COVID-19 and beyond. 
Dola is the Secretary of the National Child Forum, Bangladesh and a World Vision Young Leader