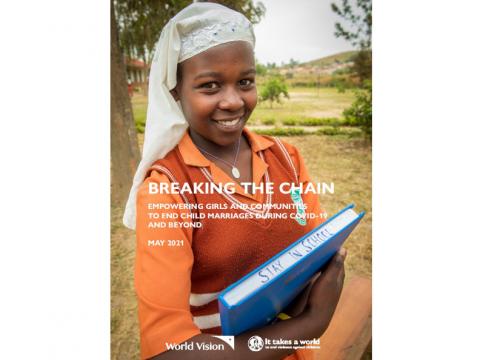 Breaking the Chain: Empowering girls and communities to end child marriages during COVID-19 and beyond
Thursday, May 20, 2021
Right now, there are 650 million child brides living in every region of the world. Child marriage is a fundamental violation of human rights, which severely impacts the global economy, peace and security, as well as hampering the achievement of the Sustainable Development Goals.
Progress has been made over the last decade, but 2020 saw the greatest surge in child marriage rates in 25 years. Global projections of girls married by 2030 have shot up from 100 million to 110 million, as an additional 10 million girls will now be married due to the effects of the COVID-19 outbreak. According to anecdotal data from our programmes, between March-December 2020, child marriages more-than doubled in many communities compared to 2019.
This report compiles research and data from four unique contexts – Afghanistan, Bangladesh, Senegal and Uganda – where World Vision has been working to address the issue of child marriage. In each of these countries, case studies were developed using first-hand accounts of promising practices towards eliminating child marriage.