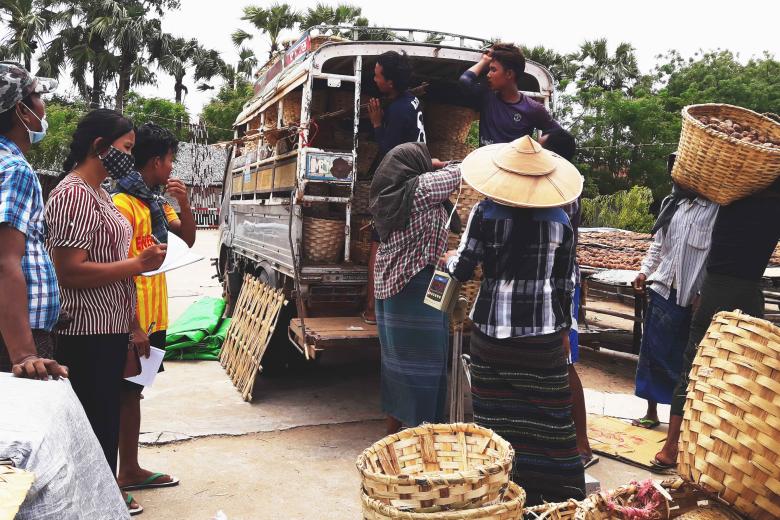 Sugar palm farmers find hope during COVID-19
Friday, August 28, 2020
The dawn breaks together with the voices of engines from the cargo trucks and labours loading palm baskets. Ma Phyu, a volunteer of World Vision, and other palm farmers and buyers are also in the crowd loading their products to be sold Zaw Gyi trading company limited.
Palm sugar farmers come and help out the buyers enthusiastically in the process of loading the cargos for they are the ones who will try and sell their goods with good prices during this time of pandemic where travel restrictions are still active. The number of goods is massive this time since the largest festival of Myanmar, the Water Festival, was cancelled out because of COVID-19 and that was the time when palm juice is available abundantly. Therefore, farmers used this situation to their advantage in putting efforts into cooking sugar palms which will support their families.
Ma Phyu is a volunteer giving field pieces of training for sugar palm farmers in cooking export quality palm sugars, partnering with Zaw Gyi trading, in order to generate more income for them. She is also in charge of quality control and management of end products. Therefore, the travel restriction during the COVID-19 pandemic becomes a big concern for Ma Phyu for the goods delivery will be delayed. Sugar palms are indeed the hard work and sweat of the farmers after all. In solution to that matter, Ma Phyu initiated in reaching out to the Zaw Gyi trading company limited and local health department and health staff in order to deliver the products safely from the Magway region to the warehouses in Mandalay Region.
 "It's only this period if the travel restriction was lifted it will become normal again. All I have to do now is to work hard to support the farmers and their families," Ma Phyu encourages herself.
Ma Phyu is a mother of two children and lives in a village of Chauk Township, Magway Region. She has to struggle for the family's income as her husband does not support them even though he is working in another country. Despite all those struggles, she volunteered herself enthusiastically in the development processes in the village.
Ma Phyu participated actively in distributing pamphlets to registered children, home visit awareness-raising, planting awareness posters, and vinyl in public places and training during the COVID-19 pandemic.
After successfully loading the palm sugars on cargo trucks to be delivered to the warehouse, Ma Phyu was happy and satisfied with the fact that there were less rejected cargos because of poor quality. She believes that all the farmers will be happy too.
To help achieve the dreams of sugar palms farmers, she trained them personally at the place of sugar palm cooking despite the heat from the fire, travelled to Nyaung-U by herself with a motorbike to negotiate with Zaw Gyi trading company limited and visited local health departments for approval several times.
"Sugar palms farmers are the poorest families in the village. Some don't even own any palm tree and have to pay and climb others' to collect palm juice. Selling palm sugar in the village and local market, Chauk, doesn't give them much profit. Doing business with Zaw Gyi trading company limited gives a little more profit for them doing it locally. I was also a sugar palm farmer, so I know the struggles and hardships of not getting good prices for our hard works. Now that I see they are doing fine, I'm really happy," says Ma Phyu.
Now that sugar palms are successfully delivered, Ma Phyu forgets all the hardship she went through to help achieve the palm sugar farmers' dreams.