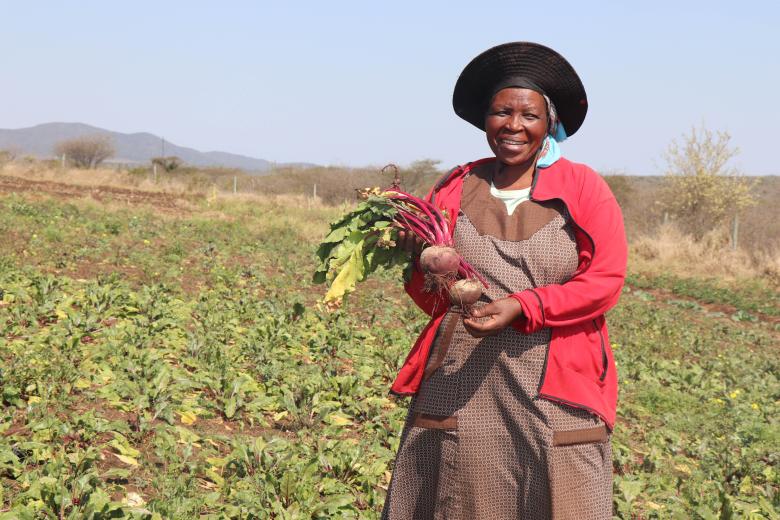 "GARDEN A DOOR TO EXIT POVERTY FOR ME AND MY CHILDREN"
Friday, September 9, 2022
After seven years of struggling with their vegetable farming project, members of the Mpalane Garden Association were losing hope as their efforts yielded little income.
Livestock roaming freely in the garden would destroy anything the members planted, leaving them disheartened. "We had no fencing, so we resorted to using tree branches, but the livestock would enter and ruin our garden whenever they pleased," explains Taylor Ndwandwe, Chairperson of the Mpalane Garden Association.
Initially formed in 2005 with around 15 members, the association later decreased to 10 dedicated individuals—nine women and one man—who persisted despite the lack of benefits and profits from their business.
This perseverance paid off for the 10 when they approached World Vision in 2012, requesting assistance.
Their perseverance paid off when they approached World Vision in 2012 for assistance. World Vision Lesotho provided the association with fencing material, including gates, two water tanks, irrigation pipes, and seedlings. Furthermore, World Vision conducted technical and business-specific training sessions, empowering the members to maintain their gardens and achieve sustainable profits. Today, the association successfully cultivates and sells a variety of vegetables, including beetroot, butternut, tomatoes, and cabbages.
"This garden has truly been the door to exiting poverty for me and my children" says Taylor.
She says her family now no longer struggles to put food on the table, and they eat healthily, while children's school fees are also easily paid.
"Listen, my house has floor tiles as I speak as if we work in high-paying jobs; mind you, I used to smear my floors with cow dung back in the day," narrates a beaming Ndwandwe.
She lamented the fact that World Vision was leaving the Matsanjeni Area Programme (AP) on the 30th of September, 2022.
"We are saddened by the closure of this office because this organisation has been our father and mother. We'll always be grateful though as they move on to support other communities, mostly because they have left us with projects that will provide for us even after they are long gone," Ndwandwe adds.