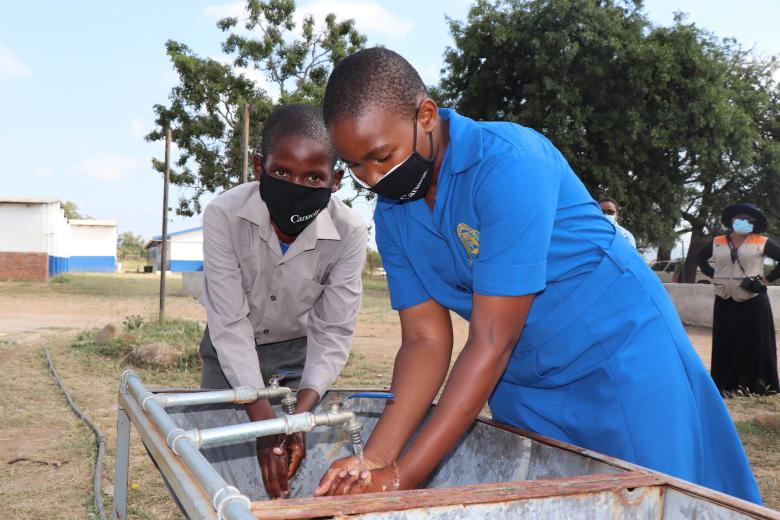 Protecting Eswatini's children from the dreaded Coronavirus
Tuesday, May 25, 2021
World Vision has enhanced protection of five hundred Eswatini school children from COVID-19, through a donation of a range of school materials. The donation to Eswatini's Maloyi Primary School in Shiselwani region aims at stopping the spread of the novel coronavirus, which has claimed hundreds of lives in Eswatini, including that of the nation's Prime Minister. 
The donation included sinks, tanks, stationery and posters with COVID-19 prevention measures, especially targeted at vulnerable children whose aspirations hold any nation's future.
World Vision invited journalists from the Eswatini Observer, a national newspaper, who interviewed students and the deputy headteacher on World Vision's projects. They also toured other projects around the country, to gain better understanding of World Vision's interventions. 
Mr. Muzi Dlamini, the deputy headteacher, during interview expressed his gratitude and said the donation will promote better hygiene standards in classrooms, and ensure lessons are conducted in a better environment, with increased stationery.
"We are now able to wash our hands using sinks before attending class, protecting us from the coronavirus. We also have posters on proper hand-washing techniques", a happy Khetsiwe, who is in grade seven said. 
Another grade seven student, Lindelani, also expressed her gratitude. She said she was thankful to World Vision Canada who donated the materials to the school, during the lockdown.
-
(Edited by Michael Arunga - World Vision Eswatini Communications Consultant)