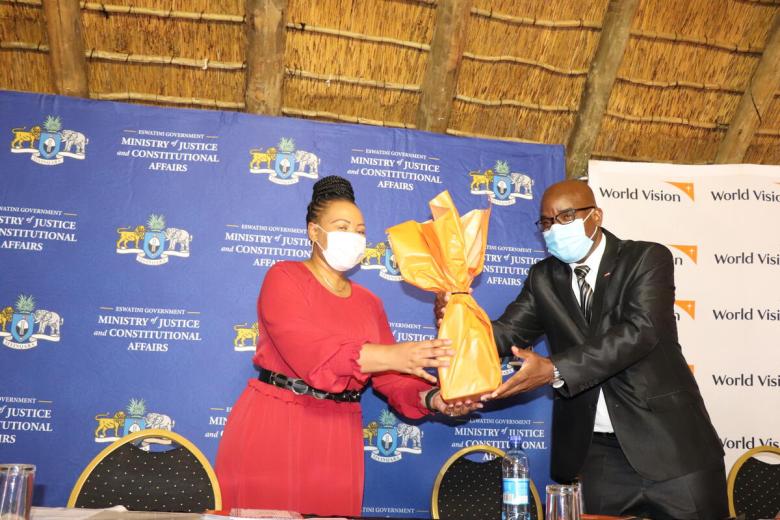 World Vision holds prosecutors' training targeting improved justice for children
Monday, May 10, 2021
Reports of violence –particularly sexual violence against children– continue to hog the news in Eswatini, despite the introduction of the Sexual Offences and Domestic Violence (SODV) Act two years ago. World Vision is keen to see children protected and, those who experience any forms of violence, receive justice. Within this framework, the organisation held a three-day prosecutors and police workshop to improve justice delivery for children.
While launching the workshop at Esibayeni Lodge in Matsapha, World Vision's Country Programme Director (CPD) Francis Dube called for the training of prosecutors around disability, braille and other special needs that will ensure justice delivery for children with disabilities. He called on the judiciary to take a lead in helping realise this call.
"Our prayers are that, as our partners, you lead to ensure that the justice delivery system is child-friendly and also takes into account the special needs of children with disabilities", Dube appealed.
The event that was officially opened by the Minister for Justice and Constitutional Affairs, Honourable Pholile Dlamini-Shakantu, was attended by the Deputy National Commissioner of Police, Mumcy Dlamini, who represented the National Commissioner, among other senior government officials.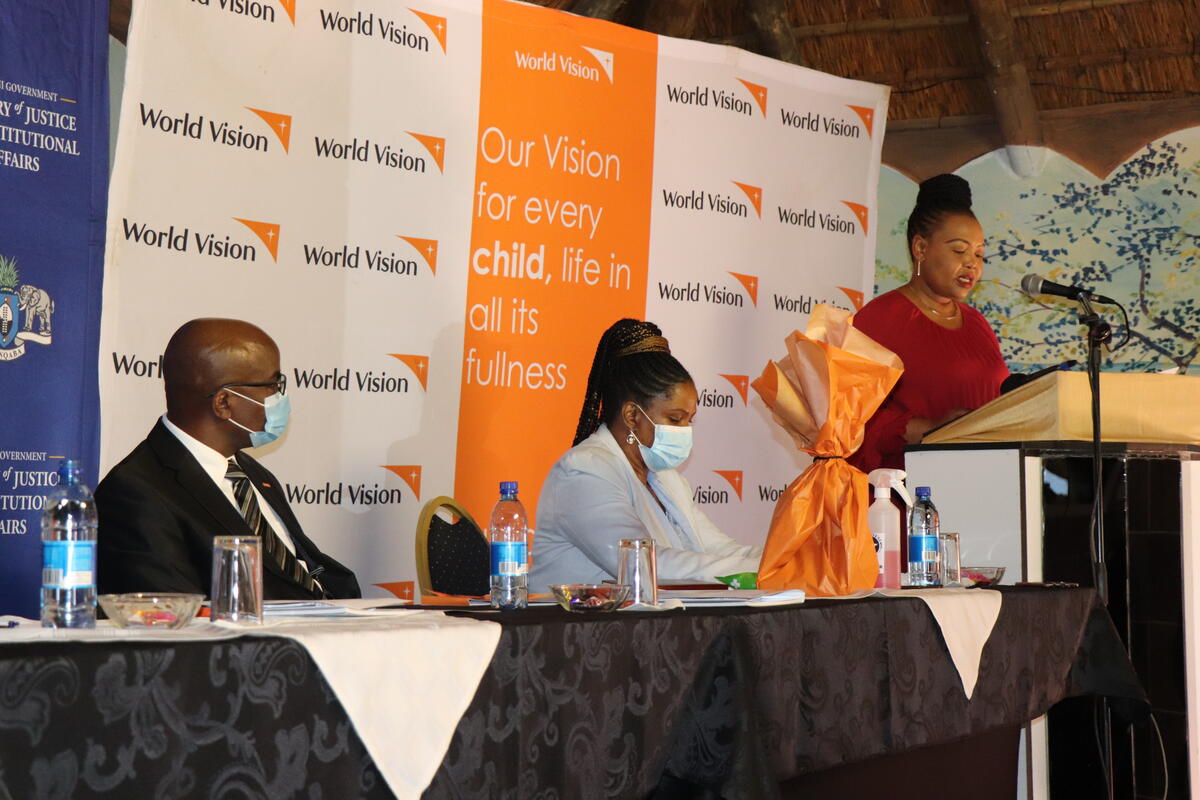 Twelve prosecutors and 28 Police Desk Officers also attended the workshop, in collaboration with the Director of Public Prosecution's (DPP's) office and the Royal Eswatini Police. The workshop featured, among others, discussions on human rights and justice delivery for children.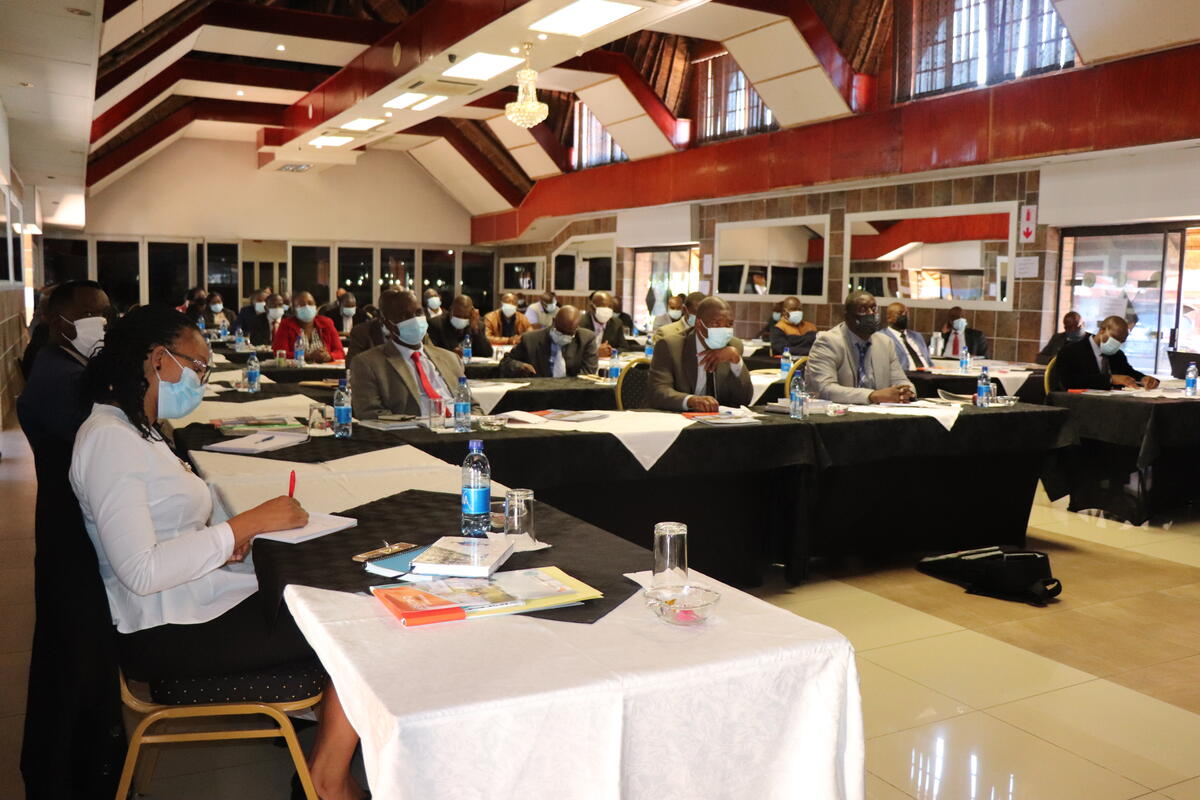 Dube appealed to the prosecutors and police to lead the decentralisation of essential child protection services to increase their accessibility to children, including One-Stop Centres; simplification and dissemination of relevant laws and policies to end violence against children; and ensuring adequate understanding of the legal instruments by those charged with implementation, to ensure their full application. He called for legal recognition of child participation forums to allow children to provide feedback to improve the justice system.
Hon. Dlamini-Shakantu concurred with the CPD and expressed her gratitude to the event organisers, saying its objective was in line with the Ministry's, which is reduction of crimes against children, women and other vulnerable groups, such as the elderly and people living with disabilities.
"My request is that as you deliberate on improving justice delivery for children, you pay attention to how you can reduce or stop crimes against children from happening in the first place", the Minister said.
She further appealed for closer attention to how justice service delivery for children can be improved and how the criminal justice system can be delivered to produce effective outcomes that deter criminals and protect innocent citizens, especially children.
The Minister also thanked World Vision for the great work that the organisation is doing for children, women and vulnerable communities in the country. 
"World Vision has supported the Ministry by procuring furniture and essential items for victims who come to the One-Stop Centres. The organisation has also provided basic necessities, including clothing to needy child victims of sexual offences in the different courts in the country", said Hon. Dlamini-Shakantu.
She concluded by lauding the partnership with World Vision, noting that the support included procurement of statutes relevant to the protection of children, and further appealing for support in procurement of electronic recording equipment to be utilised when recording evidence of children at police stations and court levels. This, she said, will ensure the country progresses in safeguarding the rights of children.
The representative from the Eswatini Human Rights Commission reminded participants not to forget human rights of both accused persons and victims when investigating and prosecuting cases of violence against children.