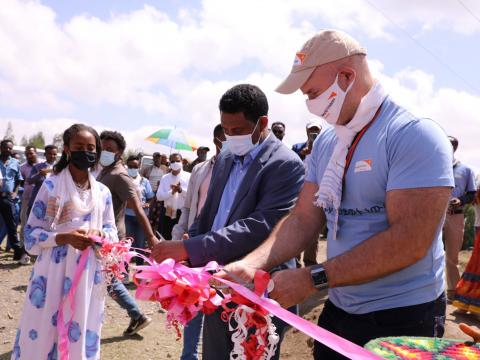 World Vision inaugurates 35.5 million Birr WASH projects
Monday, March 8, 2021
World Vision has inaugurated six Water, Sanitation and Hygiene (WASH) projects worth 35.5 million Birr (US$1 million) in Habru District of North Wollo Zone, in Amhara Regional State in the presence of Senior Government Officials from Amhara Region States, and World Vision Ethiopia Senior Leadership and Advisory Council.
The water projects are meant to benefit 52,400 people and serve public institutions including health facilities and schools. World Vision constructed Sirinka Gerado multi village and Libso water supply projects in collaboration with Save the Children through funds secured from USAID/Feed the Future Growth through Activity, and benefited 20,500 community members at Sirinka, Gerado and Libso rural kebeles.
Opening the inauguration ceremony, Edward Brown, World Vision's National Director for Ethiopia, said, "Our largest and most important project is water because it is life. Last year, we invested US$20 million and benefited over 1.6 million people with essential water, sanitation and hygiene services.
These remarkable achievements are realised through unreserved collaboration and partnership of the Government, NGOs like Save the Children, USAID, and the community. I ask all partners and stakeholders to continue working with World Vision to ensure children and families have access to safe water."
World Vision has been implementing integrated development programmes including WASH, economic development, education and life skills, health, and sponsorship programmes since the inception of its Mersa Area Programme in Harbu District in October 2007.
Since the inception of the programme in Habru District, the programme has so far benefited more than 112,450 people in health care, food security, education, and clean water supply, hygiene, and sanitation services.
In his closing remarks, Woldetinsae Mekonnen, North Wollo Administrative Head, said, "I would like to say thank you to World Vision Ethiopia, Save the Children, and USAID for constructing and availing clean water sources to our people who were suffering from lack of clean water while having plenty of springs around their locality."
He added: "We are thankful to World Vision Ethiopia for its integrated development endeavour across Habru District. I kindly request the community to properly manage the newly constructed water sources to serve you for a longer period of time in a sustainable manner."
---
Article originally published by Fana Broadcasting Corporate, who covered the event on 1 March 2021: https://bit.ly/3elY0zX