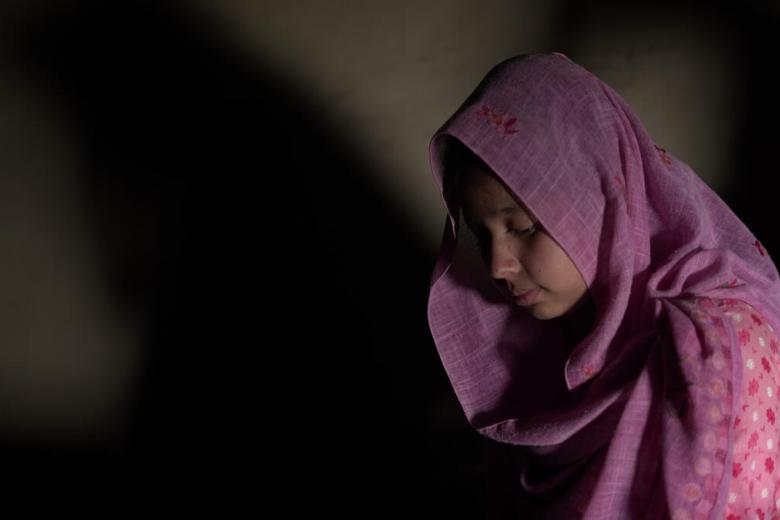 Fighting for her future
Wednesday, July 6, 2022
Fourteen-year-old Shila loved learning. She enjoyed attending school, and when World Vision started a karate training program for girls in her community in Bangladesh, she was eager to enroll.
"My eyes were bursting with wonder," Shila says. "I didn't haste a single time to take consent from my parents and got myself in the training program."
The program lasted six months and was designed to help girls develop the confidence to protect themselves against violence, which runs rampant against women and girls in their area. As she learned, she grew full of energy and courage. But life was difficult in other ways. Shila's family was poor, and her parents struggled to provide. When they lost their business, her father was drowning in debt—and desperate.
"Poverty was there, but I was still content in my family until the day my marriage proposal came," Shila says.
The man she was to marry was a drug addict and a gambler. Shila wanted no part and refused. Her neighbors speculated about why she wouldn't marry, so rumors began spreading throughout the community that she was involved with someone else. Her family's reputation began to take a toll. Her parents took the choice off the table and said she was getting married.
"My protest became useless," Shila says. "I also thought that I will escape from my house, but where would I go? I was forced to marry."
Her father talked with the man who would soon be her father-in-law. The two agreed that they would allow her to at least continue her studies. It was a small thread of hope for Shila to hang on to.
After she was married, Shila's daily reality went from hard to frightening. Her husband would regularly come home drunk and beat her for no reason, as if it were just a normal part of his day.
"I tried to make him understand a few times that he should not behave like this, but it would make him furious, and he used to beat me more," Shila says.
He also wouldn't allow her to go to school, despite what their fathers had agreed to. When she protested, things just got worse.
"I was tortured and abused even if I [said] a single word regarding studies," she says.
Shila was hurt, scared, and frustrated. This was not the life she had envisioned or wanted. But she was not defeated.
"Everything has an end, so does my tolerance," she says. "One night I raised my voice. When he came to hit me, I grabbed his hand and made him fall on the ground using my karate skill. He got scared, at the same time surprised. After that, he never dared to hit me again."
Shila had taken back some of the ground she had lost. Now she wanted to take back her dreams. Her Junior Secondary Certificate exam was fast approaching, and she wanted to take it, but in order to do so, she wanted to rest, focus, and prepare for it away from her husband by staying with her parents. Her husband again grew furious, so he started rumors that Shila was having multiple affairs.
"I became adamant that I would never [go] back to this person again," she says.
Shila's aunt helped get her back to her parent's house. Her mother helped her study and prepare for it, and when the day came for her to sit and take it, she passed! While pressure mounted for her to return to her husband, Shila found her voice and stood firmly, knowing education was her path forward.
"I strongly expressed that it is the divorce that I want from such an abuser," Shila says. "I proceeded with divorce and continued with my studies. Now I feel confident and happy. I encourage other girls [to take] the martial art training and give them the courage to protest against [sexual harassment], violence, and any bad behavior."
Shila is now a 16 and a student in class nine, and she has a strong sense of confidence and courage for herself and other girls.
"I believe in women's empowerment," she says. "I want to see women's empowerment and want to stand beside oppressed women. I want to tell every parent that girls are not the burdens of a family—allow them to become your strength. Don't marry them off at an early age."
Shila wants to see other girls find the emotional courage to stand up for their rights and advocate against violence, harassment, and abuse. World Vision helps girls do this in many ways, including through child sponsorship. Child sponsorship provides programs that benefit the whole community and teach girls about their rights while also educating parents about why girls shouldn't be married as children.
When you sponsor a child with World Vision, you are empowering girls like Shila all over the world to overcome the barriers they face toward education and following their dreams. Join the movement and help sponsor 1,000 girls before International Day of the Girl on October 11.