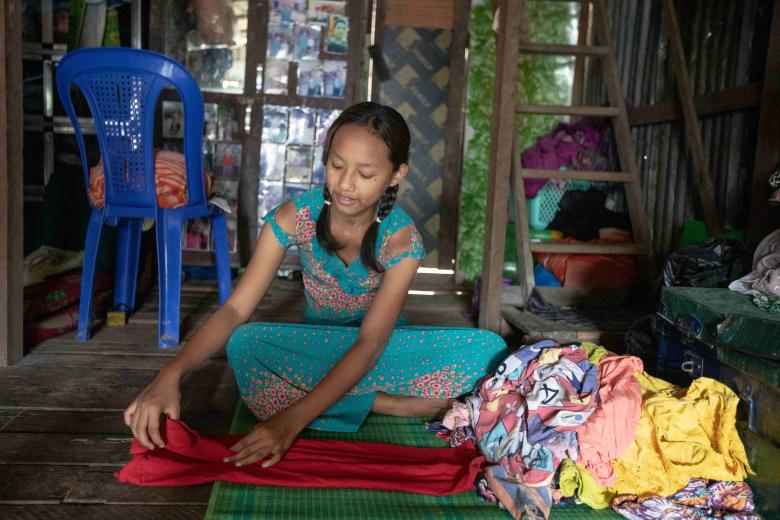 From struggle to strength
Tuesday, September 12, 2023
"I feel deeply saddened by the number of children around me who are unable to attend school while struggling to secure their daily meals. For them, going to school is like a golden ticket. Unfortunately, their parents are unable to provide them with food on a daily basis. Even having a meal each day is considered a stroke of luck for them," Ei expressed with a heavy heart.
Ei, a thirteen-year-old studying in Grade 8, resides in a village within the Thanlwin Township, alongside her mother, grandmother, and aunt's family. She is the only child in her family and has been a sponsored child since 2013. As she witnesses the hardships faced by these underprivileged children, it triggers memories of her struggles. Last ten years, Ei's family faced difficulties in securing their daily meals. When their home lacked food for lunch, Ei's mother would send her to her grandmother's house to have a meal. It was often the case that her mother couldn't prepare the meal until her father returned from work. On fortunate days, her father would earn enough money for a single meal, but on other days, they would go without lunch until the evening. In those instances, her mother had to borrow money from informal lenders just to feed the family.
Daw Aye, Ei's mother, used to be a street vendor selling rice and curry. Unfortunately, their micro business faced challenging times and eventually closed down. The passing of Ei's father further exacerbated their financial struggles. They were unable to gather enough money even for her father's funeral and the necessary paperwork. At that point, her mother, devastated and unemployed, struggled to make ends meet while Ei was merely six years old.
Life became even more arduous for Ei and her family following her father's demise. Financial problems loomed large, and her mother had to resort to borrowing money from other informal lenders, often at exorbitant interest rates, to meet their basic food and address any health emergencies. A few years after their tragic loss, Ei's mother began working closely with World Vision. In 2017, both Daw Aye and Ei joined the Savings for Transformation (S4T) program.
Receiving training through S4T proved instrumental in improving their financial management skills. Previously, Day Aye had little knowledge about handling finances. She also shared her newfound savings practices with her friends, who greatly appreciated this knowledge. World Vision Myanmar consistently emphasized and reinforced the importance of savings practices through multiple S4T training sessions, causing Ei's mother and the other group members to alter their behaviour. Previously, her mother would save money only after buying necessary items, but now she has adopted the practice of saving before making any purchases. Daw Aye fondly recalls the voice of the World Vision staff, saying, "Save money before buying, not after buying."
Reflecting on their journey, Daw Aye says, "Before S4T, life was incredibly difficult. I couldn't provide my daughter with pocket money. But now, I have improved my financial management skills and learned how to allocate funds for food, healthcare, and my daughter's education." She adds, "In urgent financial needs, I can obtain low-interest loans through S4T. Borrowing from informal lenders is both challenging and comes with high-interest rates."
Ei, too, received training in S4T, life skills, and child protection from World Vision Myanmar. She started changing her behaviour regarding savings by setting aside money from her pocket money and developing a habit of saving. Thanks to S4T, Ei managed to purchase her bicycle with her savings.
In 2019, Ei's family became recipients of the Ultra Poor Graduated Program. For six months, they received food supplies such as oil, rice, and other necessities. This support not only alleviated their daily food concerns but also allowed them to save money. With the surplus funds, they were able to rebuild their house, which had been damaged by Cyclone Nargis. Previously, there used to be a wet and swampy area in front of their home.
Ei joyfully exclaimed, "Now we can make a concrete pathway in front of our house. The house is adorned with beautiful tiles. It is no longer old and ruined."
Ei's mother's business also flourished. With investment from S4T, she ventured into selling clothes and kitchen commodities. Additionally, she received soap production training from World Vision's vocational program. Ei assisted her mother in soap production during her free time, further contributing to the family's income and stability. Her mother's newfound success enabled her to provide for their daily needs and purchase educational materials for Ei.
Through the Child Development Program, Ei received school supplies and facilities such as a school bag, umbrella, lunch box, and literacy materials each year. These resources ensured her smooth continuation of education.
Ei's dreams were fueled by her experiences.
She expressed her dream, saying, "I aspire to become a doctor so that I can help impoverished children and families, particularly those struggling with daily food."