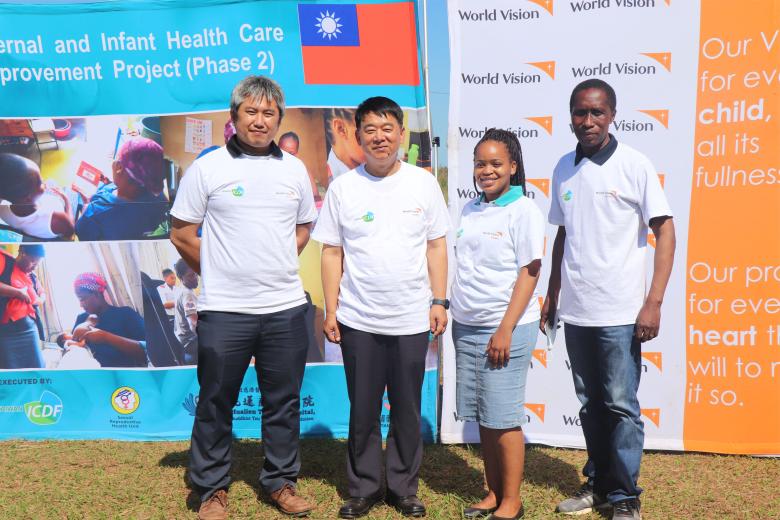 Healthy babies for Tikhuba women
Wednesday, June 1, 2022
One of the greatest joys for most women is giving birth to a healthy, bouncing baby after nine months of anticipation. However, some expectant moms may face the agony of giving birth to a baby with a poor health status or, worse, the loss of their precious baby.
For expecting women of Tikhuba, Matsanjeni North of Eswatini, this was a real possibility, especially during the peak of COVID-19, due to the lack of necessary multi-vitamins and medications in clinics. Thanks to a Taiwan ICDF and World Vision Eswatini-funded initiative, the community benefitted from a fund set up to help ensure proper nutrition and ante-natal care for expecting women of the area.
"The E700 I received monthly really helped me and ensured that I give birth to a healthy baby, which I don't think would've been possible if I hadn't received this money because, at some point, the clinics did not have the necessary vitamin supplements taken during pregnancy," said Nelile Gwebu, one of the project's beneficiaries.
Speaking during a Health Promotion event hosted by the Taiwan ICDF and World Vision Eswatini in their area on the 29th of March 2022, Nelile said most of the women in her area could not afford to buy the necessary supplements from pharmacies, while also trying to ensure they had money to go for ante-natal care and eat right, for the benefit of their children.
Good antenatal care includes regular screening to help detect and prevent early complications, such as hypertension and pregnancy diabetes, which can dramatically affect the foetus, according to St. John Medical. This clearly indicates that undergoing the process of antenatal care is mandatory for every pregnant woman.
The monthly cash transfers received by the women of Tikhuba community meant they did not have to stress about attending antenatal care visits promptly, eating right and getting the necessary supplements.
Gwebu further stated that this project somehow helped her realise the importance of being an independent woman; that is, not relying on a man to provide for her baby.
"We learnt that we can actually raise our children as women, even with absent fathers," she said.
Nelile is one of close to 500 expecting women, from Matsanjeni North tinkhundla, that were registered for the project when it started in July 2021. Identification of these women was done through the help of Rural Health Motivators and qualifying women received a monthly grant of E700 over a period of 9 months, to provide for their necessities during pregnancy.
During the Health Promotion event, Nursing Assistant Alice Maziya also emphasised the need for pregnant women to attend antenatal care visits since they are vital to the baby's wellbeing. She encouraged them to work hand-in-hand with the community nurses since they also have immense knowledge o how women are supposed to behave when pregnant, in order to deliver healthy babies.
Indvuna Yenkhundla Thandiwe Ndzimandze and Tikhuba Rural Health Motivator (RHM) Lindiwe Ndzinisa also expressed their gratitude for the help received by the women in their area through the project.