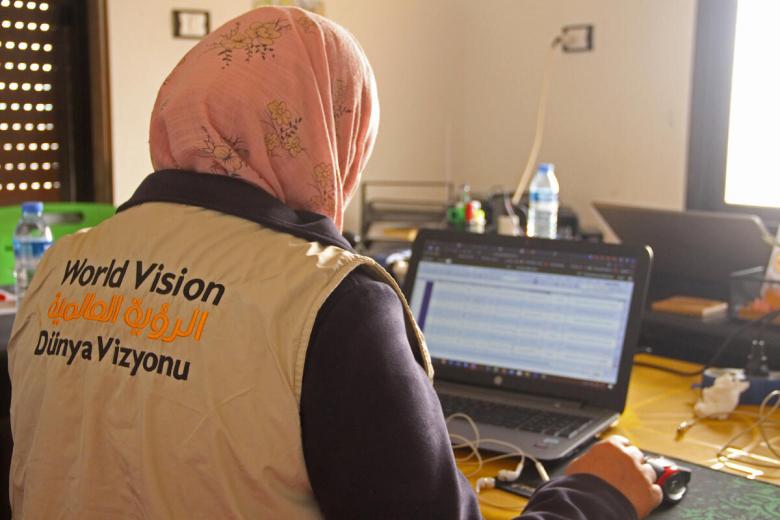 Ahlam, a hidden hero who sacrifices her own safety and comfort to help strangers
Monday, May 18, 2020
Behind all the work that World Vision has been a part of over the last 70 years, ordinary people have come together for extraordinary impact. These hidden heroes have risen to meet the most relevant challenges in every decade and across many cultural changes.
Ordinary people can demonstrate incredible courage and resilience in the face of danger. Ahlam, a 52-year-old mother and grandmother living in Idlib, North West Syria, is one of those remarkable individuals who sacrifices her own safety to help strangers. She is always looking for ways to help and she refuses to turn her back on her fellow Syrians in need.
In her day job, she is an aid worker who helps families caught up in Syria's brutal civil war. By night, she selflessly opens up her own home to families without shelter because of the bombs. In her spare time, she voluntarily searches the streets, looking for orphans, elderly and poor women who she can help in some way.
Now in its tenth year, the Syrian conflict is the world's largest refugee and displacement crises of our time.  It's now considered the second deadliest of the 21st century.
"The conflict has destroyed essential public services including healthcare; there is a lack of medication and medical supplies due to the bombing of clinics and hospitals. The loss of income and employment and rising costs for basic food items is pushing Syrians to the depths of desperation," Ahlam said.  
In 2012, Ahlam was forced to flee her home country along with an estimated 3.8 million people seeking asylum in neighbouring countries. Ahlam's family was separated during the fighting. Her father and brother were killed. In fact, the families of many of our staff and partners have been displaced.
Ahlam, who earned a diploma in education while in Syria, began working with World Vision. She returned to Idlib, where she manages protection cases, provides training to reduce exploitation and assists World Vision's partner organisations when dealing with vulnerable people, particularly women, children, the elderly and people with special needs.
Despite living day-to-day, watching her home country be destroyed and being separated from her family, the mother-of-four holds onto hope for a better future.
"I do still have hope for a better future despite the hardship we're living through. I believe God will not abandon us. There are also people who are kind-hearted and still want to assist others in need. As humanitarians, we only call for peace and an end to war. This is our land, and it is our right to go back to our homes which we built."
Ahlam has risen to meet the most urgent challenges of the day. "We are trying to respond and help as much as we can. I try my best to help families who have no shelter and nowhere to sleep. We provide shelter to those families in mosques, schools, tents and houses of relatives – or even in my home."
She is currently sheltering 15 families in her home.
"I am always ready to help anyone who needs help. We never know when we will be forced to flee or even be killed. This war has created millions of victims. It saddens me deeply that many of the children I meet know no other reality than this conflict and fear. An entire generation has been damaged."
The conflict has taken a new toll as entire communities flee the relentless violence – often for the second, third, or even fourth time. It has taken a toll on Ahlam as well.
"I have witnessed a lot of suffering in Idlib during this long conflict, but the last few months have been the worst yet. I am a Syrian woman, I am an aid worker, yet I cannot provide people with all the help they need – it is overwhelming. On the other hand, it gives me great pleasure to see how I am giving positive energy to people around me. My community trusts me and thinks highly of me; it shows that I am doing something."
Every day Ahlam, a hidden hero, demonstrates courage and replaces fear with hope to everyone around her in Idlib. Nearly 12 million Syrians need humanitarian assistance.
World Vision's response to the Syrian Crisis to date
We are one of the primary international non-governmental organisations that supports programming in North West Syria. We are grateful that despite major operational and security challenges, our partners have continued to work throughout the escalating waves of this crisis and have made significant contributions to the well-being of children and their families.
In 2019 we reached 625,433 beneficiaries across North West Syria, including 362,751 children.

Our response, much of which is delivered through Syrian partners, includes health, protection, water and sanitation and emergency assistance.

At present, World Vision supports four medical facilities, 10 mobile medical units, 11 safe spaces for women and girls and child-friendly spaces and nine water stations. Our staff and partners conduct protection outreach activities that include psychosocial support, mine risk awareness, and identification of unaccompanied and separated children.

The teams also provided water trucking and shelter repairs and distributed emergency winter kits and cash support to nearly 8,000 families across 35 camps. In addition, 7,159 'new arrival kits' for displaced families have been distributed in the last quarter of 2019, supporting more than 35,000 people.
That's extraordinary impact! And behind it are ordinary people coming together as hidden heroes. You can take action on today's most relevant issues. Become a hidden hero today.