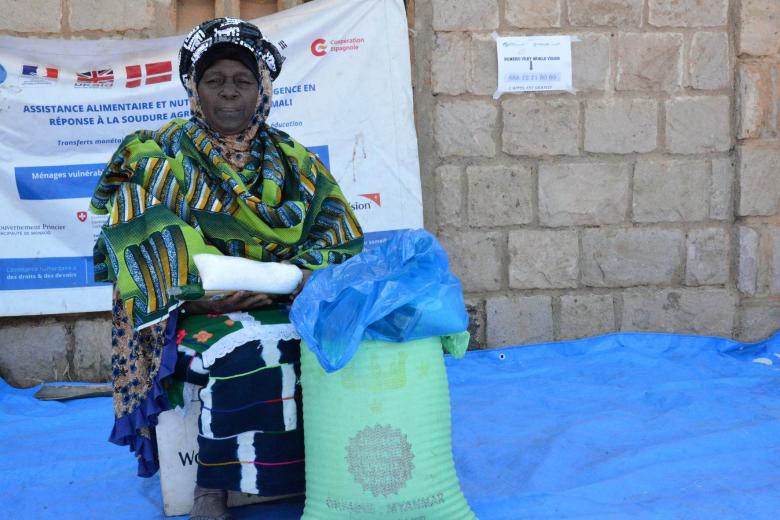 I fled violence to protect my family
Wednesday, February 8, 2023
Since 2018, the expansion of insecurity in central and southern Mali has negatively impacted the living conditions of the population, especially women and children, as they are forced to flee violence and threats to survive.
In a recent 2020 report, the Food Security Cluster estimates that more than 114,000 Malians have been forced to abandon their villages or homes. 
These figures indicate that the survival of more than 400,000 internally displaced persons (IDPs) still depends primarily on humanitarian assistance, solidarity and mutual aid mechanisms.
Djeneba, a 45-year-old mother of six, is one of those affected by the conflict. She fled her home because of the insecurity there. She now found shelter in a nearby village where she has been living for about a year.
According to her, the armed groups ordered them to go far away from their homes or they would all be killed, as she shared with us during a food distribution she received.
''They (armed men) threatened us to leave the village immediately. We left empty-handed, leaving everyone behind. We were afraid. We chose to survive''
Leaving her home empty-handed so that her children could survive, Djeneba found herself in an unfamiliar environment. Fortunately, there were friendly people there for them, as she told us.
"When we arrived here, it was thanks to the kindness of the village chief (host village) that we survived the first few days. We were all in shock, but thanks to their (the host population's) support, we were able to find shelter and some food." She reveals.
According to this woman, today her life and that of her children depend essentially on the humanitarian assistance, and sharing of the people who welcomed her with open arms.
World Vision is working to be there for Djeneba and others affected by the crisis. In 2022, food aid from World Vision's WFP-funded ASV project reached more than 936 displaced people and over 23,000 vulnerable households in the Bandiagara region.
"Since we have been here, World Vision has also helped and supported us a lot with monthly food distributions. We have been able to receive rice, sugar, oil and spaghetti from them for four months; the last one was in January 2023." She testifies
For Djeneba, food assistance has allowed them and their children to eat enough for a good period of time, as they manage to diversify daily meals.
" Children are only happy when they have enough to eat. For now, we are doing very well. We are very happy for the support and we hope it won't stop now because without that, we will have to face the ordeal".
Now that she is away from home, is she still working? The answer seems to be no as she shared with us.
"Here, I have no income generating activity, except for the small daily chores I do for the foster families.  This also allows us to support the children a little financially. Unfortunately, our hosts don't have enough farmland for all of us."
What about her children's schooling? Are they in school or have they been able to return to school since she fled to save them from violence?
"Three of my children are in school. This was possible thanks to the efforts of another NGO for which I am also grateful. I want and will stay here until peace returns, because I want to protect them. I am very happy that they are in school. I pray that the conflict will end one day and we will be able to go home." She concludes with pride
Like this 45-year-old woman, World Vision Mali's ASV project has met the urgent food needs of more than 556,060 vulnerable people in central and northern Mali through a strong partnership with WFP.