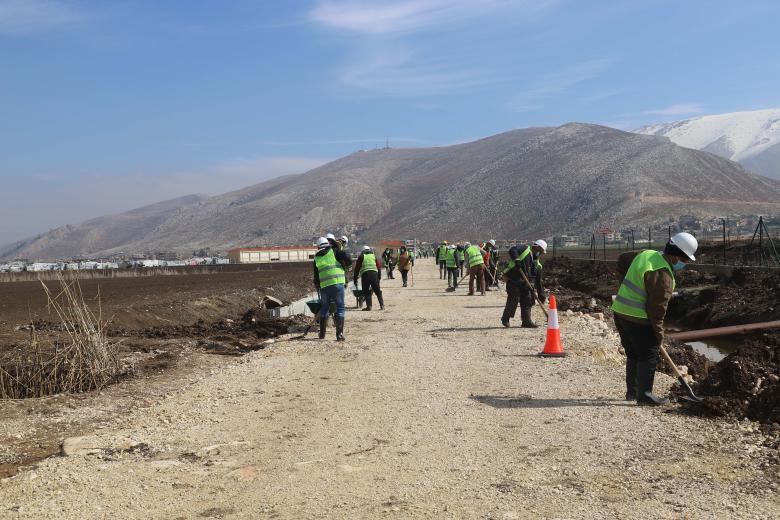 Families in Bar Elias stand in the face of challenges
Tuesday, March 15, 2022
Lebanon is well-known for its beautiful diversity—a mixture of cultures, traditions and religions. Unfortunately, the ongoing deterioration of the economy took a heavy toll on everyone living in the country.
In addition to losing their life savings due to the collapse of the currency, Lebanese families also lost many employment opportunities, thus putting their livelihoods at risk. "I studied topography and graduated back in 2015, but I was not able to find a job. I am a single mother to a five years old daughter. My parents passed away, and I don't have anyone to rely on. I have to do whatever it takes to provide for my little girl," says 29-year-old Tahani.
In partnership with the World Food Programme in Lebanon (WFP), World Vision in Lebanon (WVL) is providing Lebanese and Syrian refugees with cash in exchange for rehabilitating agricultural roads in Bar Elias. "This project encouraged the young generation in the town to work. It was also an opportunity to meet new friends.," says Tahani. "I believe women can do anything if they believe in themselves. I am the only provider for my girl, so I did not hesitate to take part in this opportunity, especially since it works well with my daughter's school hours."
"The work here reminds me of my studies back in college. It's like I am doing an internship that will help me find work in the future. We receive 20,000 Lebanese Pounds per hour, allowing me to buy more meat and vegetables for my family. My daughter will not be malnourished," Says Tahani.
As for 49-years-old Yasser, he fled the destructive war in his homeland Syria, unaware of what the future may hold. "We arrived in the Bekaa Valley five years ago. I just wanted to find a safe place for my family. The last couple of years were a true challenge for refugees in Lebanon. I was barely able to put enough food on the table," he says. "I heard about this opportunity through the Bar Elias municipality. My tasks here are similar to my previous work in construction. In addition to the financial benefits, I am gaining further experience in my field."
"Trucks used to break down trying to pass through this agricultural road. Now it's better than some asphalt roads in the Beqaa. Landowners and farmers in the area can also easily reach their lands now," says Yasser. "Thanks to the income from this project, I can provide food for my six children. I also want to make sure they continue their education so they can have a better future than mine."