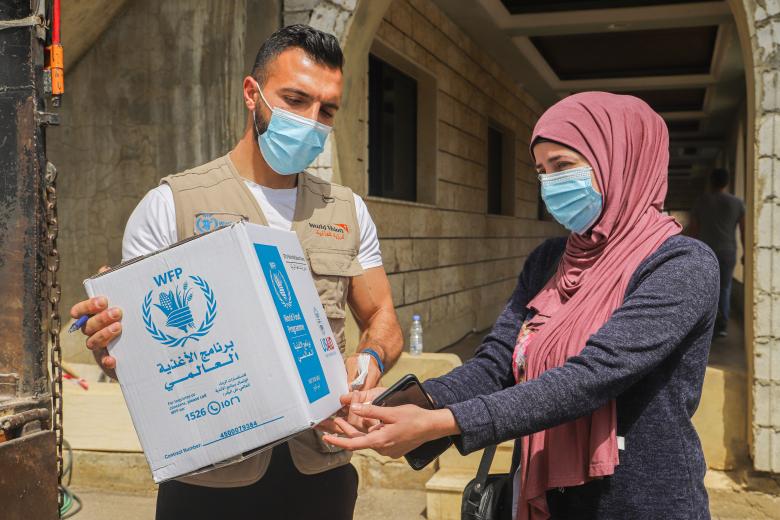 More than just a food parcel
Friday, May 27, 2022
The Lebanese economic crisis took headlines by storm as one of the worst global financial crises since the mid 19th century. However, the true severity is the prolonged duration of the crisis. Over the past nearly three years, most of the Lebanese have depleted whatever savings they may have had. Middle-income families are also slowly finding themselves in need of humanitarian assistance to get by. Unemployment, valueless salaries, and lack of opportunities are factors contributing to the socio-financial crisis in the country.
In partnership with the World Food Programme in Lebanon (WFP), World Vision is addressing the needs of the most vulnerable Lebanese in Akkar through the provision of monthly in-kind food parcels. "The past couple of years, after the start of the economic crisis, our financial situation drastically changed," says mother of nine, Yousra. "Our household currently consists of 10 people; eight children, my husband and me. In this deteriorating situation, it is impossible to meet the needs of such a large family. Without this monthly food support, our situation would have been very challenging."
"This Ramadan was probably the worst on our family since we were not able to buy all the needed food items for the Iftar. Nevertheless, the food parcels helped a lot since they contained essential items such as oil, tuna, grains and others," says 53 years old Yousra. "With the money I am saving, I can pay the electric generator bill. It is very expensive due to rising fuel prices."
As for 27-year-old Fatima, the livelihood of her three small children is her priority during this difficult period. "This support is important because I can rest assured my children will not be food insecure. In addition, with the money I am saving, I can buy milk and diapers for my youngest," she says.
"My husband is a bus driver, his daily income is very limited, and it cannot support a family like ours. He makes around 50,000 LBP (2 USD) per day, and this is far from enough. We are very grateful for this support from the World Food Programme (WFP) and their partner World Vision and I hope the situation will get better soon for everyone," says Fatima.
In Akkar, north of Lebanon, World Vision and WFP aim to support more than 11,000 families with monthly in-kind parcels, in the hope to ease some of their burdens during this difficult period.
WFP figures have found that food prices have increased by more than 1,200% since October 2019. This is pushing nutritious food further out of reach for Lebanon's most vulnerable.