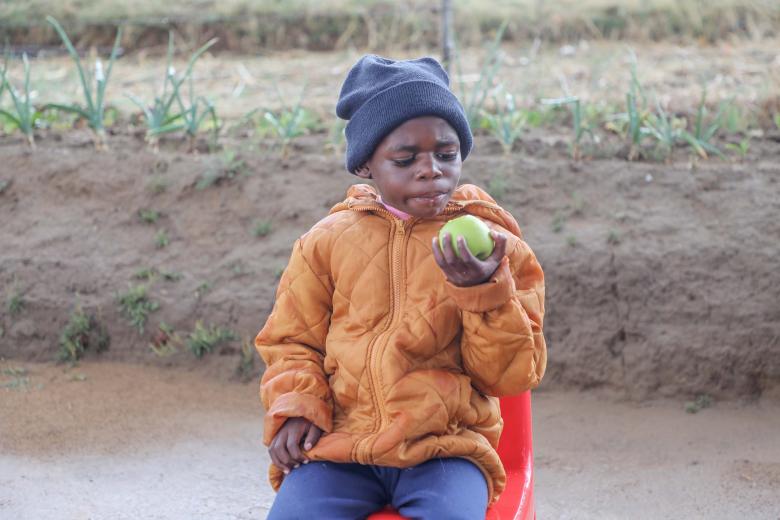 Fighting for ENOUGH: Thato's Inspiring Triumph Against Malnutrition
Monday, October 16, 2023
By: Reentseng Phephetho, Communications and Digital Officer, Lesotho
In the small village of Phamong, situated in the southern side of Lesotho, a young boy named Thato was quietly struggling, living in a place where poverty was a constant and unforgiving companion.
Thato in his first year of life, was a healthy boy, like any other child in the community, he reached his early milestones without any challenges, showing a bright future ahead of him. However, at the age of two (2), Thato's world crumbled when he lost his beloved mother and was left in the care of his aunts, this is when his life took an unpredictable turn.
Shortly after his mother's passing Thato was diagnosed with epilepsy, and his family, already dealing with the daily hardships of life, found it increasingly difficult to provide the necessary care as his condition worsened. As the seizures intensified, they watched helplessly as he lost his ability to walk and speak.
The struggles of a poverty-stricken family to cope with a child who had special needs led to a heart-wrenching neglect of Thato. As the epilepsy wracked his body, he withered away, suffering from severe malnutrition, teetering on the face of survival. Thato's life had become a heart-rending story of despair.
In the midst of this dire situation, Nkoseanele Hangane, a World Vision Community Development Facilitator, stumbled upon Thato in January 2023, abandoned and living in a chicken house, a sight that would break even the hardest of hearts. Overwhelmed by what he saw, Hangane knew that he had been called by a higher purpose. His words carried the weight of his emotions:My heart was broken by what I saw. I knew, in that moment, that God had called me for a time such as this. I prayed for the wisdom, the strength, and the heart to do right by Thato."
My heart was broken by what I saw. I knew, in that moment, that God had called me for a time such as this. I prayed for the wisdom, the strength, and the heart to do right by Thato.
With unwavering determination, Hangane cradled Thato in his arms and rushed him to a nearby hospital, acutely aware of the urgency of the situation. The medical professionals at the hospital embarked on a relentless mission to give Thato a fighting chance. Hopolang Lentsa World Vision Health, HIV & Nutrition Technical Development Officer, remarked:
"When Thato was admitted, he was a fragile child, weighing only 11 kilograms, at the brink of death. It was a race against time."
The following four weeks of Thato in hospital would become a testament to the transformative power of love, compassion, dedication, and unwavering support. A living testament to the words of Bob Pierce, who once said, "Let my heart be broken by the things that break the heart of God."
Under the dedicated care of the hospital staff, Thato began his miraculous journey of recovery. Hangane, who was by Thato's side throughout his recovery, added: "What we witnessed during those four weeks was nothing short of miraculous. Seeing Thato spring back to life was all the assurance I needed to believe in the unfailing love and faithfulness of God.
In those four weeks, Thato's weight increased to 19 kilograms. With the help of rehabilitation services, he learned to walk again. But the transformation extended beyond the physical realm. Thato discovered his voice, his spirit, and his zest for life. His resilience, fighting spirit, and boldness shone like a beacon of hope, inspiring all who witnessed this remarkable transformation to believe once again in God's amazing power to heal.
World Vision continues to walk alongside Thato, ensuring he receives regular health checks, monthly nutritious food packages, psychosocial support, and playtime. Thato's future is no longer shrouded in despair; it is filled with promise. Thato is proof to the fact that with enough nourishing food, enough love in the world, and enough compassion, children can not only survive but thrive.
Today at the age of thirteen (13) Thato weighs 20 kilograms, lives with his brother, cousin and sister in-law with World Vison staff in Phamong keeping a watchful eye on his wellbeing, to ensure he is well taken care of, and can wake up every day to a ray of sunshine and hope for a better future.
Thato's journey was nothing short of a remarkable transformation. It highlighted the devastating impact of hunger and malnutrition on children's lives but also showcased how collective intervention, love, and compassion can lead to astonishing recoveries.
Thato's story is a beacon of hope in a world too often overshadowed by despair. It reminds us that we can say "ENOUGH" to hunger and malnutrition and act to create a world where every child enjoys enough nourishing food to thrive.