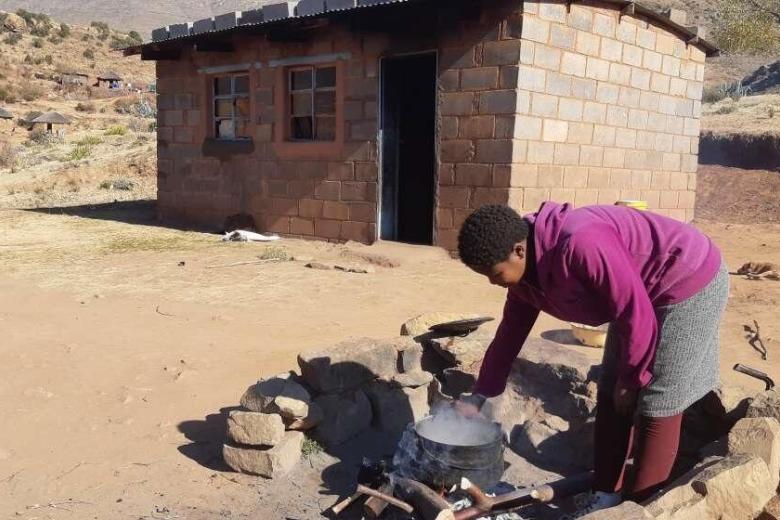 Food insecurity aggravated by COVID-19 pushes 14-year-old into marriage
Wednesday, July 15, 2020
The worsening food insecurity situation in Lesotho due to drought –and aggravated by loss of jobs for caregivers as a result of COVID-19– is pushing  girls  into early  marriage.  Fourteen-year-old Lerato (not her real name); third-born in a family of five, ran away from home with a much older boyfriend because there was no food to eat at home. She shares her heart-breaking story of hunger-driven desperation and broken dreams.
Since  the start of the COVID-19 lockdown which got schools closed,  Lerato's family has been struggling to make ends meet and find food to eat. Her brother and sister were working in the neighbouring  Republic of South Africa but are currently out of work due to the pandemic. The two used to provide for the family on a regular basis, but now that they have gone silent, life for Lerato and her mother has become extremely difficult.
"I could not bear it anymore. Each day my mum had to worry about what we will eat and has to literally knock door-to-door asking for food, and if no good Samaritan comes our way, we go without food. I felt that staying in a home where at least there is food was better than that." Lerato reveals.
She remembers when schools were still open. Life was better because she would get her first meal at school. Now that they have been closed for some time, getting food has been a major problem. Lerato's mother also used to get piece jobs as a domestic worker before the pandemic, but now even such small jobs are no longer available.
"I think it is because people are struggling to make ends meet since COVID-19,   and what they have they want to keep to themselves because no one knows what this pandemic holds." Lerato's mother shares. "I  have a feeling that Lerato was pushed  into this marriage by the   food insecurity  situation  we find ourselves in, and she was hoping that things would be better in her new home."  
The chief of the village, Mrs. Masoleng,  reveals that the closure of schools has been a major source  of  increasing child abuse cases, including child marriage: "It has exposed children to a number of problems, including early marriage and teenage pregnancy; just to mention a few. I wish Government could do something fast, because by the time coronavirus disappears, Lesotho will have lost so much of its youth."
In response to the problem, World Vision combined efforts with the police department of Child and Gender Protection (CGPU) along with community structures to return Lerato back home, and have the perpetrator brought to book.
"The reason we pushed for her return is because we realised that several older men are taking advantage  of young  girls because of the problems families face during this pandemic. We've had to remind our community of their responsibility to protect children against all forms of abuse." remarks Community Development Facilitator, Mr. Kalele.
Lerato's  case  provides a glimpse into the effects of a seemingly deep-rooted challenge of poverty, now worsened by COVID-19.
Lesotho is one of the 20 African countries  which have committed  to  ending  child marriage  by 2030 under  the ministerial  commitment  on comprehensive  sexuality  and reproductive health  services  for adolescents  and  young people (Help Lesotho Reports, 2017) . With all efforts directed towards COVID-19,  youth –especially girls–, are likely to suffer abuses that can damage their future.
A 2017 UNICEF report revealed that 17 % of girls in Lesotho are married before the age of 18, and 1%  married  before  the age  of 15 . With COVID-19 and the mass destruction of family livelihoods coming with it, it is highly likely that more girls will accept child marriage as a means to some form of security.
COVID-19 poses a grave threat to children in Lesotho and the rest of the world, both because of the severity of the disease, and its secondary impacts. World Vision's second COVID-19 Aftershocks Report, A Perfect Storm, examines child marriage as secondary impact on girls and boys. If nothing is done to stop the dangerous trend, at least four million more girls across the world will be married in the next two years.
Help us demand action to protect children from violence during the pandemic by signing our petition calling on authorities to urgently increase funding for health, education and other social services that protect children from all forms of violence and abuse, especially for girls and boys at greater risk due to the impacts of COVID-19.
___
With a population of close to 2 million people, COVID-19 confirmed cases in Lesotho currently stand at 742, with 175 recoveries and 23 deaths (9 August 2020). Click here to learn more about and/or support World Vision's response to COVID-19 and reduce its impact on children and families across the world.