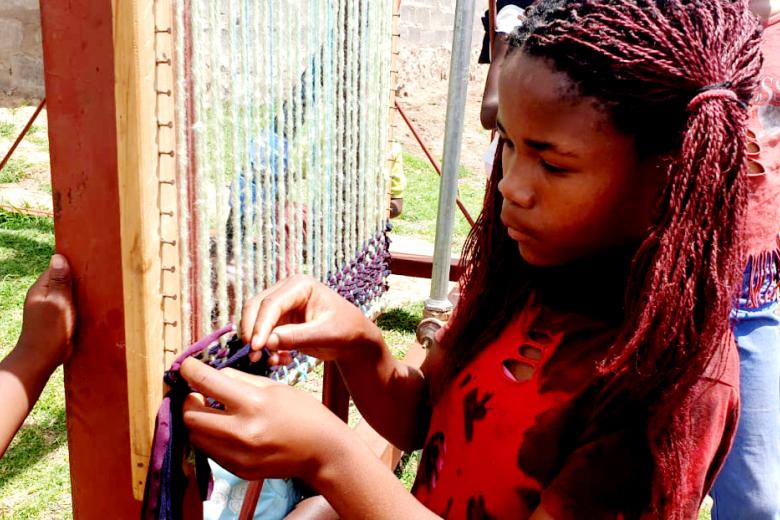 Lockdown helps children learn entrepreneurial skills in a fun way
Monday, November 30, 2020
With primary schools still closed because of lockdown in Lesotho as a move by Government to minimise further spread of COVID-19, many children find themselves frustrated by the uncertainty surrounding their educational future. However, in World Vsision's Koeneng Area programme in the North of Lesotho, it is a different story. Children here continue to enjoy the lockdown period because it has given them an opportunity to learn different skills that can help them in their future careers.
Regina (13) cannot help but smile when she realises that she can now weave a small carpet to be placed at the door or by the bedside. The lockdown period has presented her with the opportunity and she grabbed it. "When schools closed at the beginning, I was frustrated and wished somebody could do something quickly.  I could not imagine just sitting at home doing nothing. Even schoolwork gets too much without the help of a teacher." she says.
"I am however now glad that we stayed at home because that gave me a chance to learn some skills" adds Regina fixing her eyes on the knots she is creating as she weaves a doormat. Her hope is to be able to make money when she is old enough to work, in order to help her mom who struggles to make ends meet. "I want to make my mom a carpet and sell others to the community to help my family that struggles to have food. Things got even worse during this lockdown because my mom was no longer getting piece jobs as she used to get before lockdown. I am now more hopeful things will get better in the future."
Regina is one of the 50 children who gather at the home of a retired teacher to learn different skills that she imparts on them for free. Mrs. Mathabiso has dedicated her time to children because she believes they are the community leaders of tomorrow who need to be groomed. She says: "I hate to see children sad and I could do anything just to keep them busy and happy, from learning how make masks, weaving carpets, taking care of chickens, reading books, to playing a ball".
To her surprise, she says, children seem more keen to learn skills than adults to impart these skills in different areas that can help children towards successful future careers. "The lockdown presented a challenge to me to help the children keep busy so that that they never think of things that can get them into trouble. Not many parents are willing to dedicate their time to help their children with their schoolwork."
"I saw the gap and decided to close it for free. I remembered my days when I was still a teacher and already felt the pain of seeing children fail because of circumstances they have no control of." she continued.
Reported coronavirus cases in Lesotho currently sit at 2,109 with 44 deaths and 1,273 recoveries as at 1 December according to WHO data. Even as cross-border movements were eased a little with conditions to test for the virus, it is still very challenging for many Basotho to cross over into neighbouring areas due to the cost associated with getting tested. Thankfully, officials have managed to reach an agreement to lower the costs, thus allowing a much better movement.