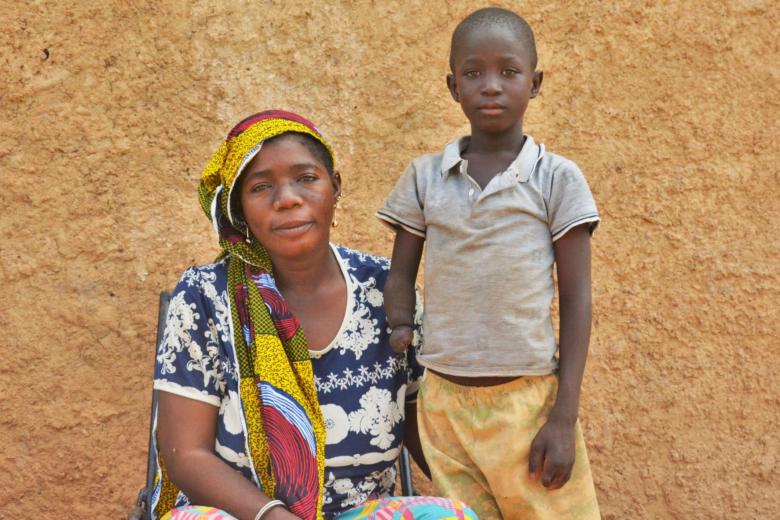 Conflict and abandonment weigh heavily on Fatoumata and her children
Thursday, March 3, 2022
The regions of central and northern Mali are experiencing an unprecedented conflict that has severely affected the country's population, 63.8% of whom live in poverty and 21% in extreme poverty. 
This phenomenon of severe poverty weighs heavily on women living in rural areas. There, they are particularly vulnerable, especially when they are single or widowed. The case of Fatoumata (34) provides very tangible proof to illustrate the sad reality that women in her situation currently live in these parts of the country.
For years, the mother of five, has been living in an extremely vulnerable situation with her children in a village near Sevare. According to Fatoumata, things got particularly dark when her husband ventured out. 
"It has been about seven years since my husband left me and my children. His departure happened just a few days after the birth of our last child", she discloses. "The event has affected us a lot because he left us in total despair. The day he left, he told us it was just a one-week trip without revealing to us where he was going. Three days after his leaving, we could reach him by phone. However, after the fourth day, he became unreachable."
Alone with young children, Fatoumata's situation was further complicated after her last child Barou, an adorable seven-year-old boy, was born with a disability. Even after somehow managing for seven years, Fatoumata still finds it extremely difficult digesting this lonely life with her children.
"Sometimes I feel like my husband got rid of us because of Barou's disability, as he left us just after his birth. I cannot believe any other valid reason for him. However, I take it as God's will and I accept the fate", Fatoumata says as tears begin to form in her eyes.
During our exchange, we were happy to learn that Barou's disability did not prevent Fatoumata from sending him to school from a young age. She believes that her little boy's success in school will allow him to live a happy life when he grows up.
"I love school, even though I never had the chance to go there. I enrolled Barou in a public school and he will be in third grade this year. I wish he succeeds in this", Fatoumata shares with us. For her, the most difficult thing is to adequately provide for the food and health needs of little Barou and his brothers.
Due to the conflict in Fatoumata's environment, she has taken refuge with her older brother who helps her, from time to time, to meet the needs of the disabled child and her other siblings. "Today, my parents are no longer living and I am now taking refuge with my older brother because I have no income-generating activity. Before the insecurity, I could go and get firewood far from the village and sell it in order to earn a little money to support my children. Unfortunately, given the current security situation, it is risky to go alone far from the village. Therefore, the activity is no longer feasible", she reveals.
Overcome by her challenges, Fatoumata confides to us that her greatest happiness would be to obtain support from a trusted humanitarian NGO, such as World Vision, to help little Barou grow up.
"I often hear from friends of mine that World Vision is an NGO that can help me a lot. They say that the organisation most of the time supports families with food and cash money.  I wish that they could support me, because their assistance is huge in our village. They could do it, just for my disabled child", she concludes.
The complex crisis spanning Mali, Niger and Burkina Faso is one of the fastest growing, most rapidly deteriorating humanitarian situations in the world. In the Central Sahel, nearly 5 million children are in urgent need of humanitarian assistance. World Vision is on the ground responding to vulnerable families' needs. Learn more.