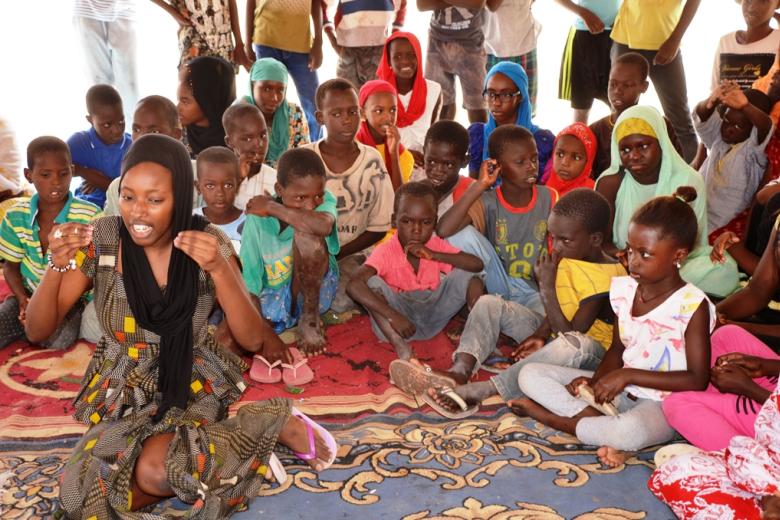 Equipping Mauritanian communities to create a healthy environment for children
Friday, November 13, 2020
Thirty-seven-year-old Sidi Mohamed is a prominent figure in the El Mina commune in Nouakchott. A Koranic teacher by profession, he teaches morning and afternoon classes every day to a hundred children aged between three and six years of age. 
In 2016, Sidi met with World Vision staff visiting his neighbourhood to implement sponsorship projects, raise awareness, and identify children in need of support. It was then that Sidi discovered an important model that marked a turning point in his life – the Celebrating Families approach (CFC), whose purpose is to equip communities (parents and caregivers, church and faith leaders, local agencies, congregations, etc.) to create a healthy and loving environment for the well-being of children.
Before being trained on the approach, Sidi wasn't all that interested in what was happening in the community as regards child well-being, because he thought that he had no say in the matter. Today, he is trained in sponsorship, child protection, and advocacy. He is also part of a Community Development Centre (CDC) committee, through which he sensitises his community and speaks with authorities on child protection, health, parenting, and school follow-up. 
Thanks to the several training sessions that Sidi has participated in over the last few years, he is more confident to speak up on matters affecting children and their well-being, and says "I know my rights and duties as a citizen, as an educator, as a member of the community of Dar el Beida, and as a father."
CFC is based on these precious concepts: creating a framework of love and grace, and finding seeds of kindness, opportunities to forgive, and reasons for thanksgiving. They guide families to fullness of life by focusing on four parts of the journey: examining the past, acknowledging the present, envisioning the future, and pursuing dreams. The hope is to start with a generation of fullness of life and favour, and to break the cycle of brokenness and poverty in all its aspects within families.
"I have always loved children, but I was hard and demanding with them because I believed that the best education for them was through discipline and respect. As a result, the children feared me and did not laugh with me. I didn't understand why. After the training and understanding of the modules, I questioned my attitude and my way of behaving towards the children I teach, and my family. I learned that my religion prohibits such practices and instead demands that we put children at the centre of everything, that we express our love and cherish them. Celebrating Families has helped our community reconsider our religious principles regarding the place of the child and the family."
Sidi has not only positively changed the way he interacts with children and family members, but he has also seen how this has metamorphosed the relationship of children with adults in his community. "In talking with community members we are pleasantly surprised to see how the children seem more fulfilled, more cheerful. They confide in us more and ask us more questions. We feel that they trust us more and don't hesitate to share their worries and fears with us, when before this was not even possible. What struck me in what I learned is that the focus is on the family, not the child only, and not just the parents."
He concludes by adding: "It is an attempt to support the basic unit of society, which in many ways is the foundation of love and charity. In many cases, this foundation will be both children and parents. But in some situations the basic unit will be any group of people who provide love and charity to children in the context of cultivating relationships. Today this is what we have managed to do in our community."