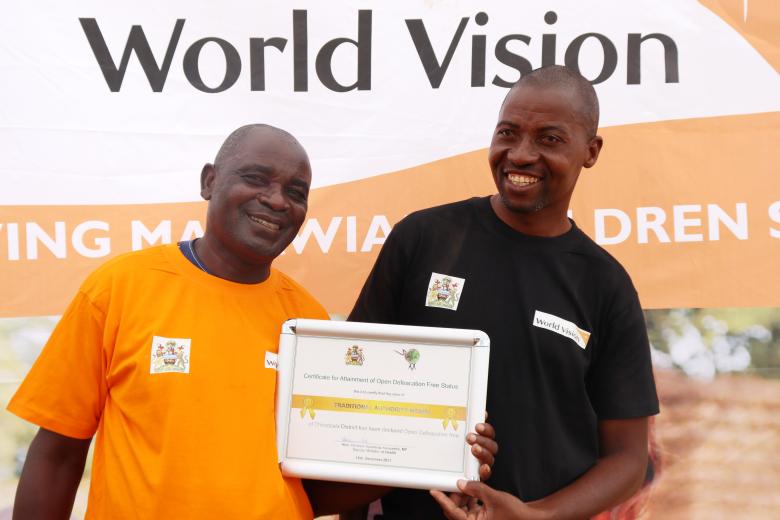 Meet our Hidden Hero
Tuesday, May 17, 2022
Bamusi Pirima, fondly known as Alangizi (advisor) cannot move within the community without being recognized. Light in complexion and relatively tall, he is easily the most likeable character amongst the different groups of people he interacts with. It is only if you move with him that you realise his fame in communities.
Recently, Bamusi was dubbed Sub Traditional Authority Mpama, the highest honorary traditional role given to the immediate east of Blantyre, in Chiradzulu district.
That honorary title came on the heels of yet another honorary title of group village headman bestowed on him by Traditional Authority Masasa in Ntcheu district during an Open Defecation Free (ODF) celebration.
All this makes you wonder. What is so special about Bamusi, that even the revered traditional leaders acknowledge him?
Well, Wezi, Communications Officer for World Vision, took some time to chat with Bamusi, to find out just what makes him our #HiddenHero.
Tell me a bit about yourself.
My name is Bamusi Pirima, I work as a Water, Sanitation and Hygiene development facilitator in Mpama area programme, Chiradzulu. I am a family man and a Christian. I have been with World Vision Malawi for the past 7 years.
What is the work that you do?
My role involves facilitating water supply and sanitation activities. These are two separate activities.
I ensure that the communities and schools I work with and for, have access to safe water and sanitation, to prevent water borne diseases especially among children under the age of five.  This is achieved through drilling of boreholes, borehole mechanization and facilitating construction of latrines in communities and schools.
I also work with participating communities to build their WASH capacity so that they are able to implement, monitor and sustain their WASH interventions.
That sounds like quite a lot of work. What would you say constitutes a normal work day?
It is. It is a lot of work, but at the same time, seeing all the impact I have made in the lives of so many people make it all worth it.
Normally, my work days are in two-folds: the desk/administrative work as well as the field work. Desk work normally involves working on implementation strategies and plans, budgeting and reports. Field work, which is more tasking, involves training the participants, making door to door visits, and making calls to other work partners within the communities.
What are some of the successes you have encountered in your line of work?
In the years I have been with World Vision Malawi, some of the successes I regard is being able to facilitate the Open Defecation Free status in 5 traditional authorities within a space of 3 years. T/A Onga ODF in 2019; T/As Ngabu, Masasa and Chakhumbira ODFs in 2020; and most recently, T/A Mpama ODF in 2021.
TA Ngabu ODF remains the most memorable achievement for me. Ngabu had 539 villages and I was given 5 months to declare the area ODF. At the same time, there was a disaster that destroyed 80% of the latrines. So we had to work tirelessly with the participants to rebuild the sanitary facilities. Achieving ODF within a short period for a vast area like that and in a year that had disasters was a great achievement for me.
Wow! That is amazing; congratulations Bamusi. But I am curious, why are these to be regarded a success?
He laughs.
Well, for a community to attain an ODF status, it means they have met the requirements set by government in assessing the WASH status in that particular community. Among these criteria is that there has to be 100% latrine coverage in the area, the latrines ought to be clean and with drop-hole covers, and each latrine should have hand washing facilities with either soap or phulusa (ash) as a locally available resource.
Interesting. That means for over 500 villages, that was quite the feat indeed. What are some of the challenges you meet in your line of work?
I am always geared for results so the greatest challenge is that I feel embarrassed when I meet communities that are slow to respond to change. Mindset change is not so easy for communities that have lived their way of life as long as they can remember, therefore it takes more effort for others than it does for most.
Occasionally, for such situations, you are required to adapt to the environment, adjusting to meet the participants half way whilst still achieving your results. This again is not easy because each project has a set blueprint and what is important is that one is supported should there be need to adjust the methodology used.
But I suppose that is also one reason I'm glad WV stays within a community for a minimum of 15 years, to ensure sustainable development.
One other challenge is that during the rainy season, most of the roads are inaccessible, making it difficult and sometimes impassible to make the routine calls to participants. This eventually slows down the pace of activities and thus affects the overall work output within the financial year.
What do you dream of now?
Well, it would be wonderful to see all 100 plus TAs in Malawi attain their ODF status; because that means safe water and sanitary access for children and adults alike, across the entire nation.
Thank you Bamusi for all the work you do; ensuring that so many communities have access to clean your water and sanitary facilities. Your contributions to the big picture are certainly acknowledged and appreciated. You are our #hiddenhero Alangizi!