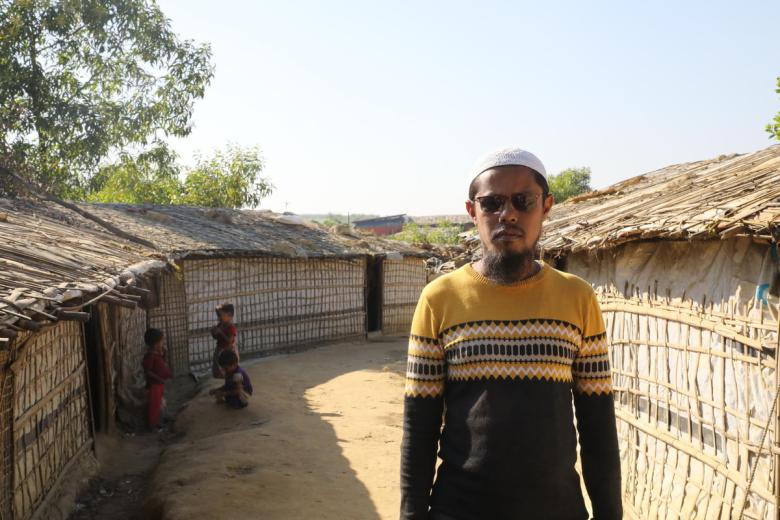 What it means to be Rohingya
Tuesday, August 20, 2019
The Rohingya are an ethnic Muslim minority from Myanmar. Before August 2017, the majority of the estimated one million Rohingya in Myanmar resided in Rakhine State, where they comprised nearly a third of the population. They differ from Myanmar's dominant Buddhist groups ethnically, linguistically, and religiously.
The Rohingya have endured decades of discrimination and repression.  Effectively denied citizenship under the 1982 Citizenship Law, they face restrictions on marriage, family planning, employment, education, faith practices, and freedom of movement. For example, Rohingya couples in the northern towns of Maungdaw and Buthidaung are only allowed to have two children. Rohingya must also seek government permission to marry, to move to a new home or to travel outside their townships.
Rakhine is Myanmar's least developed state, with a poverty rate of 78 per cent, compared to the 37.5 per cent national average, according to World Bank estimates. Widespread poverty, poor infrastructure, and the lack of employment opportunities in Rakhine have widened the gap between Buddhists and Muslim Rohingya.
The Rohingya trace their origins in the region to the fifteenth century, when thousands of Muslims came to the former Arakan Kingdom. Many others arrived during the nineteenth and early twentieth centuries, when Rakhine was governed by colonial rule as part of British India. Since independence in 1948, successive governments in Burma, renamed Myanmar in 1989, have refuted the Rohingya's historical claims and denied the group recognition as one of the country's 135 ethnic groups. The Rohingya are considered illegal immigrants from Bangladesh, even though many trace their roots in Myanmar back centuries.[1]
Neither the central government nor Rakhine's dominant ethnic Buddhist group, known as the Rakhine, recognize "Rohingya," a self-identifying term that surfaced in the 1950s, giving the group a collective political identity. Though the etymological root of the word is disputed, the most widely accepted theory is that Rohang derives from the word "Arakan" in the Rohingya dialect and ga or gya means "from."[2]
Following a brutal military crackdown in August 2017, more than 720,000 Rohingya fled for their lives to Bangladesh in the course of a little more than three months. Thousands were raped and killed in what one UN official described as a "textbook example of ethnic cleansing."[3]
The exodus was one of the fastest, largest humanitarian crises in modern times. The refugees joined hundreds of thousands of Rohingya who were already in Bangladesh seeking refuge after previous attacks, bringing the total to 1.2 million. Today, more Rohingya live as refugees than remain in Myanmar. 
The situation for the Rohingya living in the world's largest refugee camp is dire. Bangladesh is not a signatory to the 1951 Convention on Refugees, hence the Rohingya have no official status here. More than one million people, half of whom are children, are invisible and unprotected by international refugee law. Crammed into crowded camps, they are not allowed to move around the country freely. Their access to employment, education, and other social services is heavily restricted. 
Without protection, refugees are vulnerable to increasing rates of sexual and gender-based violence, child protection risks and crimes, including murder, violence and drug usage/trafficking, as well as growing aid dependency.
Without citizenship in Myanmar and unrecognized in Bangladesh, the Rohingya remain one of the largest stateless people groups in the world. They are citizens of nowhere.
The Rohingya are unlikely to be able to return to Myanmar any time soon. Conflict continues in Rakhine State and there are few assurances that the refugees' demand for citizenship, access to education, land ownership and restitution would be guaranteed.
Until their safe, voluntary and dignified return is possible, the Rohingya continue to live in limbo.
Yet the Rohingya refuse to be defined by their circumstances. They remain a resilient, unbowed, determined people of faith. Their hopes and aspirations are humble: a safe home for their families, education for their children, a country to call their own.
Persecuted for their Muslim beliefs, in exile they hold their traditions tightly. Having lost everything, the Rohingya's faith in God sustains them.
Here four Rohingya refugees share their concerns for the future.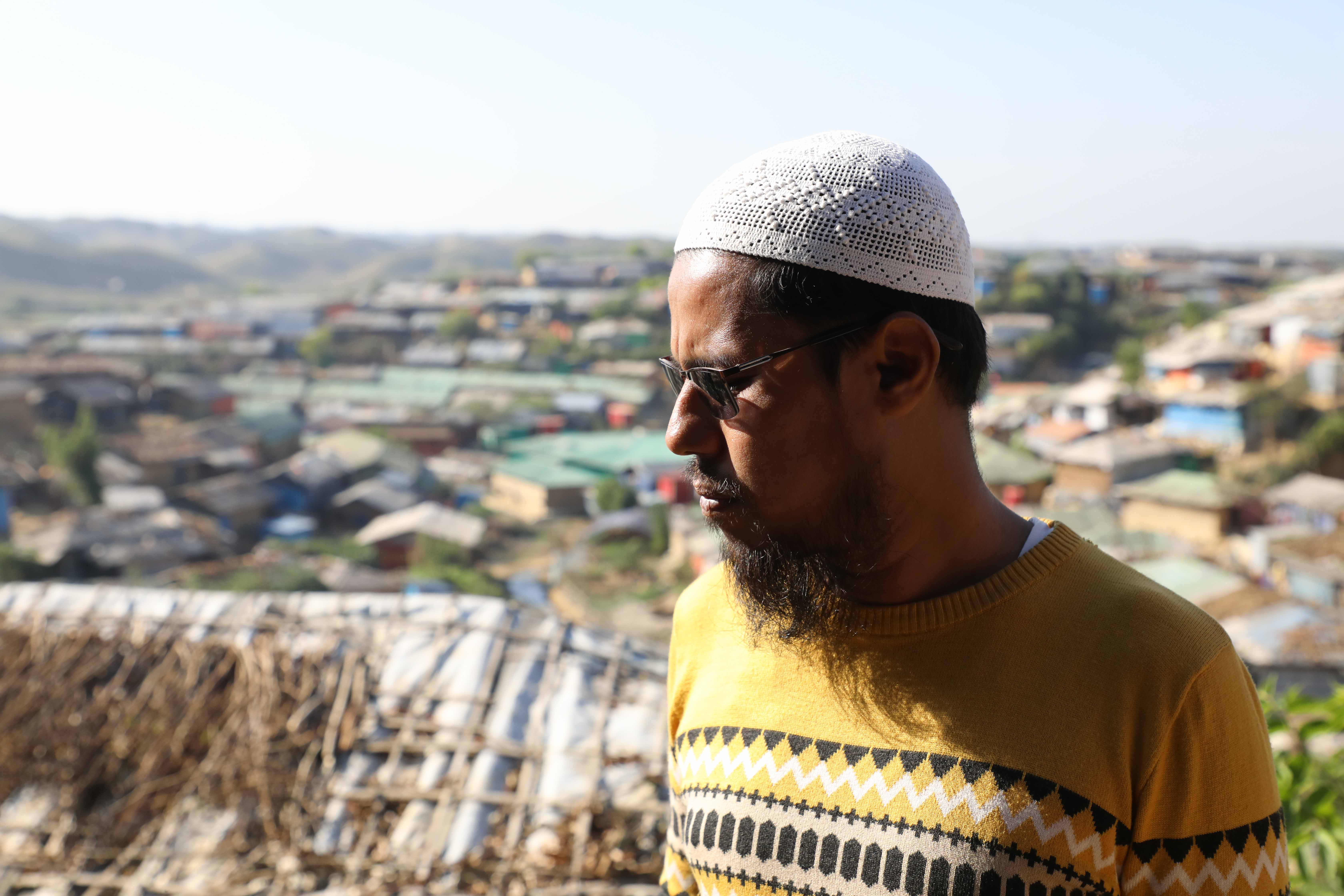 "We will not go back to Myanmar without our rights. We have suffered too much. We are grateful to the Government of Bangladesh for giving us a safe place to live. Yes, we can't leave the camps and our movement is restricted here. But our faith isn't. We can pray freely whenever and wherever we want, without fear of being attacked while we worship." says  Foyas, 45, Rohingya leader, father of three children.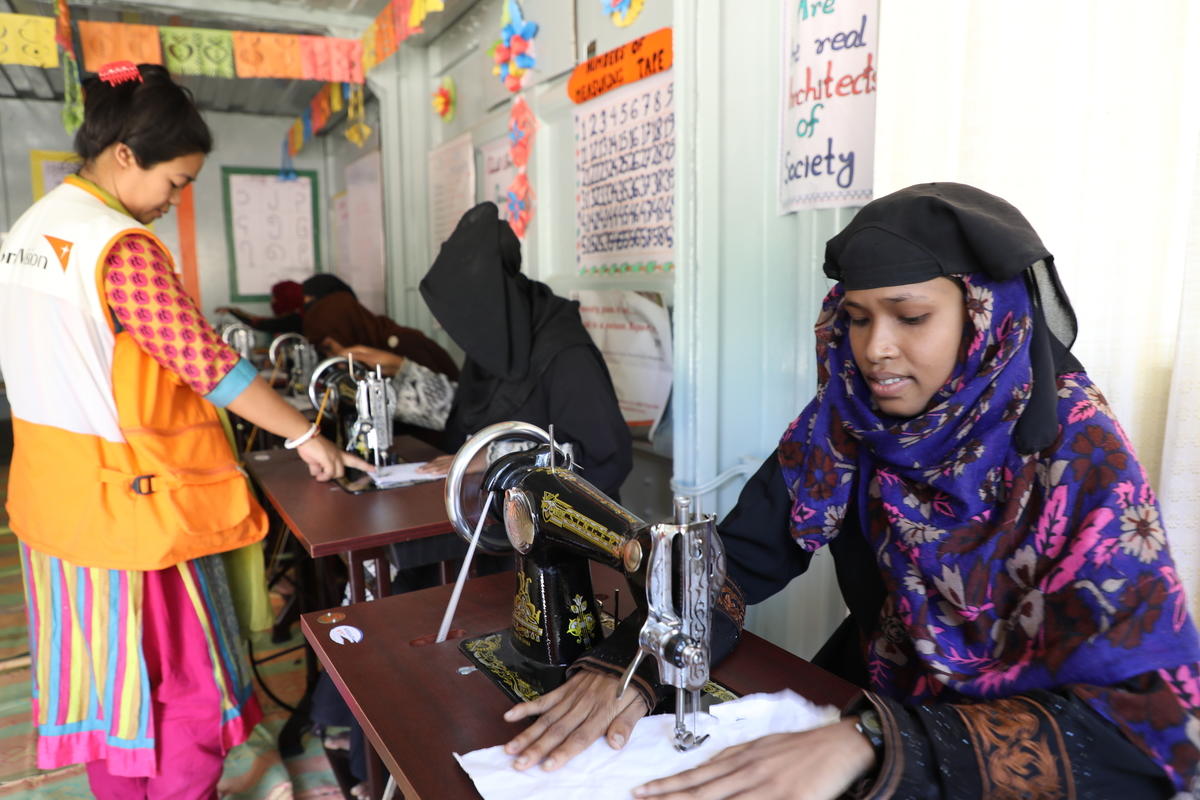 "We are 10 siblings in my family—six brothers and four sisters. We all made it here, except for my father. He died on the journey here. He had a stroke. My brothers are all married, and I am the oldest girl. I only went to Class 5, but I need to earn money to support my family. In Myanmar, I learned tailoring and I managed to buy a sewing machine. I only used it for two or three months before we fled to Bangladesh. I had to leave it behind. I'm taking sewing classes at the World Vision women's center now. I hope I can earn some money by making clothes for neighbours. My family wants me to get married, but we have no money for a dowry. Rohingya girls marry young. How can a baby look after a baby? In our culture, if you wait until you are 18 or 20 to marry, no one will want you. You are considered old. In [Western] culture, you can be 27 years old and not have children yet. In our culture, a woman will have six or seven children by then." says Sura, 17.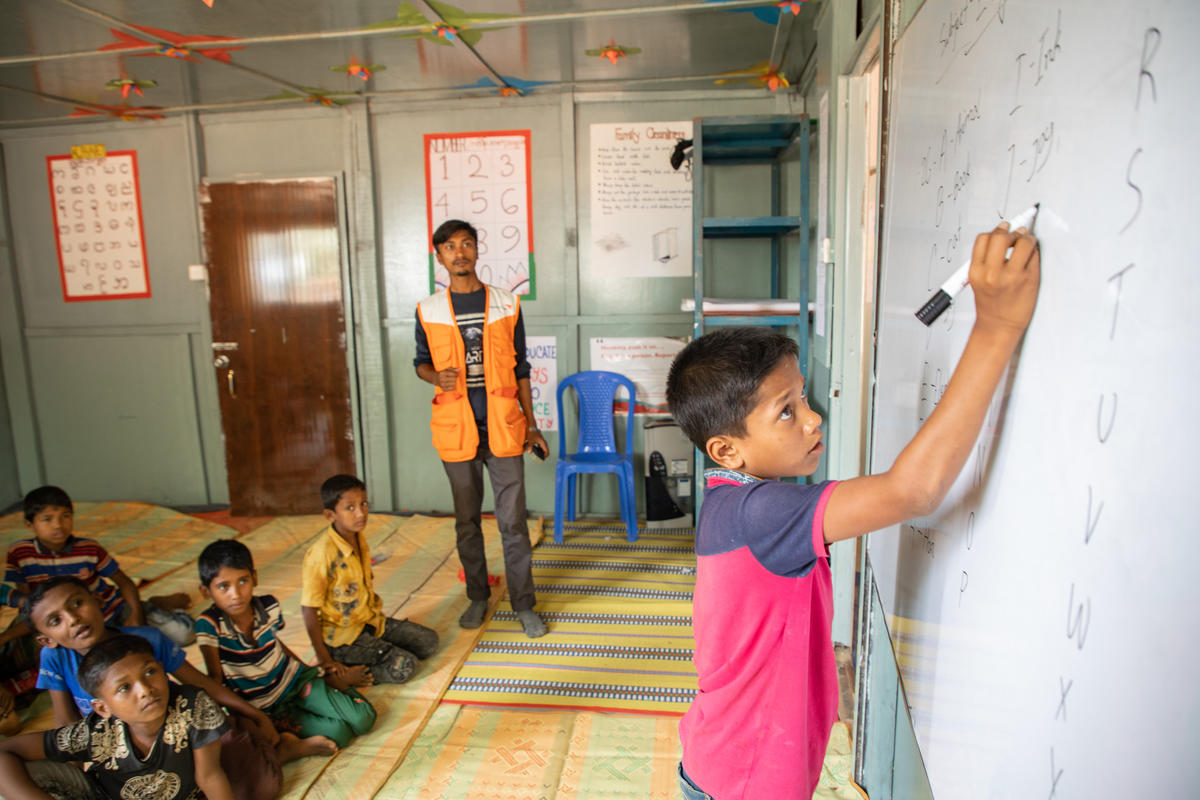 "People could not carry anything when we fled. They had to choose to carry their children or their belongings. Fisheries were also destroyed. We want them back. I want to be a teacher or a doctor or an engineer.  To serve people, I want to be a doctor.  I also want to be teacher so that I can help the children of our community to be educated.  And I want to be engineer so that I can make airplanes, and people will be able to go abroad. I've been coming to the World Vision learning centre three months. We study math, English, Burmese and many other subjects. I really love coming here every day. But I want to go back to Myanmar because it is my country." says Shahed, 15.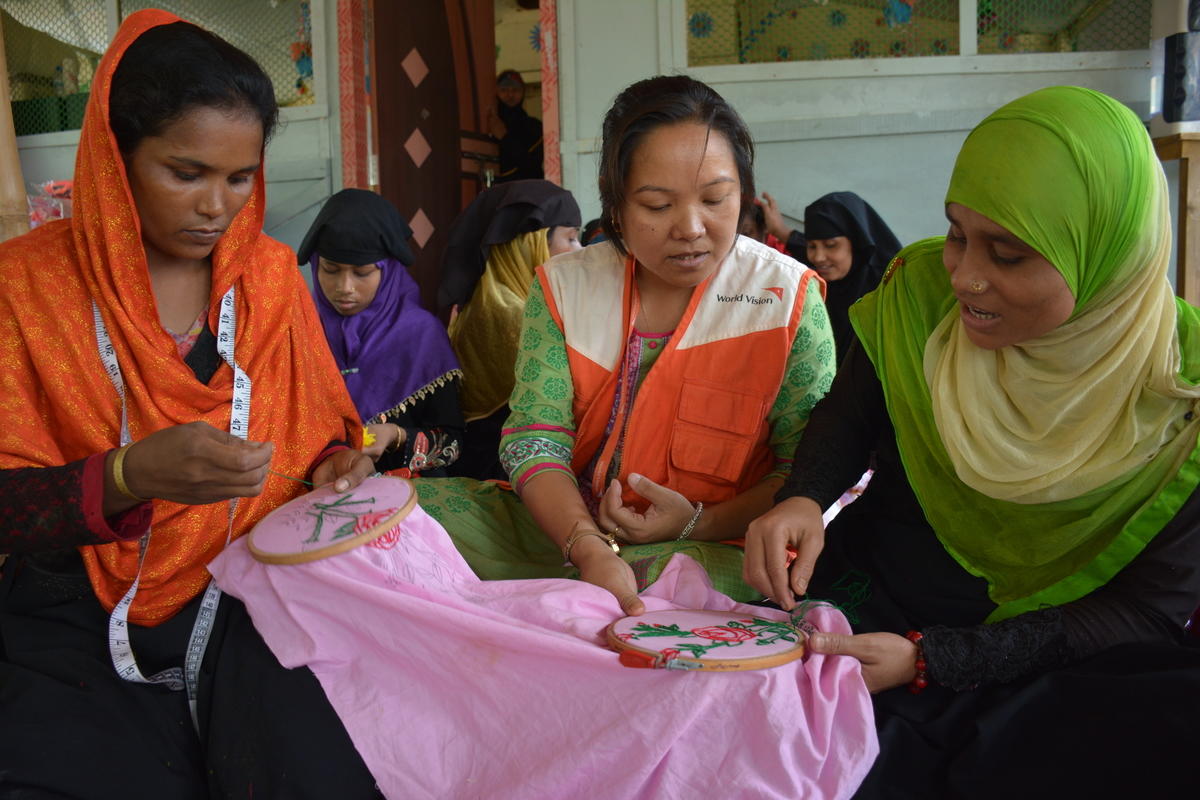 "I became a wife when my father married me to a man twice my age. I was a mother at 14. We fled Myanmar when I was 17, and I became a refugee. My husband died here in the camp; I was a widow by time I was 19. I'm more fortunate than many. My daughter, Jubaida, and I have each other. We want to live in peace here in Bangladesh. But if we can't go back to Myanmar, we have to be allowed to earn a living here to feed our families. That's all we ask." says Smirna, 19.
Written by: Karen Homer
Photographed by: Himaloy Joseph Mree, Shabir Hussain, Karen Homer
[1] https://www.cfr.org/backgrounder/rohingya-crisis?gclid=Cj0KCQjw3PLnBRCpARIsAKaUbguy9nsb4ERu09oXGDh_C3hlYu_X9GYahyBC7D1rUaI63JLDDTMfDPcaAvkoEALw_wcB
[2] Ibid.
[3] https://www.dw.com/en/myanmar-rohingya-crackdown-a-textbook-example-of-ethnic-cleansing-says-un/a-40445121