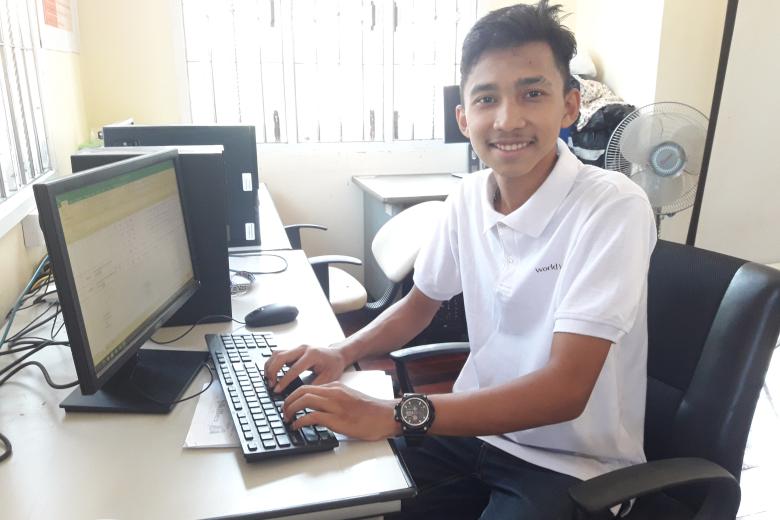 Former sponsored child starts to build a bright future
Thursday, January 7, 2021
Thet, a former World Vision sponsored child, is a Customer Relation Service volunteer at the World Vision office in Mawlamyine, Mon State, Myanmar. Thet is a sophomore at the University of Distance Education at the same time, majoring in History.
Thet's father and mother mainly rely on agriculture and livestock breeding for a living. Before he became a sponsored child and became part of World Vision's sponsorship program, the family was living in a cycle of debt, growing crops and vegetables. They would take loans before cultivating and repay after the harvest. This was not an ideal way to do the business, however, they did not have much choice and knowledge.
After Thet became part of World Vision's sponsorship program, the family was selected as one of the Ultra Poor Graduation Household programs, a program that prioritizes the most vulnerable children and families and provides six months of food rations and technical training to empower and build capacity for them to be able to come out of poverty.
Being part of this program gave Thet's parents the opportunity to participate in the technical training from World Vision such as home gardening, household visioning, livestock breeding, basic business startup training, and income and expenditure training. Not only the technical knowledge but also the variety of seeds were provided to start growing.
After that Thet's family was able to start their own vegetable farm without having to take loans from others with high-interest rates. As a result, they were able to make a profit from selling them after harvest and moreover, they were able to share the leftovers with the neighbours.
Thet's mother also started making traditional snacks to sell in the village while saving the money she earned in a Saving for Transformation Group. After applying the knowledge they learned from the training, good saving practices and of course, the hard work that they put in, the family was able to clear all their debt, renovated their house, and built a new 1000 litre water tank. They even bought a motorbike. Thet is happy to be able to use clean water at home.
"Participating in WV programs boosted my knowledge about agriculture and livestock breeding," says Thet's mother. "More importantly, the awareness of child rights and child protection helped me to change the way I treat my children and raise them for a better future. The saving practice is also beneficial for me as I could start my own business."
As the vegetable farm is going well, they also received three female goats for livestock breeding. With the vegetable farm and livestock breeding, their family life became easier than before and with all the income, the parents were able to fully support Thet and his sister's education.
After successfully passing the matriculation examination, Thet became a volunteer in the sponsorship department at World Vision. Now, he is participating and helping in child protection and child health awareness sessions, and hygiene support for children in his community during the time of COVID-19.
Thet's dream is to become a development worker after getting his degree.  He wants to help children in his community to create a better future filled with hope and happiness.
"I gained a lot of knowledge about child protection and child rights being a sponsored child and participating in child group activities," says Thet. "It helps me apply this knowledge during my current voluntary work at WV as a child monitor and Customer Relation Service volunteer. As I have received so much support in my childhood, I'm looking forward to change the future of the children in the village by helping them aware of their rights and addressing protection issues when I graduate from the university. This is the only dream right now for me."