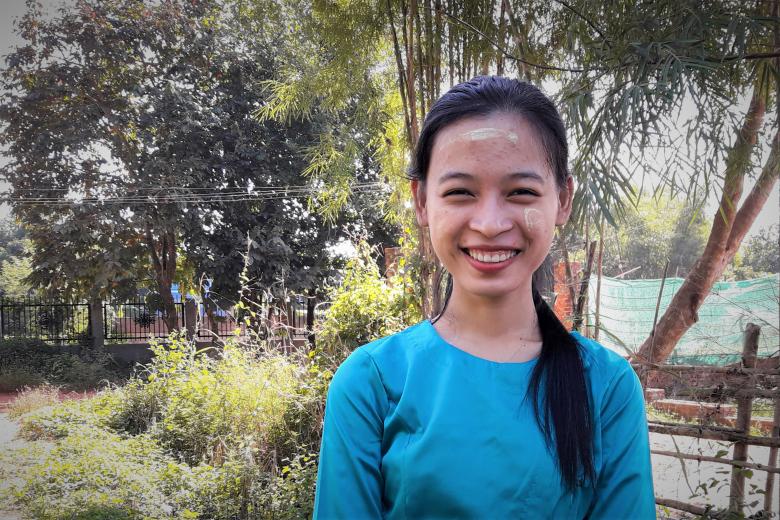 Grace shines bright in a promising future
Thursday, January 7, 2021
Grace, 17, a former World Vision sponsored child, lives with her parents and her sister in Hmawbi, Yangon Region, Myanmar, where her father pastors a small church. She has been participating in World Vision's Child Development program for about 12 years. She finished high school and is now in the first year of university, studying International Relations. 
Grace has participated in child protection activities such as child protection and child rights awareness training, life skills training and a youth camp organized by World Vision. She is now a child group leader in her village. She shares what she has learned from this training with her child group members. After getting involved in these activities, she has learned more about child rights issues and wants to become a champion for the children whose rights are violated in many ways. Children groups are formed in the communities along with the adult Child Protection and Advocacy Group (CPAG). Children are given awareness and training on child protection, child rights, life skills so that they are equipped and able to protect themselves and gain the confidence to raise their voices on their needs.
"Through participating in these activities, I have become motivated to speak up for the children who are losing their rights," says Grace. "And I'm also determined to advocate for the rights of the children at my best."
Grace was selected to represent children in Myanmar and present the issue of violence against children at the Global Advocacy Forum organized by World Vision on  September 24, 2020. She is well aware of the child violence issue and she highlighted it in the forum.
"To me I see, parents and teachers need to be aware of child rights and positive parenting knowledge. Children need to be taught and nurtured with love and to love others as well, since their early age," says Grace. "To see the families free of violence, living in a non-violent environment, to make their dream comes true, we need to open people's mind so that they may know what is right and wrong as well as follow what is right and make good use of positive parenting. Then our community will become peaceful." 
Grace was selected again as a child representative to raise the issue of online safety faced by the children during COVID-19 lockdowns at a webinar organized by World Vision in collaboration with UNICEF which is a dialogue between children and government on the impact of COVID-19 on the most vulnerable girls and boys in the Asia-Pacific countries. 
"COVID-19 has led to extensive school closures and children have no choice but to stay at home," says Grace. "As children are spending more time online, there is danger in using the internet, especially social media. Some children have experienced online sexual harassment such as someone sent to words, images and videos that are sexually provocative through social media. We, children, need a safe and protected environment in all aspects including in the online community.
"During COVID-19, we also hear more of the domestic violence, misuse of online and increase in the number of working children," says Grace.
During COVID-19 lockdowns, while schools and universities are closed, Grace says she is learning English and Korea languages, and also studying the political history of nations. She has a high aim for her life as well as for her country and is trying to realize her dream through her zealous endeavours.     
"I want to be a diplomat," she says. "As I study International Relations at the university, I have become very interested in the making of foreign policy so I am studying hard to be able to contribute to the development of my country through my future career."