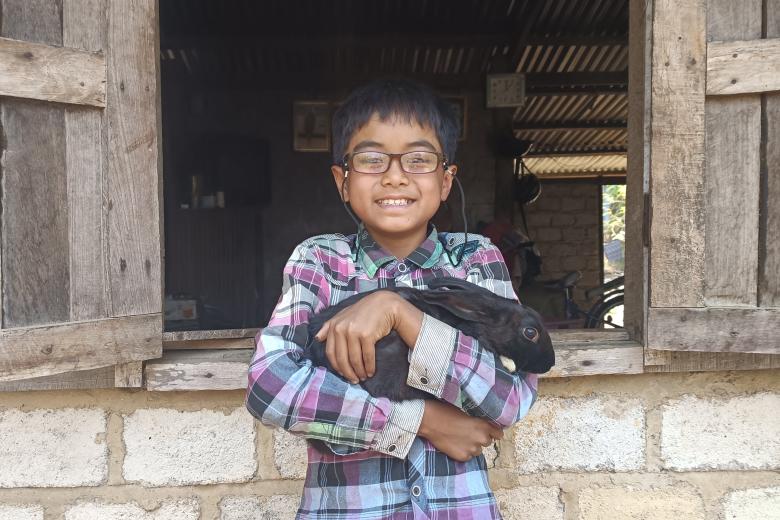 My vision, my life
Friday, October 13, 2023
Kyaw, a 12-year-old student, lives together with his father, grandmother, and sister in the small village of Northern Shan State.  His mother passed away when he was 8 years old, at that time his father was working as a driver in another area. After his tragic loss, his father came back and lived with them. As a household leader, his father had to support the family and he started working as a mason and carpenter in the village. Unfortunately, a few months later his father suffered from liver disease and was not able to continue his work. Therefore, his uncle who lives near his house had to support his family and earn money by selling mushrooms and sugarcane.  
Before 2019, there were no social development organizations in Kyaw's village but there were only finance companies that provided loans and savings. Due to the Covid-19 outbreak in 2020, people from his village faced difficulties in generating income. Therefore, they need to depend on those companies to survive.  In 2019, World Vision Myanmar started implementing the CPiE project in his village. His sister is participating as a registered child in the World Vision Myanmar program. He is also participating in a child club education program of World Vision Myanmar.
In 2019, Kyaw accidentally injured his eyes while playing with his friends at school. He told his father and grandmother about the accident but they were helpless because they could not afford to bring him to the hospital. His eyes got worse day by day and he could not see very clearly.  He said, "My eyes were bothering me, and I was concerned I might start losing my eyesight. Every single day it made me feel depressed, but I was so powerless because we could not afford to pay to go to the hospital".
One day, one of World Vision Myanmar's staff came to his house and discussed the needs of his family. After a discussion with his family, World Vision Myanmar decided to help with his eye operation and the staff regularly follow up on his situation.
In 2022 December, Kyaw's eyes were successfully operated on. After the operation and regular treatment, he can see clearly. He said, "I am very happy that I can now see things clearly, I can play with my friends and attend school regularly."
Moreover, Kyaw's family received a food package which included three bags of rice, three cans of oil, three packets of salt, and three packets of chicken powder from World Vision Myanmar in 2023 January.  This food assistance is so beneficial for his family because they do not need to worry about the daily foods for this season. Kyaw happily said, "I am so grateful that World Vision Myanmar provides those valuable things to me and my family in our difficult times. I wish World Vision Myanmar to continue to support vulnerable children and families around the country."