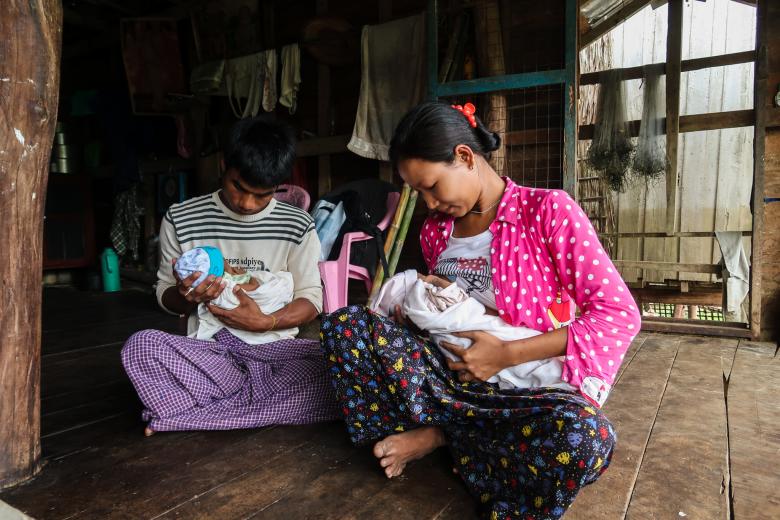 Yu gives birth to twins amidst COVID-19 pandemic
Friday, July 10, 2020
26-year-old Yu, lives in Delta. She is a proud mother of newborn twin girls. Managing a family of seven, that includes, Yu, her husband, their elder boy, the twins and two parents, is a big challenge. Yu's husband makes his living by doing odd jobs. Every day, he goes around the creeks and rivers to fish. Then, he sells fish and river products in the local market to feed his family.
The twins are Yu's second pregnancy which they got unexpectedly. Her firstborn is now 6-year-old.
"I delivered my first child at home with a midwife. It went well," says Yu.
At the early stages of the pregnancy, Yu wasn't worried much but as the COVID-19 pandemic continues to spread and movement restrictions are being imposed, Yu can't contain her fear. She was in her last trimester. Yu's mind was engulfed with worries about accessing ante-natal care, delivery and post-natal care.     
Yu had to walk for half an hour, to get to the nearby health center for getting regular ante-natal. Due to travel restriction and precautionary measures put in place to curb the spread of COVID-19, another thought plagued Yu's mind. What if she contracted the virus while she visited the health centre.
"As we walked through the villages passing people, I was afraid of contracting the virus. I was worried about my unborn babies and for my health. I was also concerned that, what if I got that virus, will I survive? Will my babies survive?" says Yu with a tone of concern.
As the due date neared, the mid-wife advised Yu to have an institutional delivery, to avoid any complications arising from home deliveries.
"When the midwife told me that I need to deliver the babies at the hospital, I started panicking thinking about the expenses. How could we afford it? Also, I was afraid to get coronavirus because there would be many people at the Region hospital. But I was relieved when the Auxiliary Midwife (AMW) regularly visited me at home and cared for me during my pregnancy. My husband and my parents also cared for me too," says Yu.
Locking all the concerns in her mind, Yu silently prepared everything. Cloth to wrap the babies, things needed at the hospital, etc. Yu had to also mentally prepare for delivery in the hospital as it was her first.
"When the delivery time, we left the village by boat and then car to the town. It took one hour by boat and another one hour by car. With a big belly carrying twin hopping on a boat was not easy.

The journey was rough. On the way, I felt pain and couldn't breathe well. I thought I was dying. But we survived the bumpy journey," says Yu.
Overcoming the challenges of her journey to the hospital Yu was confronted with another daunting reality as she was admitted.
"I knew from the ultrasound that my kids were twins but when we arrived at the hospital and met with the nurses, they said that they could not guarantee both twins will survive and the delivery had risks for my life too. I was devastated to hear that. I was taken into the hospital for the delivery. During the delivery time it was very painful that, I thought I won't make it," says Yu.
Delivering amidst so much pain and difficulties, Yu was very glad to hear both twins were alive.
But the agony continued as one of the twins developed a complication. One of the twins was underweight and got jaundice and needed to put in the Intensive Care Unit (ICU). Engulfed in mixed emotions her heart sank knowing her younger one's life was in danger.
"When I knew that, I called my parents and burst out in tears. I couldn't endure it anymore.
Day 1 passed, so did day 2. The days I was not able to see my babe really was painful. But after the fifth day, I was allowed to feed her my milk. That was one of the most joyful moments," says Yu.
Yu had stayed in the hospital for 25 days. Due to the travel restricted, only her husband, Myo, 32, got a chance to stay and attend to her needs. No relatives and friend were allowed to visit Yu. Life was difficult for Yu and her husband staying many days in the hospital.
"I was very tired because I had to feed the twins separately. But now, after a month, all my pains have gone away after seeing my twins alive and healthy. When I reflect back it was good that I deliver my babies at the regional hospital. Otherwise, both my babies and my life would have been in danger," says Yu.
Nurses and doctors in the hospital took good care of Yu and the twins. After being discharged from the hospital, Yu returned to her village. Both Yu and the twins are in good health now. 
"Since we stayed almost a month at the hospital, the expenses were high. My husband could not work due to COVID-19 since before my delivery and after discharge from the hospital. So, we had financial difficulties. When we shared with World Vision, the organization covered transportation cost for us. It lightens our burdens because if we had to pay, we would have had to borrow and that would have put us in debt. Thanks to World Vision, ENRICH project, we are not debtors," says Yu.
There has been no confirmed COVID-19 case reported in Yu's village as well as in the surrounding area. However, due to the lockdown and travel restrictions, many have lost their regular job and are facing severe financial challenges. Yu's husband is one of them. People like Yu's husband who rely on fishing can not go out to earn money and have lost their livelihoods.
"Due to the loss of livelihood, mothers and children face difficulties to access nutritious food. However, through the project's education activities, mothers are aware of how to take care of themselves and their kids and how to prepare nutritious food for their children. Mothers regularly consult health workers, regarding their health and the health of their kids. The connection between the community and the health department has also improved. Thanks to World Vision and the donors who have provided us with such knowledge and support on ways to connect to the health department and take care of our children's health," says Yu.
Yu's husband was not able to return to work as he needs to help Yu in taking care of the babies. However, Yu's parents are working on fishing and farming to feed the families. Yu only breastfeeds her babies.  
"I want to see my babies grow up healthy and be productive citizens of our the community. We have no school in the village. Children need to walk for 40 minutes to attend school. There's also teacher shortage at school. It was difficult for our children to learn. Thus, I want to see my babies become good teachers and benefit the community," says Yu.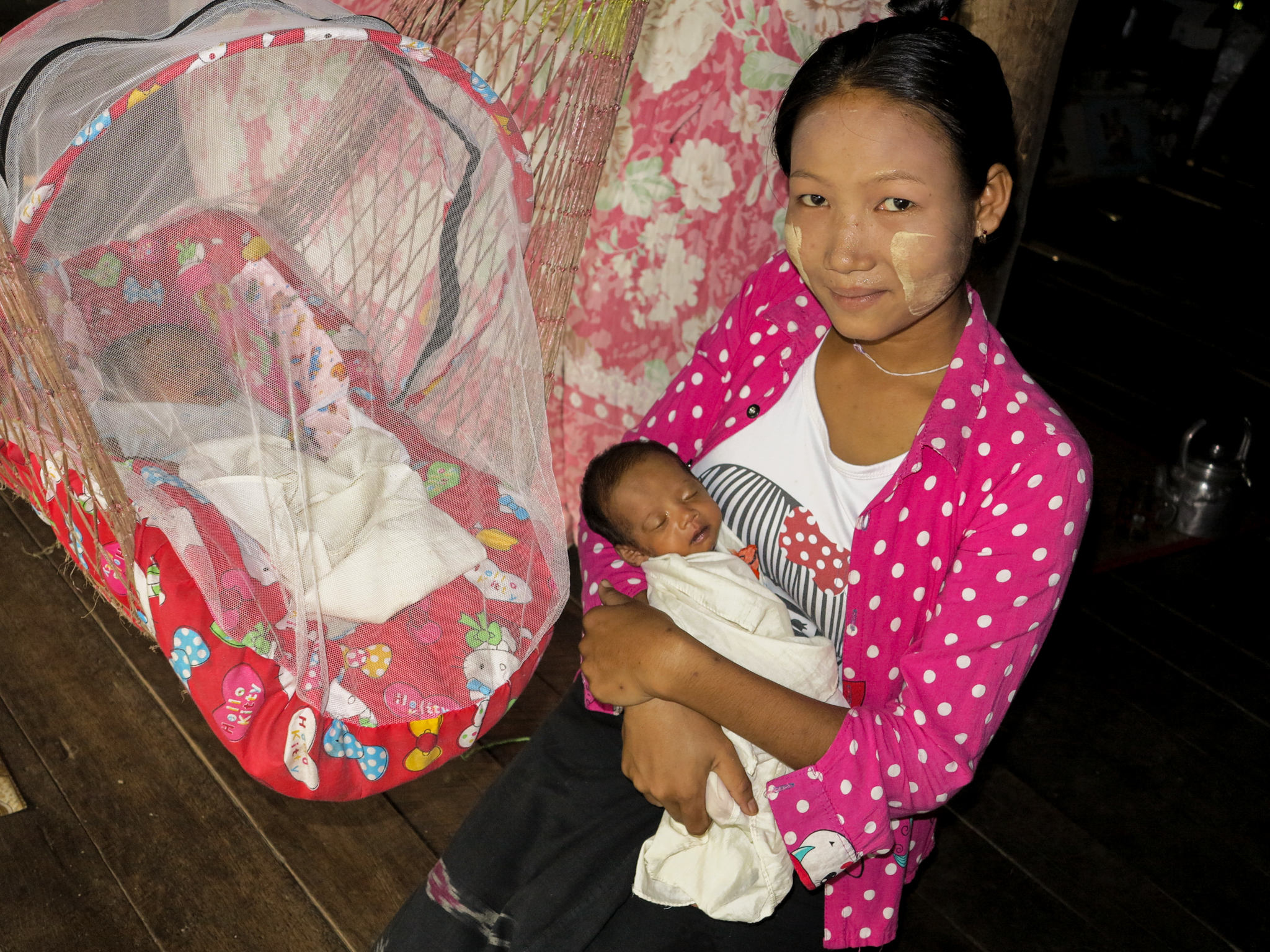 Brief about MCOVER in Thabaung
COVID-19 response in Thabaung covers 1,520 families in 51 villages including Yu's village. Food packages and hygiene kits were provided to the families and Child protection/Education kits are provided for the children. COVID awareness is done by distributing pamphlets and posters. Moreover, hand washing basins were provided to 37 schools (primary, middle and high schools) in Thabaung Township.  
Brief about ENRICH project
The Enhancing Nutrition Services to Improve Maternal and Child Health in Africa and Asia (ENRICH) initiative aims to improve the health and nutrition status of mothers, newborns and children in select regions of Bangladesh, Kenya, Myanmar, Pakistan and Tanzania. The program began in March 2016 and will run over a period of 5.5 years until Sept. 2021. The overall goal of ENRICH is to contribute to the reduction of maternal and child mortality in the five countries through strengthening of health systems with an emphasis on community systems, improving the nutrition of pregnant women, infants and young children, and ensuring accountability of results at all levels. ENRICH project implementation in Myanmar is in Thabaung Township, Ayeyawaddy Region covering 48,403 people in 401 villages.