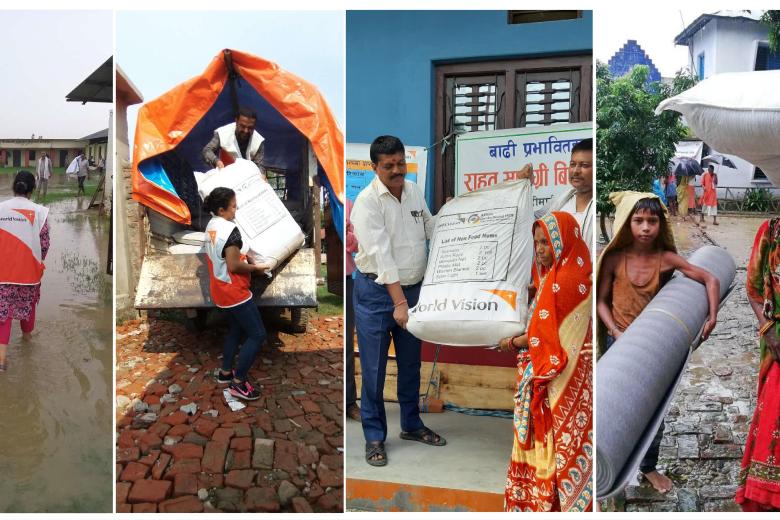 World Vision Responding to the Needs of Flood Affected Communities
Monday, September 23, 2019
Incessant heavy rainfall, since July 11, battered Eastern and Central Nepal. According to the Government of Nepal (GoN) report, 117 people died, 38 people are missing and 80 were injured. A report by the United Nations Children's Fund (UNICEF) highlighted 51 of the 117 casualties were children (14 girls and 37 boys), and majority of those affected in all districts were children. 
World Vision is responding to the flooding crisis in Eastern and Central Nepal, providing much needed humanitarian relief to affected children and families. The flooding has left approximately 80,000 people across nine districts in need of immediate life-saving support. Although 32 districts across the country were hit by the monsoon, nine districts - Morang, Sunsari, Udaypur, Saptari, Dhanusha, Sarlahi, Sindhuli, Rautahat and Mahottari - were the worst affected.

World Vision International Nepal, adhering to the one-door policy, is among the in-country humanitarian agencies working with the Government of Nepal (GoN) to respond to the urgent needs of the affected people, especially children. 

Realising the needs of the affected communities
World Vision International Nepal is coordinating with all three tiers of the government including key humanitarian actors and affected communities to ensure government compliances are met and that the concerns and wellbeing of vulnerable children are addressed appropriately through effective response mechanisms. 
Realising the immediate as well as long-term needs of the affected communities, World Vision International Nepal formulated strategic child protection, health and nutrition, Water, Sanitation and Hygiene (WASH) initiatives for the relief phase, and livelihood initiatives for the early recovery phase.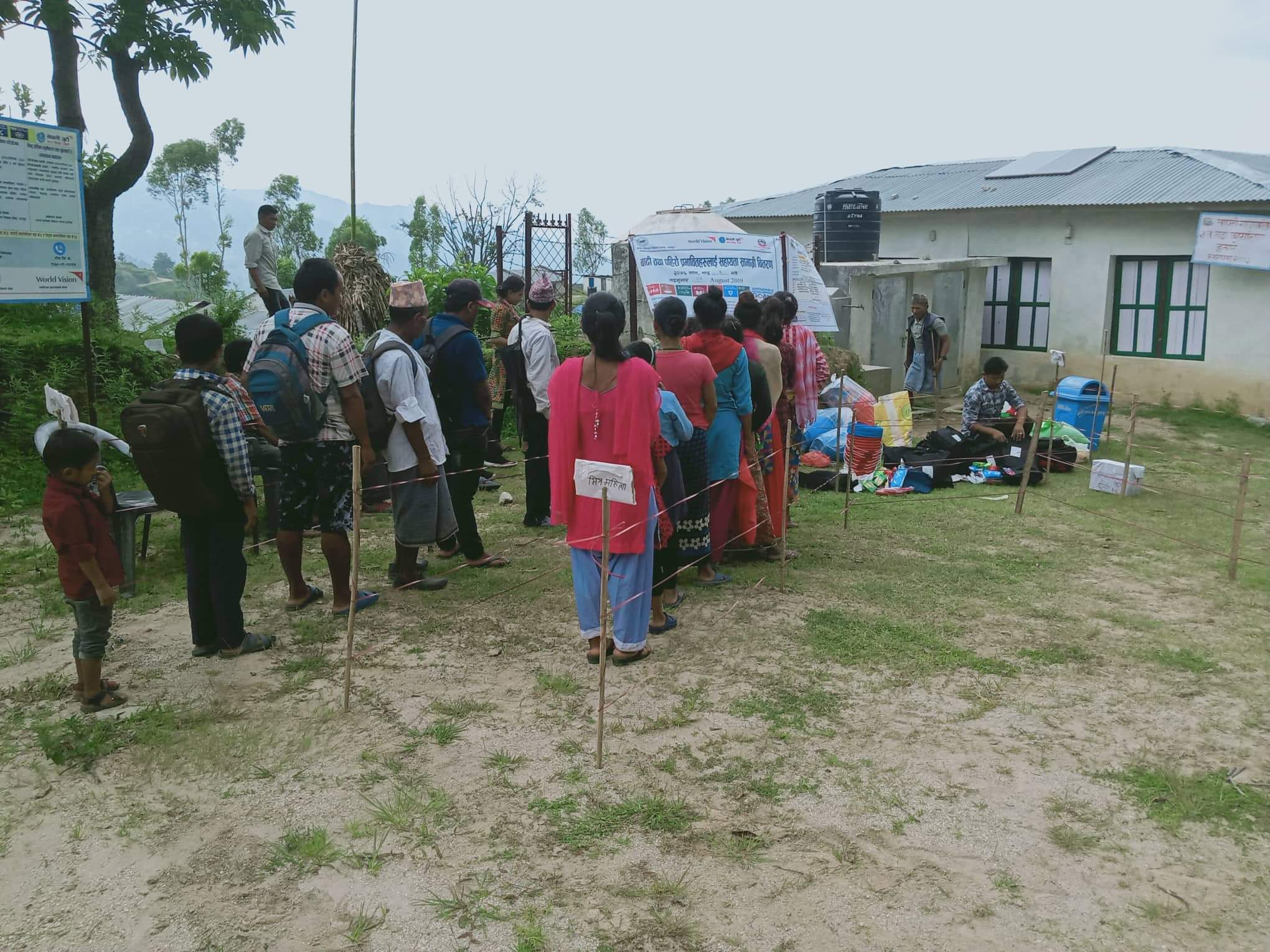 Reaching the affected communities with Life-Saving Aid
Working in close coordination with District Disaster Management Committee (DDC) and local partners, World Vision International Nepal, in phase I, has provided food and Non-Food Items (NFIs), to 1,246 people, across six districts (Rautahat, Sarlahi, Mahottari, Morang, Udayapur and Sindhuli). The NFIs consisted of two tarpaulins, two nylon ropes, two mosquito nets, two plastic mats, two blankets and one solar light.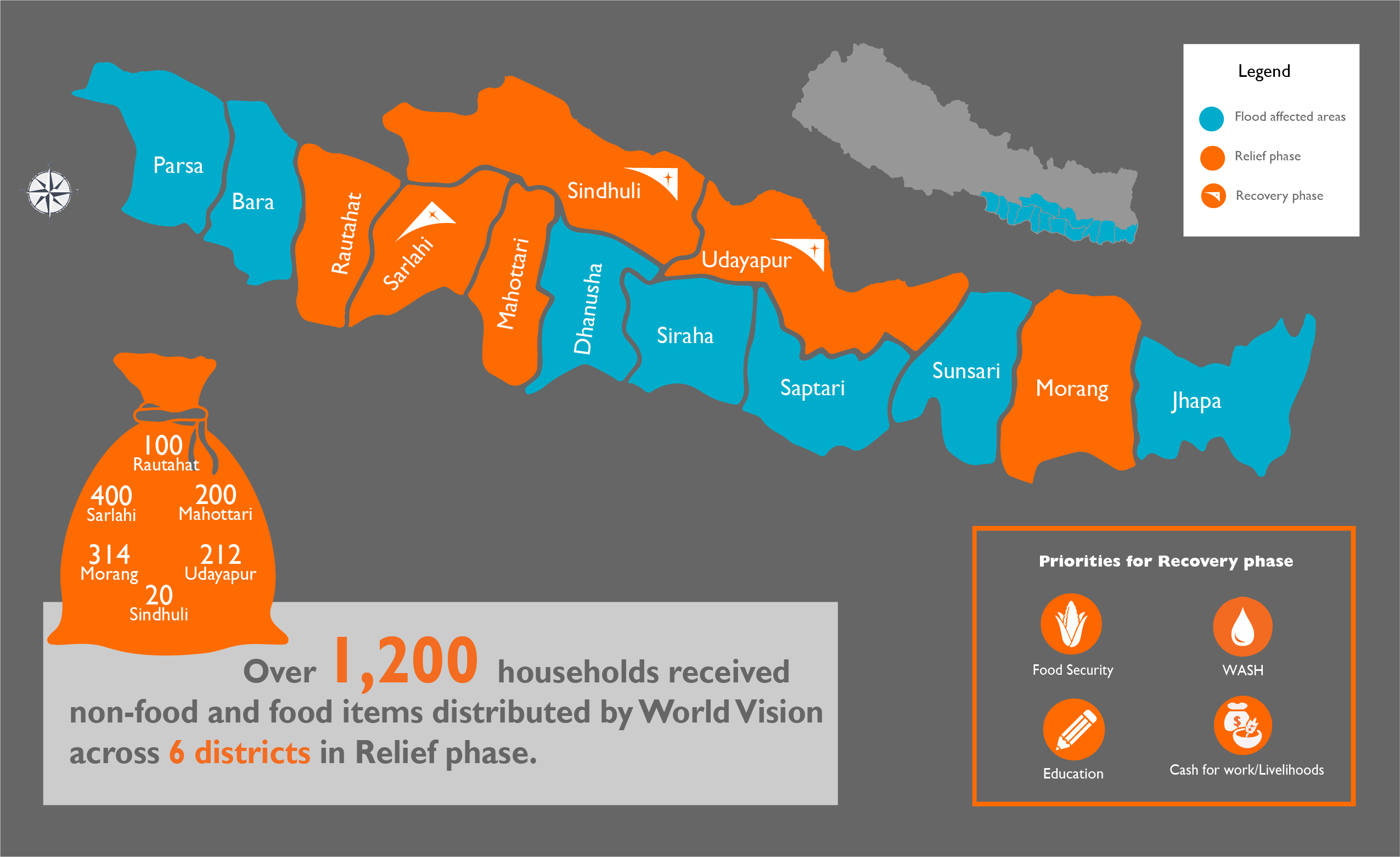 The phase II of the relief distribution concentrated on three of the most affected districts (Sarlahi, Sindhuli and Udaypur). With the support of local partners and DDMCs, 4,600 dignity kits, hygiene kits, food items, WASH kits and student kits were provided to flood affected people.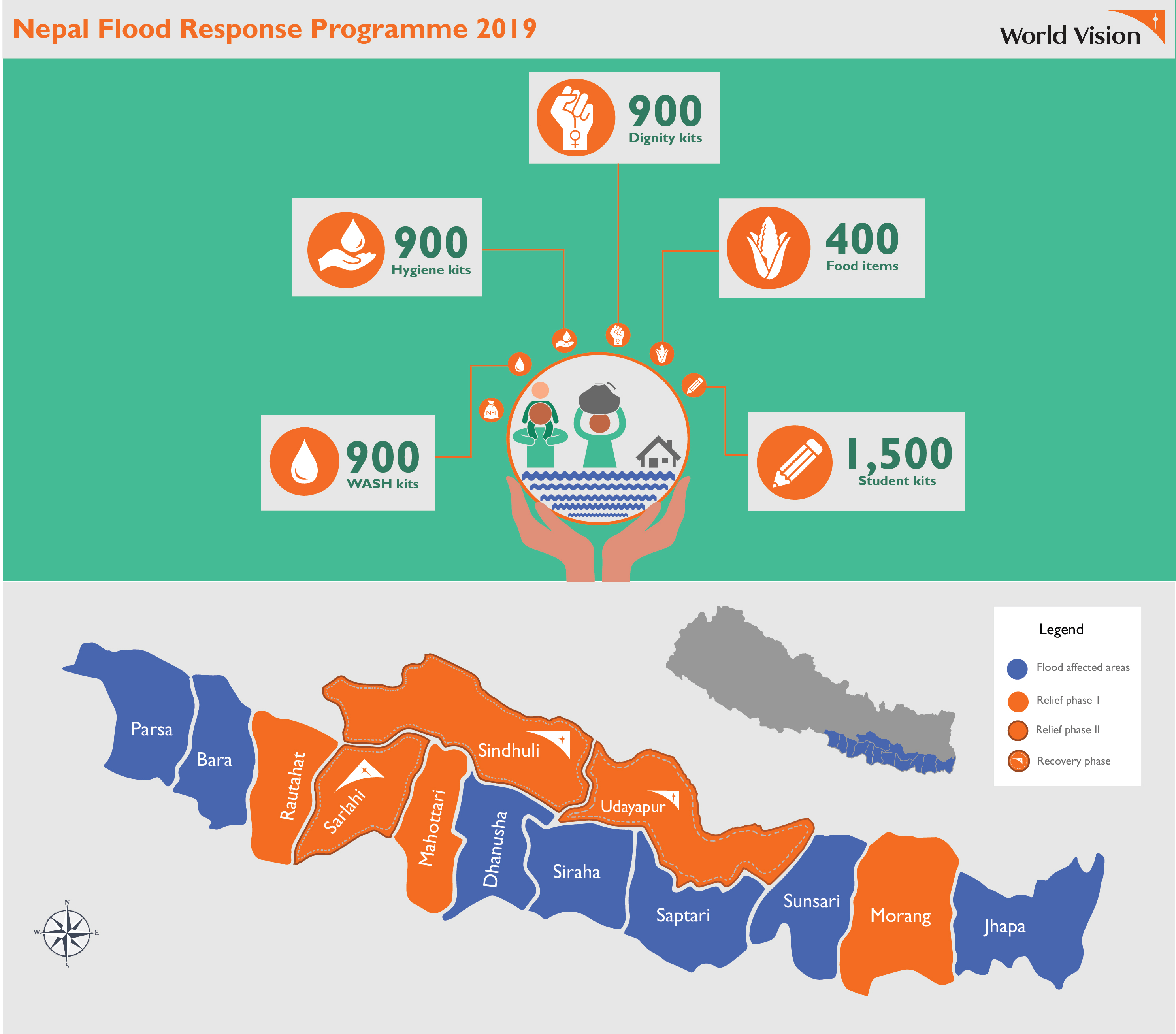 To date, World Vision International Nepal has successfully distributed 1,114 prepositioned NFI kits reaching a total of 18,970 beneficiaries, of which 7,588 are children. 
Developing Disaster-ready Communities
Focusing on developing resiliency of the flood-affected communities, the initiatives of the Recovery Phase (scheduled to start by mid-September) will strive to restore Food Security/Livelihoods and Community Infrastructures of the three most affected districts (Sarlahi, Sindhuli and Udaypur) through Cash for Work programming. The overall response programme including the Relief Phase aims to reach 33,850 people, of which 13,540 are children under 18 years.