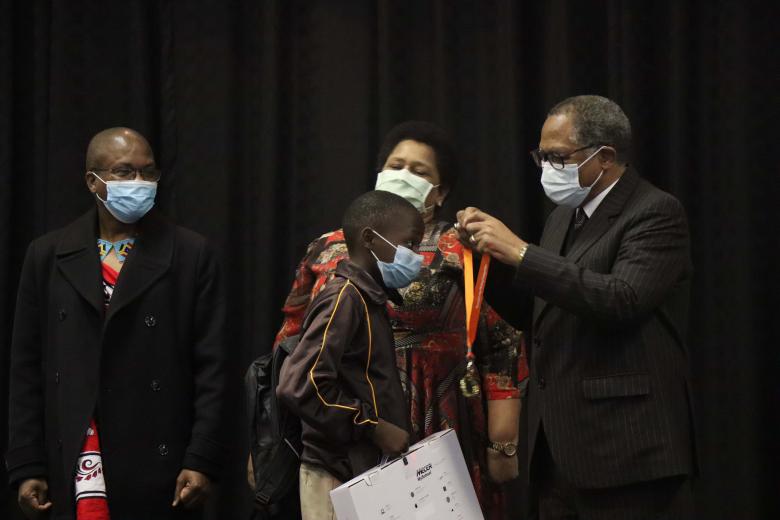 NGCEBO CROWNED WINNER OF THE NATIONAL ESWATINI LETTER WRITING COMPETITION
Wednesday, June 1, 2022
Submitting his letter on the last day of the letter writing competition, Ngcebo 12-year-old Ngcebo from rural Gundvwini Primary School did not anticipate winning the national letter writing competition. He will be representing Eswatini in the global letter writing competition. Most importantly, the competition was entered by over 900 children countrywide. Ngcebo was motivated by his teacher, Lungile Masuku to enter the competition. "I was shocked that I won the competition, I wanted to win, but I did not expect to come in the first position," a joyous Ngcebo said. Ngcebo won the competition during the launch of the Month of the child on 31 May 2022.
Ngcebo is the only learner who entered the competition at his school. He says he was motivated by his love for language arts.
Empowering children to write is one of the many ways in which they learn to develop their literacy capacities including making meaning and expressing ideas in texts, concepts of print, phonological awareness, phonics, and creating and exploring texts. The Eswatini letter writing competition in partnership with World Vision Eswatini.
The competition requested that children write a letter to someone influential explaining why and how they should take action on the climate crisis. In his letter directed to an influential person in the country, Ngcebo says that climate change affects how people in rural areas plan for farming purposes. He says that people can no longer predict when there will be rainfall and when they will be cold weather conditions. 
"This crisis has made it necessary for me to request you to push the government to protects swamps because they are a good source of groundwater and rivers." He says that the govt should promote solar power to generate electricity because the burning of coal contributes to the increase in climate change.
Climate change is one of the most pressing issues of our time with the greatest impacts being felt by poor and marginalised people living in developing countries, particularly children. While children have done very little to cause the changing climate, they inherit its problems. This puts them in the precarious situation of having to cope with both current and future impacts of increasing climate shocks and stresses. The motivation to get children's ideas amplifies their voices around the issues of climate change.
Lungile Masuku, a teacher from Ngcebo's primary school shares that he was the only learner from the school who participated in the competition after they were encouraged by teachers. He says they as teachers had a need to motivate their students to participate in local competitions so that they can also make a name for themselves as students from rural communities. "In the rural schools, we have an experience with children who lack the confidence and motivation to enter these competitions, Teacher Masuku says.
The competition, hosted by the Eswatini Communications Commission, in partnership with the Ministry of Education, Eswatini Posts & Telecommunications Corporation, UNICEF, Macmillan Education, and World Vision, ran from 21 February to 21 March 2022.