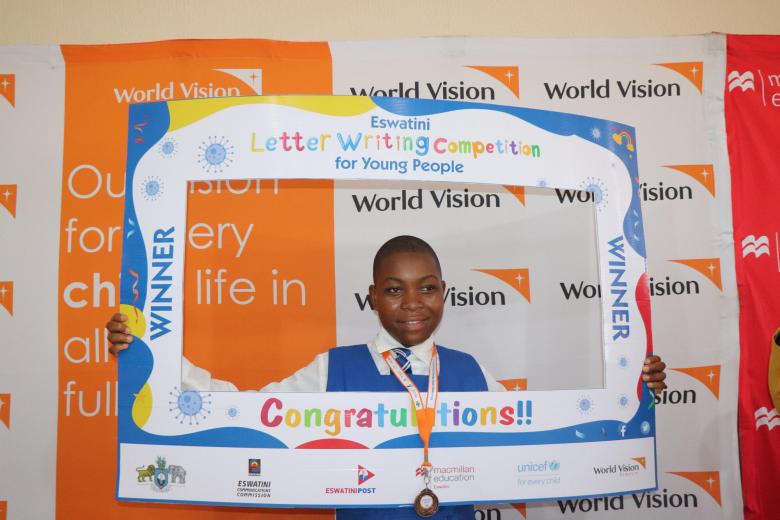 Sponsored Sethu wins bronze in national letter-writing competition
Wednesday, December 22, 2021
Fifteen-year-old Sethu has suddenly become a community hero after beating more than 1,000 children to scoop third position in Eswatini's national letter-writing competition for 2021, taking home prizes that included a Samsung Galaxy AO3s smart phone, a pack of books, a school backpack and many more prizes.
Sethu is a sponsored child from World Vision's Shewula Area Programme, situated about 144km from the capital city, Mbabane. She beat other learners from both rural and urban schools in the 13 to 18-year-olds' Siswati category.
Speaking a few days after the prize-giving ceremony, the Form 3 high school student tells us, "I am still excited about the competition and I was congratulated in my school for being a winner. At home, they were also happy for me!"
She shares that this was her first time entering a national competition, and she vows to do even better next year as she plans to enter the competition again.
It all started one evening when, whilst listening to the radio, Sethu learnt about the competition. She informed some of her friends at school about the competition since she was impressed by the prizes. The group of friends then decided to approach one of the teachers about it, and he confirmed it and sent them a poster with all the details of the competition. More and more pupils were encouraged to participate.
The competition required learners to write a letter to a family member about their experience with COVID-19, and targeted children between nine and 12 years, and 13 and 18 years. Sethu and her friends took it seriously and got to work on their letters as soon as they had read through all the details.
Sethu decided to write about her experience after she was infected with COVID-19; an experience she will never forget. At one point, she thought she would die but, miraculously, she survived. She explained in detail in her letter that the saddest part was being isolated from her family and being alone most times during her ordeal.
"As I was writing my letter, I poured out my heart and it was a very refreshing moment. With my two friends, we did our best and went to Simunye Post Office to post our letters, hoping we would make it", Sethu tells us.
"I would like to thank World Vision for providing transport for me to the prize-giving ceremony and back home safe", she adds.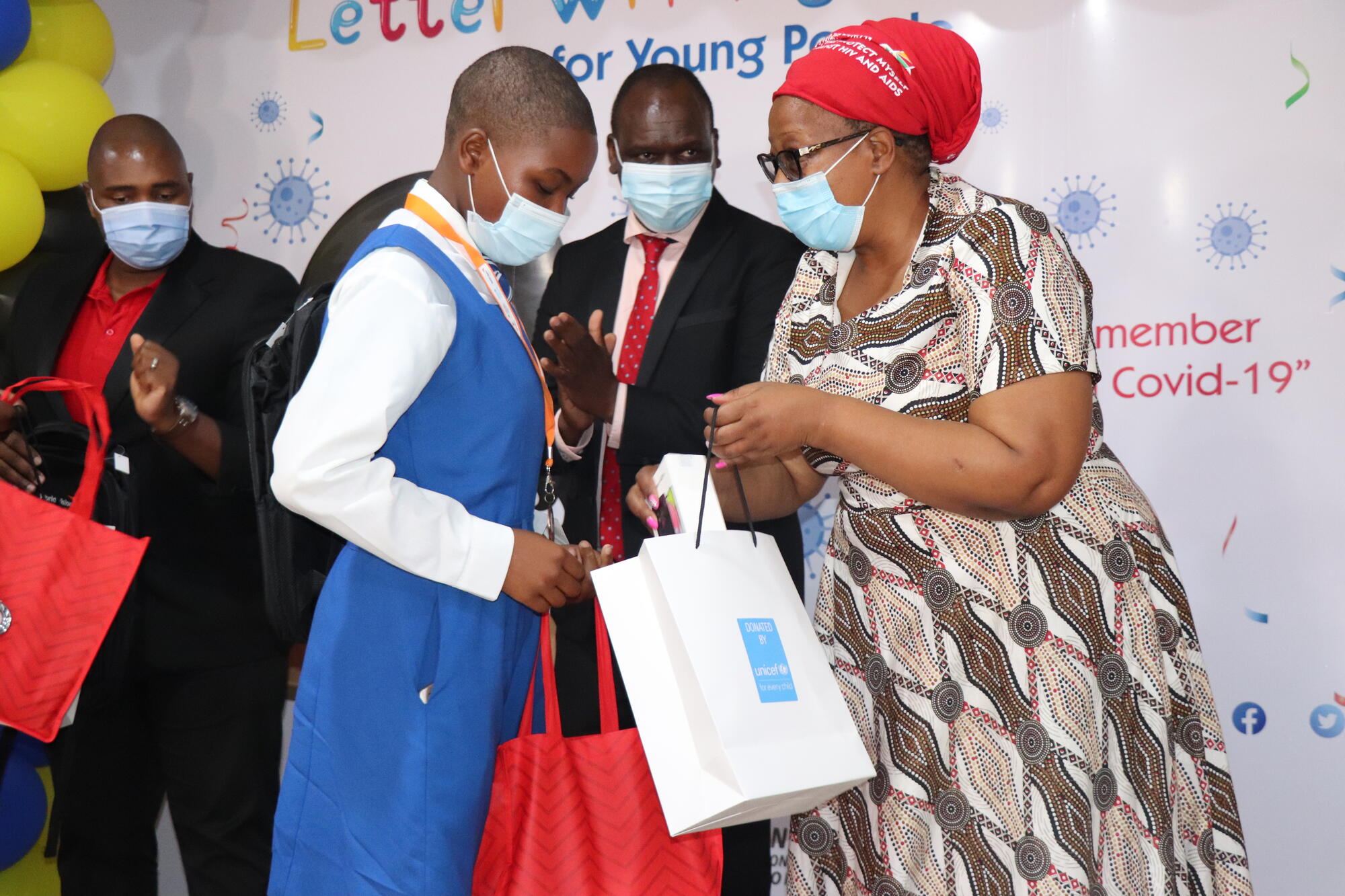 Lindokuhle Vilakati, a teacher from Sethu's high school, shares that 15 learners from the school participated in the competition after they were encouraged by teachers. He says they needed the children to be exposed to the national competition so that they could learn more from their peers from urban schools.
"In the rural schools, we have learners who are smart but lack self-esteem and think learners from urban schools are better than them, which is wrong. It is for that reason that we wanted our learners to compete with their urban peers. I am very happy that Sethu won third place, so that those who looked down on themselves will also be encouraged to compete next time", Teacher Vilakati says.
The competition, hosted by the Eswatini Communications Commission, in partnership with the Ministry of Education, Eswatini Posts & Telecommunications Corporation, UNICEF, Macmillan Education and World Vision, ran from 8 October to 12 November 2021.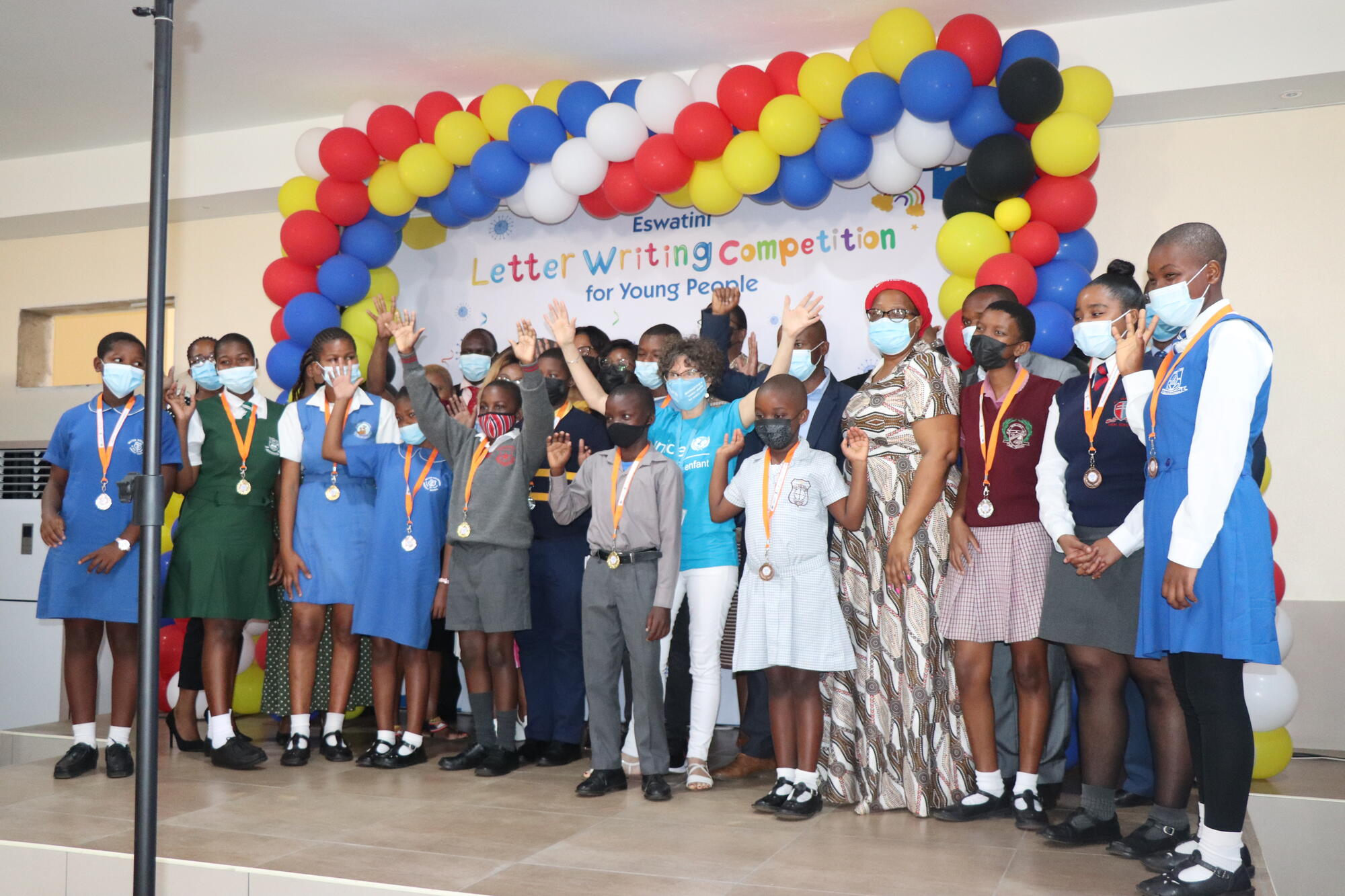 Speaking at the competition's launch back in October, World Vision's National Director for Eswatini, Tinah Mukunda, said that the organisation had eagerly accepted the invitation to partner in the initiative because, as a humanitarian organisation that focuses on improving the lives of children, World Vision was keen to support activities that sought to give a voice to children, whilst developing their skills.
She also added: "Until very recently, World Vision maintained the use of letter-writing, where our sponsored children would write and send letters to their sponsors in countries across the globe. Sadly, following the advent of COVID-19, children could no longer write to their sponsors as several local post offices did not accept letters."
The National Director further noted that she was pleased that postal services had since resumed in the country, thus allowing this communication to continue.
The prize-giving event, held at Esibayeni Lodge in Matsapha, was graced by the Principal Secretary in the Ministry of Education and Training, Bhekithemba Gama, who congratulated the winners and further encouraged learners to take such competitions seriously.
"Writing is an art and such competitions give learners a chance to perfect and polish it. It also gives them a chance to research about the topic they want to write about. This period of COVID-19 has been very hard to our learners and classes were disrupted, but now some learners will be encouraged to take the opportunity to compete in the competition", Mr Gama said.
World Vision's Advocacy and External Engagement Team Leader, Sakhile Dlamini, said the competition challenged all the partners and, as World Vision, they saw it as an opportunity to hear the children's voices. "We are happy to dig even deeper into the letters written by the children and have already identified the gap or need for psychosocial support for the learners", she said.