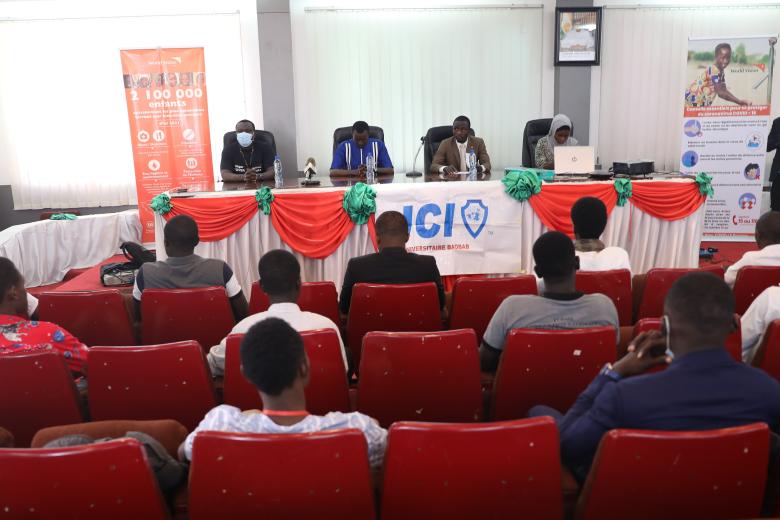 World Vision celebrates World Humanitarian Day with the Junior Chamber International, Baobab University
Friday, August 27, 2021
The United Nations (UN) General Assembly earmarked August 19 as a day to commemorate the bombing of the UN Offices in Baghdad. The 2003 attack caused 22 deaths. Since then August 19 was earmarked as World Humanitarian Day, a day to create awareness on humanitarian activities around the world and to pay tribute to all humanitarian workers. 
To commemorate this important day, World Vision and UN OCHA in partnership with the Junior Chamber International (JCI) Baobab University, organised a conference on August 24, 2021. The aim of the conference was to improve young leaders' knowledge and arouse their desire to be examples to their peers and their community in the fight against climate change. 
Speaking during the conference, Ms. Salima Issoufou, Project Manager at JCI Baobab University said the conference deliberations will equip young people on disaster prevention methods, especially during the rainy season. 
Mr. Vincent Djimadoum Kilabe, the Humanitarian and Emergency Affairs Manager at World Vision said, climate change has left communities without food and shelter, exposing them to epidemics and diseases that often occur following floods, as is the case with malaria and cholera which kill people in Niger. 
Mr. Djimadoum called for the adaptation to climate change, through preservation of land and implementation of early warning systems. To recover degraded land, he recommended the adoption of the Farmer Managed Natural Regeneration method. 
World Vision's National Director in Niger, Mr. Yves Habumugisha said, the charity organisation is open to working with partners willing to contribute to the socio-economic development of communities. "Sustainable change requires initiatives at local, regional and national level. By supporting this conference, we remain committed to working with others to increase impact," he explained.
"World Vision wants to ensure that the well-being of children and their communities is at the center of humanitarian concerns. Our organisation provides assistance to more than 465,000 people, including 320,000 children, and supports 23,000 children through its emergency education program," Mr. Habumugisha said. 
The Executive President of JCI Baobab University, Mr. Alou Bankami Sanoussi, said the organisation carries out various activities targeting youth, women and the entire community. He said that through experience the University has built a reputation in the community, as a serious and dynamic organisation able to meet the many challenges that communities in Niger currently face.