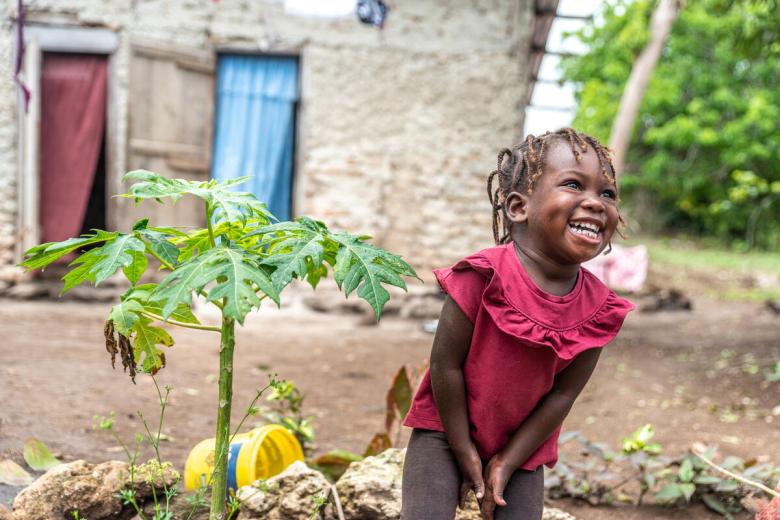 Cooked meals feed joy
Tuesday, December 14, 2021
Schamaelle is a little girl full of energy. Helping mom in every and all matters possible is what drives this 3-year-old. A newly sponsored child, she's never far away whether Westa, her 27 year-old mother, is checking on the food she's cooking or pruning some plants in her garden; this little one is ready to help. She can fetch needed utensils. She crouches to blow air onto the fire – before quickly getting picked up by mom. She also prunes – more like yanks – papaya trees and tramples over everything in the garden not taller than her.
Schamaelle is a handful and her family is witnessing her exuberance and joy as she continues to grow well and thrive thanks to World Vision's livelihood programming.
Westa, her husband and their three children live on the island of La Gonave, located west-northwest of Port-au-Prince in the Gulf of Gonâve. It is the largest of the Hispaniolan satellite islands. In early 2016, the island was categorized as a red zone for food insecurity by the National Coordination of Food Security (CNSA).
According to the latest Humanitarian Needs Overview (HNO) report in 2019, La Gonâve, was one of Haiti's most food-insecure regions, and experiencing extreme food insecurity in its rural areas. Poor spring and fall harvests in the 2017-2018 season left 45 percent of households (about 40,000 people) at risk of a severe food crisis if emergency assistance was not provided to this population, which is barely able to meet its basic food needs.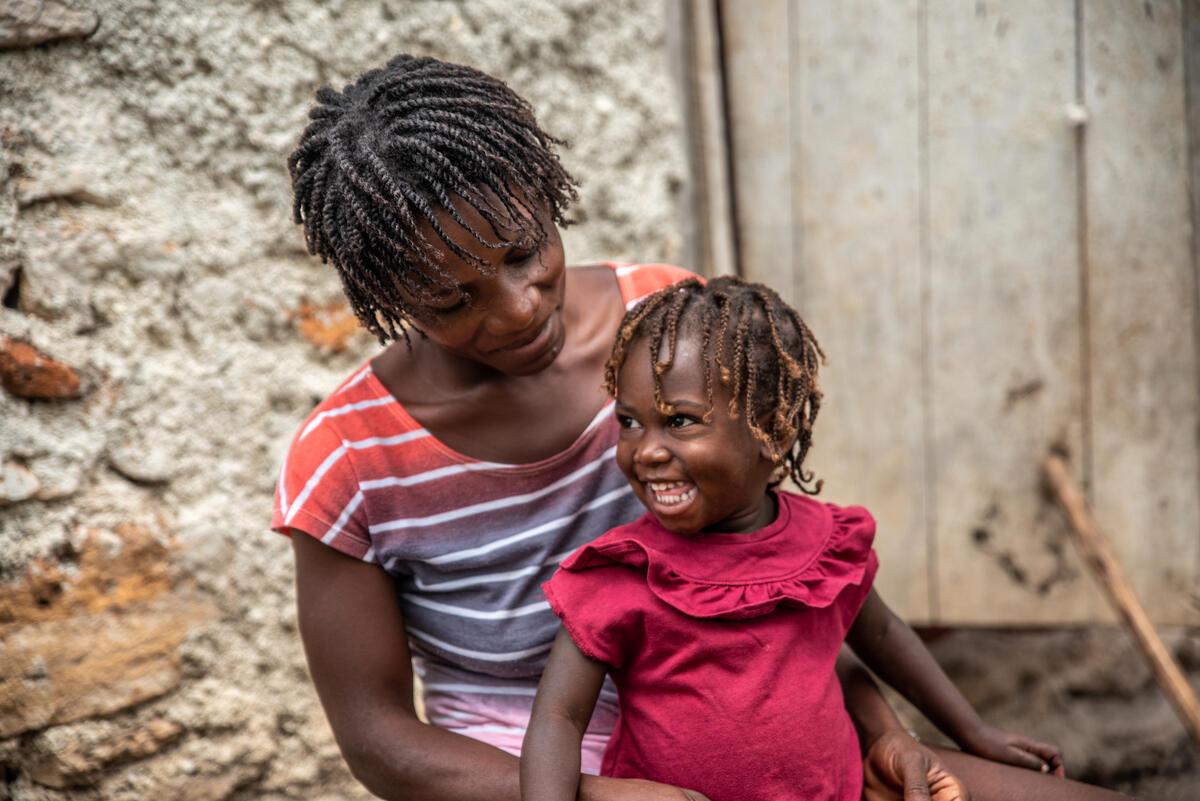 Westa and her household were not spared from this precarious food conditions. A gardener and home-maker, she relies on her small garden of fruits and vegetables to care for her family while her husband cuts trees to make charcoal.
"No, Schamaelle," exclaims Westa as she runs towards her daughter who's practicing proper handwashing and can't figure out how to close the tap.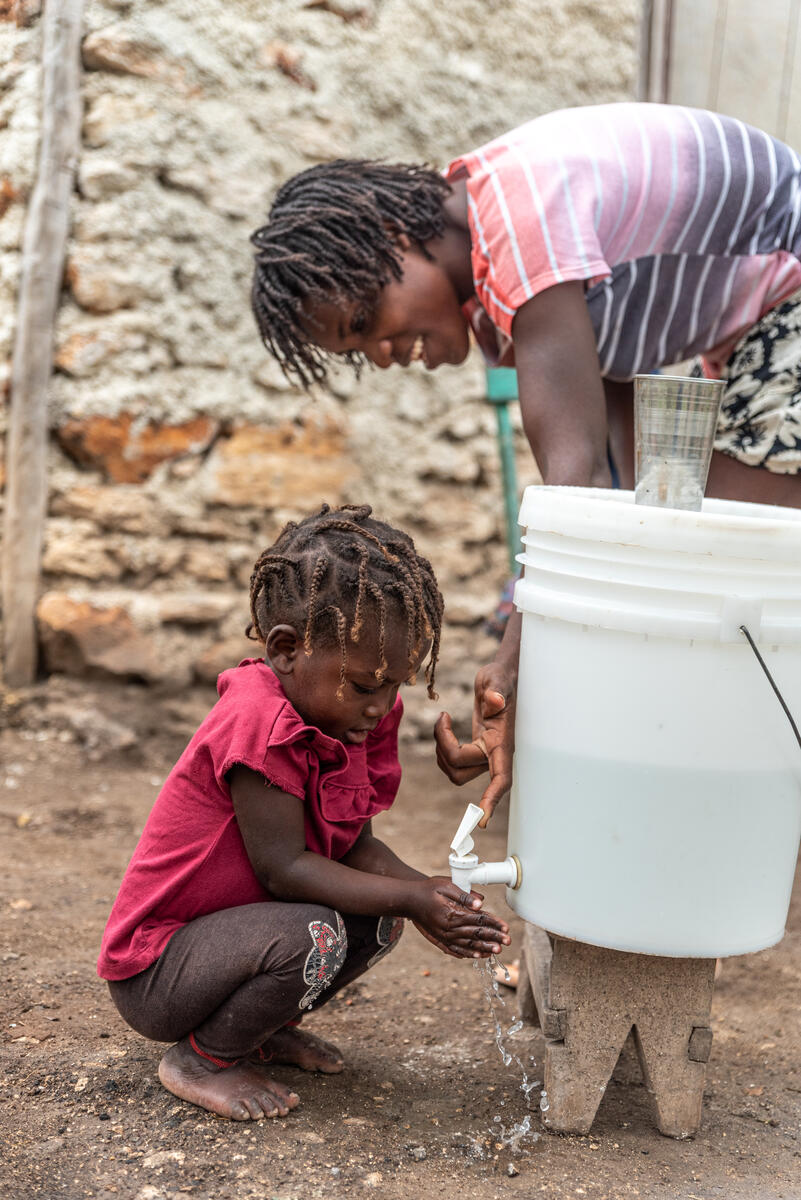 "Because we live by the roadside, often I would come back from the market to see that my papaya trees or my peppers [were] gone," she says. "Animals would eat from [them] or people going by would pick from them."
Westa and her husband who live in a drought-affected area struggle to provide for their children and rise above the adverse circumstances that plague the lives of thousands on the Island.
"My oldest son, John Wesley, 5 years-old, would come to me and tell me "Mom, we're hungry…" remembers Westa. "I would resort to not eating any food.... sometimes up to four days. Whatever little food we had; I'd give it to the children. I couldn't bear to see them hungry."
In response to this dire situation, World Vision, in partnership with USAID, started implementing an Emergency Food Security Program targeting 5,000 families with food vouchers of US$50 for 12 months in order for them to buy the food that they need. This voucher allows families to purchase rice, beans, corn meal, flour, vegetables and meat.
For the past six months, Westa has been a part of the Program relieving some of the burden and stress of finding the next meal.
"I have never been able to eat meat. It's only because of World Vision that meat is being cooked in this house," says Westa. "The children really enjoy the food and our life is better now. John Wesley doesn't go to school hungry anymore."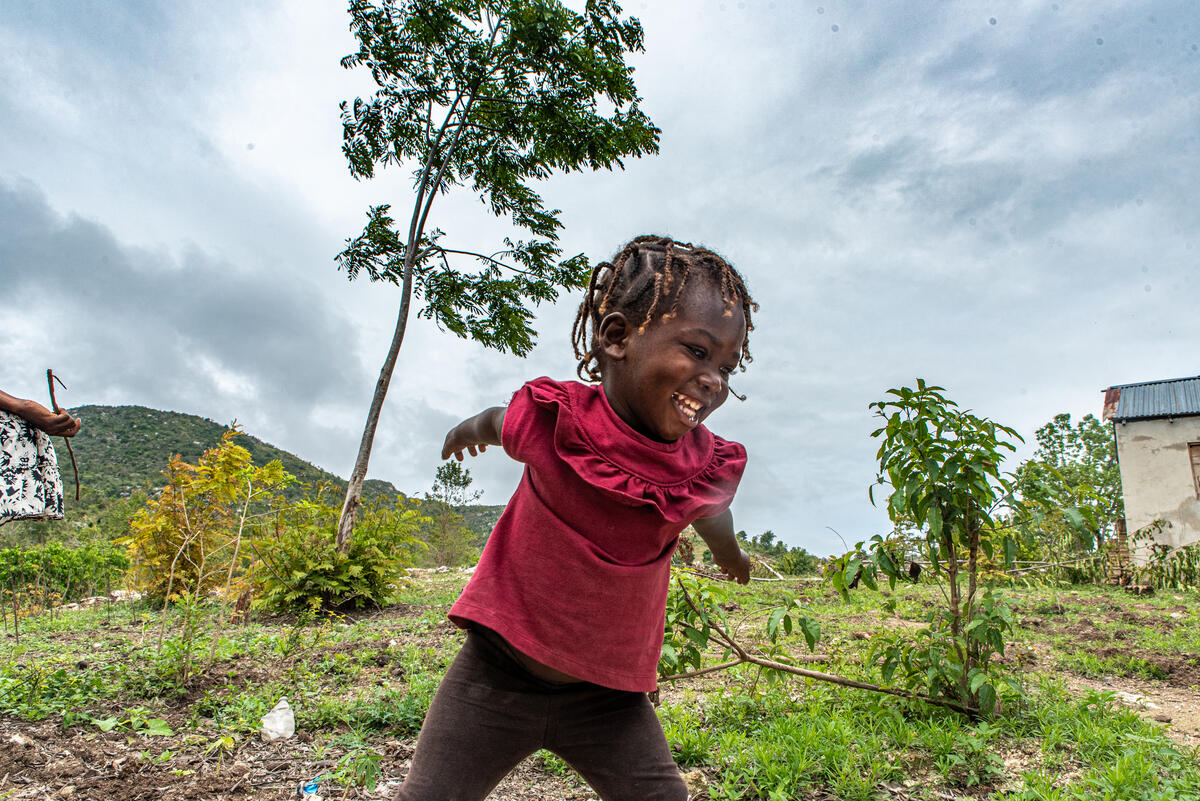 As Schamaelle climes on her mother's lap, Westa adds "When you can't get food for your children, it's a form of violence."
The food security program has allowed Westa to save on the food she would be buying for her family. Her savings are invested in her garden. She has started fencing her garden. She's planting additional papayas and peppers, and starting with spinach, parsley and sugar cane. "I love gardening," she says.
Families living in the communities of La Gonave are able to reverse the effects of the long droughts that have affected this region and like Westa's three children, their children are being fed and striving.
Through World Vision's work around the world, every 60 seconds a hungry child is fed.
You can empower a child and their community to thrive.