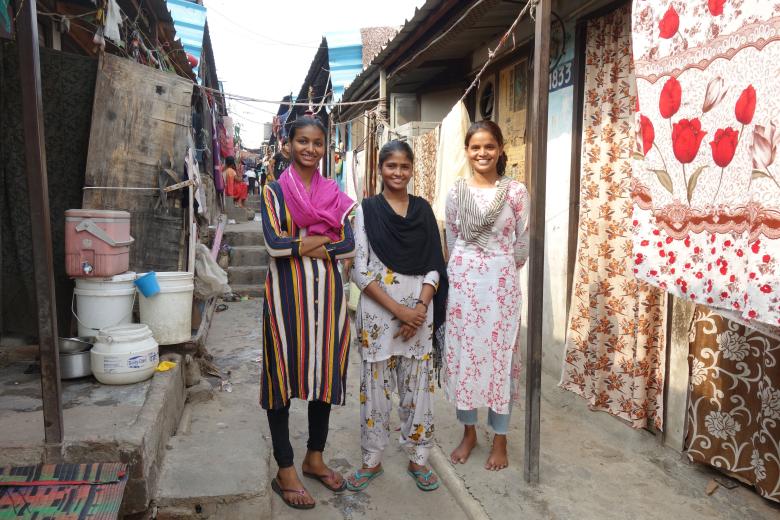 Pursue education against all odds: A story of three girls
Thursday, June 9, 2022
The name Anand Parbat would, in all probability, not ring a bell with most people residing in the national capital, Delhi. It is just one of the area that happens to exist: unseen and unrecognized. However, amidst this non-descript colony is the story of three girls and their indomitable will to study against odds. Many people living in the transit camp of Anand Parbat have witnessed the fiery undying spirit of three girls who became 'the first ever' from their rag picking community to take the 10th grade exam through the National Institute of Open Schooling (NIOS). For these three young girls, their background did not deter them in dreaming big and their achievement has set an example to other girls in their community.
Juggling through various tasks in a day, starting with picking up rags in the early morning hours to attending school and handling household chores, these three girls have come a long way. They are confident that education will transform their lives. They will move out of rag-picking, live a life of dignity, and they will be able to pull their families out of poverty.
True to the name of their area Anand Parbat - which means Joyous Mountain - Poonam, Tulsi and Pooja today are standing tall and beginning to work towards ringing a joyous future for themselves.
PooNAM, the bold and creative one
Her interest in education started when she first started attending a remedial education centre run by World Vision India, an NGO that has been working in their community for over a decade now. Poonam, now aged 19 years recalls how it started for her, "I was first introduced to books when I attended a learning centre run by World Vision, which was very exciting and new for me. Later they helped me enroll in a government school. Initially, it was very challenging to go to school as my parents were not supportive and we were all engaged in rag-picking to earn a living. But with constant support and counselling from World Vision India, things started changing and now we are much aware of many things including the importance of education." Poonam's family is one among the 3,000 families relocated at Anand Parbat transit camp after the state government demolished the slums.
Poonam is now the only one among her eight siblings to be studying. Her parents have agreed to stop sending her for rag-picking as long as she pursues her education.  She was the first one to be enrolled in a government school near her house back in Shadipur area but after the demolition, her family had to shift to the transit camp, which posed a challenge for her to continue going to school because of the distance. However, Poonam was determined to continue and managed to complete the 8th grade. When she was in the 9th grade, she could not attend regularly due to an illness and the long commute. Finally, she had to drop out of school.
In 2020, she was enrolled in 10th grade with the help of World Vision India's volunteers through the NIOS. However, due to the COVID-19 pandemic and consequent lockdowns, she could not continue her study until 2021 when she was re-admitted in the same grade. This time around, with the constant support of World Vision India's volunteers, Poonam continued to come regularly to the tuition centre run by the NGO and studied online. "Me, Tulsi and Pooja, we came regularly to the tuition centre and used the mobile of Gopi, a volunteer, to connect with the teacher and study online. That is how we prepared for the 10th grade exam during the COVID-19 lockdown. We did not have mobiles, so it was difficult to study at home," said Poonam.
Gopi shared, "We encouraged them to continue their studies and tried our best to support them in every possible way, from filling the exam forms, paying the fees, providing books to paying for their travel to the exam centre. Sometimes one can give up when they don't have any support system around them."
"I used to go for rag-picking almost every day and even begging in the street. Now I am happy that I am getting a chance to study and later try to get a decent job. I want to motivate other children to study and not give up hope," exclaimed a confident Poonam. "I am also looking forward to taking a beautician training with the support of World Vision and starting a small business to earn money. If I earn money through it, I won't have to go back to rag-picking anymore and I can continue my study."
Tulsi, the PROTECTOR AND FUTURE police officer
While listening to Poonam's plan of doing the beautician course and starting a small business, Tulsi was quick to join in the conversation and added with a smile, "I am also going to do the training and we three will do the business together. We have been discussing it for some time now and we are confident that if we start a beauty parlour, we will earn a good amount of money as people in the community spend quite a lot on weddings and celebrations." She explained further, "I want to actually become a police officer which has been my dream since childhood. However, in order to continue studying to achieve that, I need to earn money somehow to support my family and myself. We live hand to mouth through rag-picking, begging, and selling nimbu mirchi (lemon chilly)."
Tulsi (18 years) is the eldest among five siblings, her father studied until 2nd grade, and her mother is illiterate. All her siblings are into rag-picking. From a young age, she has seen how difficult life can be on the streets and how unsafe children, especially girls, are. "We always go in a group of five or six for rag-picking from as early as 3 a.m. in the morning and only come back by 10 a.m. It is not safe to go alone and there have been many cases of harassment and even sexual abuse. A month ago, I had to fight off an elderly man who tried to harass me as I was standing alone on the roadside waiting for my mother."
Both Pooja and Poonam nod in agreement to Tulsi's narration of her ordeal and many other similar cases they have experienced. Delhi is known to be one of the unsafe cities for women in the country. According to recent Delhi police data, at least five rape cases were registered every day in the national capital last year, which clearly indicates a rise in crimes against women. The data showed an increase of 21.6 % in rape cases with 1,969 cases registered last year compared to the 1,618 cases in 2020. 2,429 cases of molestation were registered last year. And an increase of 17.5% in, or 421 cases of, eve-teasing were registered.
No doubt, Tulsi has always wanted to become a police officer since her childhood. "I want to earn enough so that my mother won't have to go rag-picking anymore," said Tulsi with a heavy sigh. "Now that I have taken my 10th grade exam, I am more confident and will continue to study so I can achieve my dream." Tulsi was also enrolled in the same school and the same year as Pooja with the support of World Vision India. The trust in a group as they go out together for rag-picking, look out for each other, and fight together has stayed with the trio. Tulsi has struggled along with Pooja and Poonam to continue her study and has finally been able to take the 10th exam through NIOS.
Pooja, the obedient and faithful friend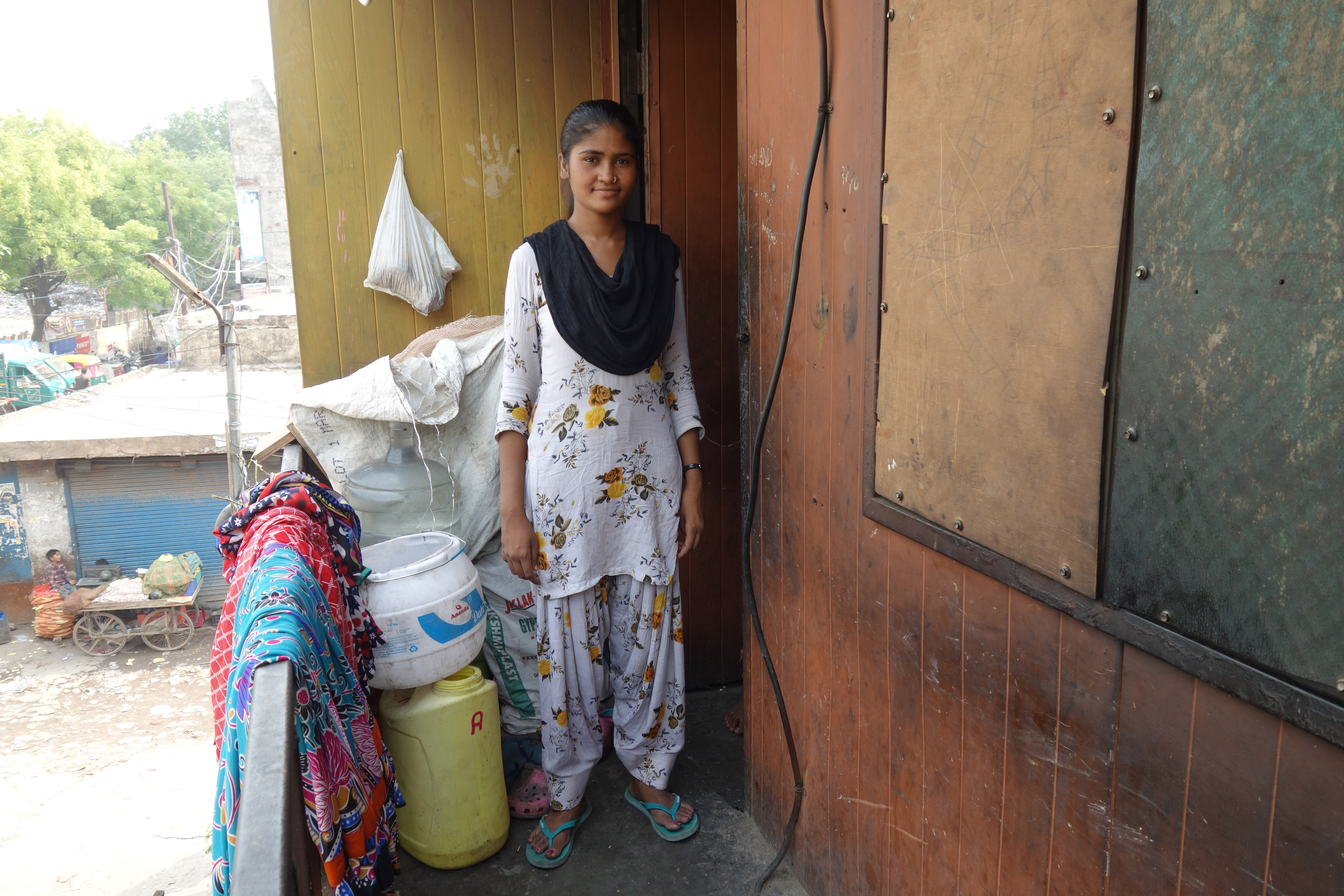 "I will join Poonam and Tulsi in the beautician training so that we can all work together and earn money," says 18-year-old Pooja when her turn came to share her story. She has known both Poonam and Tulsi since childhood and has gone to school together with them. After the slum demolition, she has stayed very close to both of them and continued her study. It was always a great time for her to come to the tuition centre and learn together with her friends as they prepared for their 10th grade exam.
Whenever her family needs her, Pooja goes for rag-picking twice or thrice a week along with her siblings. Other times she mainly helps with household chores and enjoys her time at the tuition centre which she says is like a resting place for many children who come there. Children get to sleep under the fan on hot days and enjoy snacks at the centre. Like most families in the transit camp, Pooja stays in a 12 by 8 feet room with 10 family members. "At night the girls sleep inside the room and boys sleep outside. We use the public toilets constructed in the transit camp, which are always crowded. Our community has come a long way with continuous awareness-raising sessions conducted by World Vision India. We are now doing much better and try to keep ourselves clean and take baths often. Earlier we used to take a bath only once a week, and did not care much about hygiene since most of us had to handle dirty stuff," shared Pooja.
Though she seems shy to express her thoughts, there is an activist inside Pooja. She has helped four of her elder brother's children enroll in school. "I want to become a teacher," expressed the girl with a strong supportive nature, always willing to help children in need and promote education among vulnerable children.
It's not every day one comes across girls like them and even rare to come across such close friends who stood together against all odds and encouraged each other to pursue higher goals in life, which in their case means a life of dignity and no more rag-picking.
Child Labour and World Vision India's interventions
These young girls' daily activities are not unfamiliar to the millions of children who work as rag pickers in India. Among the country's street children (about whose total number there is no official estimate), rag picking leads. According to UNICEF, about 12% of children between age 5 and 14 in India are engaged in hazardous child labour, including rag picking. India reports an estimated 17 million child labourers, a very high incidence worldwide. A recent study reveals that the number of child rag pickers is increasing in the country. This kind of labour involves rummaging through waste, collecting it, and segregating things that can be sold for recycling. It is intensive manual work that requires little skills and thus can be easily done by children. Without their efforts, civic waste management bodies would have a much tougher time keeping the environment clean. However, these children work in toxic environments daily, without any protective gear. With the implementation of the Goods and Services Tax, the wages received by children through rag-picking have significantly declined. As the labour work does not provide enough money to buy food and essentials, children are also involved in begging when they are not involved in segregating waste. 
Child labour pervades in spite of the fact that India has passed a number of constitutional protections and laws on child labour, including the Child Labour (Prohibition and Regulation) Act of 1986. The Occupation and Process section specifically mentions types of hazardous employment for children below 14 years of age, which includes rag picking and scavenging. According to a new World Bank Group and UN Children's Fund analysis, an estimated one in six children, or 356 million globally, live in extreme poverty before the pandemic began — and the situation is believed to have worsened significantly.
World Vision India started working among the street children and their families in Moti Khan and Shadipur in 2009. Most children were into rag-picking, begging, and selling nimbu mirchi. Within a span of 8 years, the organisation has enrolled around 900 children in school. After the slum demolition in Shadipur area, World Vision India continued working with those families who shifted to the transit camp at Anand Parbat.
Before the slum demolition in Shadipur area, around 150 children were regularly going to school. After the demolition, most families shifted to the transit camp in 2017-18 and many children had to drop out of school due to the distance issue. From 2020, schools were closed due to COVID-19 lockdowns, which caused a big learning gap for the children (almost 3-5 years). The project is currently focusing on getting them back to school. At present, around 170 children are attending the tuition centre at Anand Parbat.
---
Story by Impuri Ngayawon Shimray