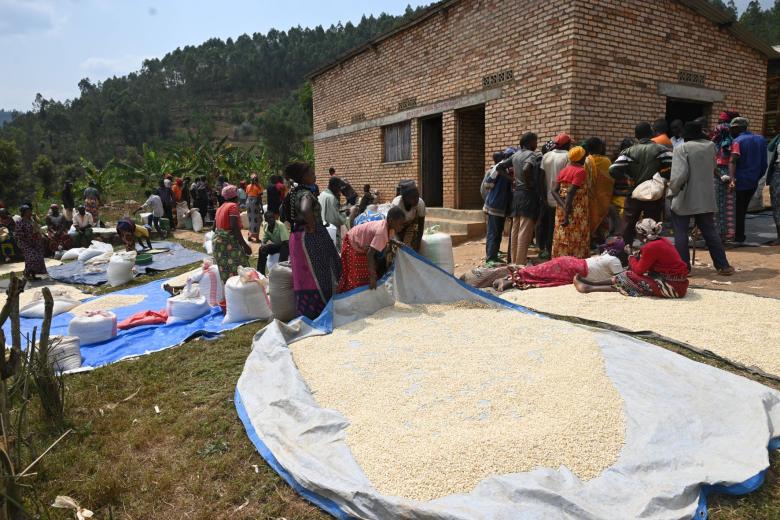 Enhancing Market systems to improve Farmers' Livelihoods
Friday, July 29, 2022
By: Charity Beza Uwase - Communications Officer
It is a Wednesday afternoon at Abaticumugambi Cooperative premises in the Maraba sector, every member of the Cooperative is working on their produce for the buyer to take. Sacks are packed with maize and some maize is laid on plastic bags to be sorted. Every single member of the Cooperative is engaged in an activity to get the maize ready, it is planned that Africa Improved Foods (AIF) will collect the sacks of maize in the evening. The cooperative that has been growing maize for the past two decades, started working with Africa Improved Foods through World Vision Rwanda two years ago.
Although many other buyers would like to buy their produce, the Cooperative prefers AIF because of the fair conditions they provide for the farmers. AIF also guides them on what good quality maize should look like and how to achieve that.
Valerie is a farmer. She grows beans and maize for both business and home consumption is busy sorting her maize. Valerie knows that the best way to get more profit from her labour is to join her friends and work as a group. Valerie says she has been in the Cooperative for over sixteen years now. 
Valerie says that World Vision through the Dutch Based Multinational life science and Life Material Company (DSM)  project supported them to get maize dryers.
"Initially we used to dry the maize on the floor which was not appropriate because the maize would get contaminated," says Valerie. Through the cooperative, she has been able to provide for her four children's needs.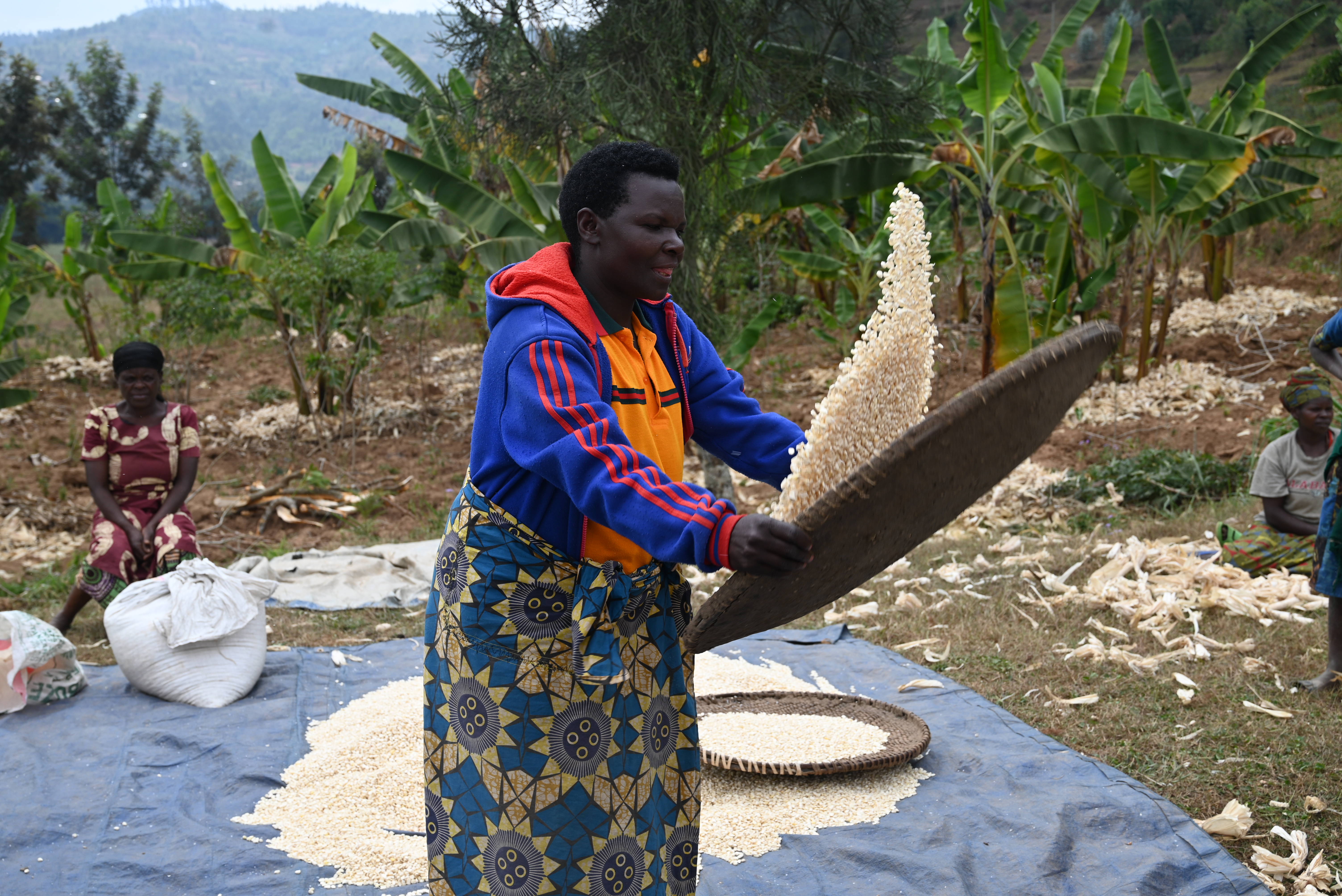 Odette is the leader of Abaticumugambi Cooperative. She says that before working with World Vision, each member used to dry their maize from their homes. This affected the quality and quantity of the product because of the process of drying it. Sometimes buyers rejected some of the maize because it had been damaged.
"We thank World Vision so much for the maize dryers they gave us. They have been very helpful. Today post-harvest management of maize is no longer on the list of our worries," she added.
Odette also says that the project trained them on improved methods of farming starting from cultivation to post-harvest. This increased their income to 50 per cent, compared to their traditional farming methods.
"We were able to sell our maize at a fair price because before the people who used to buy the maize took it at a very low price. Through the DSM project we were connected to the Africa Improved Foods," concludes Odette.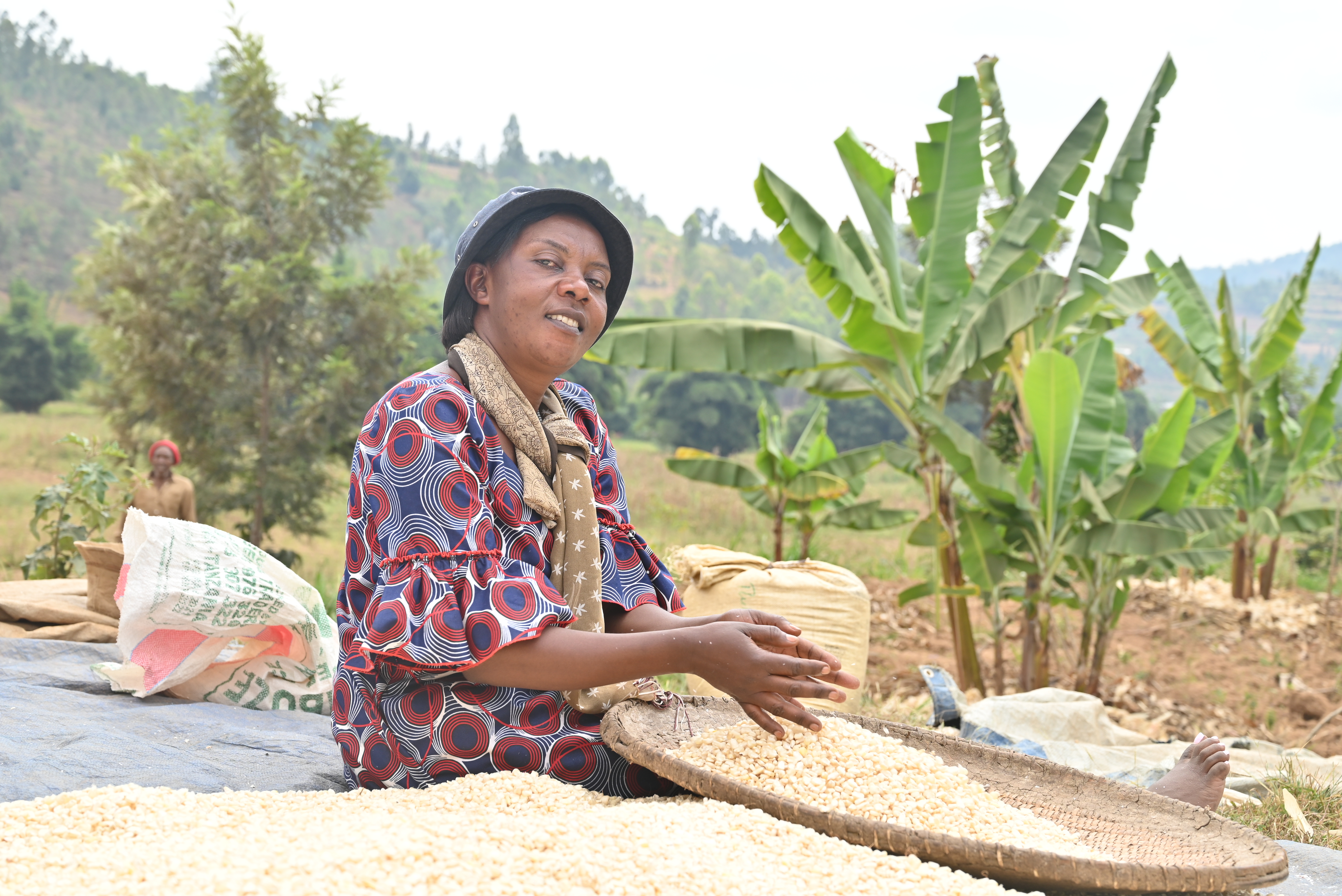 DSM cob model is a project through which farmers are trained on best practices of drying, storing, and handling their maize hence enhancing the quality of supplied products and increasing their market opportunities. The project partners with AIF to buy the farmers' produce.